Sharlto Copley stars as the frustrated mathematician who became the Unabomber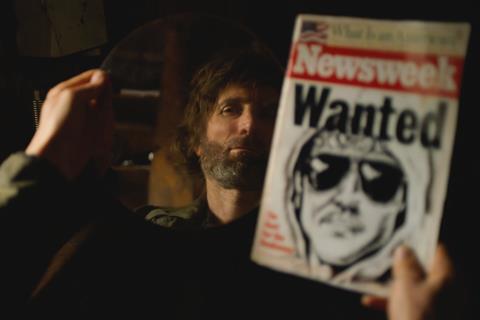 Dir: Tony Stone. US. 2021. 122mins.
What drove brilliant mathematics professor Ted Kaczynski to become a domestic terrorist, prompting the largest manhunt in FBI history? The intriguingly impressionistic Ted K isn't so much interested in supplying an answer as it is in imagining the mental and societal factors that led the man nicknamed the Unabomber towards insanity and vengeance. Director Tony Stone and star Sharlto Copley commendably push against the predictable narrative tropes endemic to biopics, while also resisting any attempt to romanticise this killer who sent mail bombs to his imagined adversaries. But as arresting as this speculative portrait can be at times, the film is ultimately both galvanised and limited by how unknowable its protagonist turns out to be.
An interesting exercise in how to embody the worldview of a damaged individual, forcing the audience to be trapped with Kaczynski as he goes about his menial tasks
Screening as part of Berlin's Panorama section, Ted K is the latest edition to a cinematic sub-genre devoted to chronicling the mysterious nature of notorious murderers. But unlike, say, Henry: Portrait Of A Serial Killer or Extremely Wicked, Shockingly Evil And Vile, Stone's picture largely eschews grand dramatic moments or an outsized central performance, resulting in a story's that more intellectual than visceral.
Ted K spans roughly seven years from the late 1980s to Kaczynski's capture in 1996, and Copley is often alone on screen, his character living in a cabin deep in the forests of Lincoln, Montana after turning his back on a promising mathematics career. An opening title card informs us that Ted K "was made on the land where his cabin once stood and uses his words from the 25,000 pages of writing that filled his shelves to tell this story," and over the course of two hours, we watch as Kaczynski grows increasingly determined to strike back at a society he blames for destroying nature and allowing technology to erode humanity's quality of life. In his voiceover, Kaczynski makes it clear he wants to kill people — the only question is whether his actions will inspire individuals to change their ways.
Copley, who has radiated unsettling energy in films like District 9, doesn't overdo Kaczynski's troubled state of mind. Ted K plunges the viewer into an anxious state — the discomforting electronic score by Blanck Mass is juxtaposed with ethereal classical music and the occasional ironic pop song, such as Bobby Vinton's plaintive 'Mr. Lonely'. Copley portrays the man as someone with few social graces who gets unreasonably angry about small things, such as the payphone he uses swallowing his quarters. But the performance largely emphasises how unremarkable Kaczynski seems, with the actor avoiding operatic flourishes or attempts to make us empathise with him. Kaczynski is awkward and a bit unpleasant, but Ted K refuses to invent a simplistic revelatory moment in which he transforms into a killer — instead, he remains withdrawn and prickly throughout.
Stone's last film, the documentary Peter And The Farm, profiled a far more benign loner, and Ted K proves an interesting exercise in how to embody the worldview of a damaged individual, forcing the audience to be trapped with Kaczynski as he goes about his menial tasks, whether it's riding his bike to town or calmly putting together a bomb.
But while the film exudes a claustrophobic vibe, Stone's tendency to rely on stylistic gimmicks — slow-motion, discordant music cues, surreal dream sequences — fails to illuminate his protagonist's feverish mind. For all the realism Ted K seeks by shooting on Kaczynski's actual property and using his words for Copley's voiceover, Stone's cinematic tics ultimately render the character frustratingly opaque. On one level, that's perhaps the point — Stone isn't after a tidy biography that "explains" Kaczynski — but the lack of conventionality too frequently results in a repetitive, somewhat formless narrative that doesn't build in suspense as the Unabomber inches closer to being apprehended.
And yet, one can't but respect the chances taken here, even if they don't necessarily add up to a riveting examination of Ted Kaczynski or his times. Unconvincingly, Stone tries to draw connections between Kaczynski's crimes and the O.J. Simpson murders, also struggling to shed much light on his contentious relationship with his brother David, whom he bickers with on the phone (although, teasingly, we never hear his sibling's side of the conversation). This story's ending is never in doubt — the killer is serving a lifetime prison sentence — but when Stone and Copley arrive at that fateful moment, they resist an easy dramatic payoff. But like so much of Ted K, it doesn't give us much to ponder, either.
Production companies: Ten By Twelve, Hideout Pictures
International sales: HanWay Films, info@hanwayfilms.com
Producers: Sharlto Copley, Matt Flanders, Tony Stone
Screenplay: Gaddy Davis, John Rosenthal, Tony Stone
Production design: Audrey Turner, Kate Lindsay
Editing: Tony Stone, Brad Turner, Troy Herion
Cinematography: Nathan Corbin
Music: Blanck Mass
Main cast: Sharlto Copley, Drew Powell, Travis Bruyer, Amber Rose Mason