Belinale habitue Denis Côté returns with a frank and difficult examination of female hypersexuality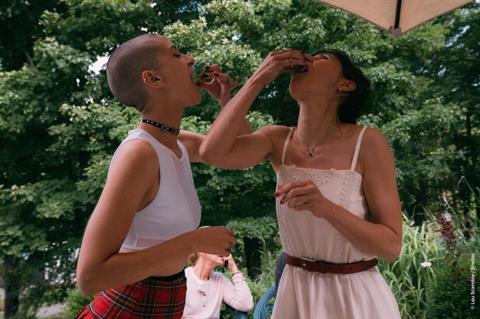 Dir/scr: Denis Côté. Canada. 2022. 137 mins
Three women who have been diagnosed as 'hypersexual' attend a voluntary 26-day retreat in a serene location by a lake. The idea is not to cure them – the thesis underpinning both the retreat and Denis Côté's exploratory film is that hypersexuality is not necessarily something that needs to be fixed – but rather to engage with their sexual experiences and histories. And to enjoy "a holiday from the chaos that is probably your life," says the earnest course founder, eyes wide with telegraphed empathy. But what might be a bold reframing of attitudes to the extreme fringes of female sexuality is not necessarily conducive to compelling cinema. That Kind Of Summer is talky, shapeless and baggy; it takes a rather long time to leave its central characters touched, but essentially unchanged and, in some cases, not satisfyingly explored.
Talky, shapeless and baggy
This is Côté's fourth appearance in Berlin's main competition, following Ghost Town Anthology, Boris Without Beatrice and Vic + Flo Saw A Bear, which won the Alfred Bauer Award in 2013. He also won Best Director in the Encounters strand last year for the playfully experimental Social Hygiene. That Kind Of Summer will likely be a talking point title in further festival slots, but may struggle to make much of an impact on the theatrical circuit, despite its sexual frankness.
The founder of the course, Mathilde (Marie-Claude Guérin) is heavily pregnant and unable to take on the role of therapist for this year's intake of women. She hands over the reins, with obvious reluctance, to Octavia (Anne Ratte Polle), a visiting academic from Germany. Octavia is a poised and private woman who is negotiating a rocky long-distance break up from her partner. Over the course of the 26 days she spends with the women – damaged individuals certainly, but free and uninhibited in a way that unsettles and excites her – she finds a new found core of personal strength.
The course residents are Léonie (Larissa Corriveau), a sober, introspective woman whose abuse by her father has left her with a compulsive obsession with group sex and a taste for S&M. Eugénie (Laure Giappiconi) is a woman with an intense, artistic temperament who spends a lot of time angrily masturbating and sketching while topless, and who is visited by intrusive sexual fantasies. Sex-worker Gaëlle aka Geisha (Aude Mathieu) is very young, very flirtatious, very keen on sex. Rounding out the cast is Sami (Samir Guesmi), a gentle social worker who finds himself the target of a great deal of harassment; and Diane (Josée Deschênes), the cook and housekeeper who, of all the characters, is the most troubled by the candid admissions and actions of the women.
Largely defined by their respective sexualities, the women are challenging characters to find depth in. The uneven performance quality means that some are more rounded than others.
Perhaps the most interesting element of the picture is the way the camera feeds on and channels the unpredictable energy between the women and their carers. There's a violence to the camera movements, a skittish restlessness which mirrors the unsettled mental state of an addict in need of a fix. At times, the lens is obtrusively close to the actors' faces, capturing the tone of oversharing which makes this intimate examination of sexuality an unexpectedly uncomfortable watch.
Production company: Metafilms
International sales: Shellac sales@shellac-altern.org
Producers: Sylvain Corbeil, Audrey-Ann Dupuis-Pierre
Cinematography: François Messier-Rheault
Editing: Dounia Sichov
Production design: Marie-Pier Fortier
Main cast: Larissa Corriveau, Aude Mathieu, Laure Giappiconi, Anne Ratte Polle, Samir Guesmi, Josée Deschênes, Marie-Claude Guérin