A Syrian man finds himself drawn into conflict while searching for his missing brother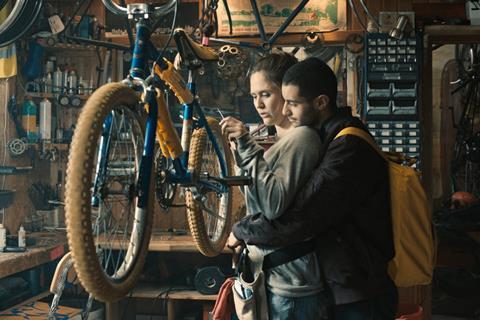 Dir/scr: Randa Chahoud. Germany, UK. 2019. 108mins
The complex currents of recent Syrian history are reflected through the experiences of one refugee in The Accidental Rebel, an ambitious, solidly crafted first feature from writer/director Randa Chahoud. A lot of territory and conflicting emotions are covered in a well-intentioned drama that often feels too reliant on convenience and contrivance to impose structure on the wide-ranging material. Some further festival exposure should still follow its world premiere at Busan, however.
Chahoud's unshowy approach always seeks to serve the story
In 2011, Karim (Mehdi Meskar) celebrates the start of the Arab Spring in Latakia, Syria by performing with his band in an underground cafe owned by his parents Miriam (Amira Ghazalla) and Hadi (Husam Chadat). Subsequent events prove the fragile promise of that moment and he is sent to study in Germany. Five years later, Karim is settled in Hamburg with his Icelandic girlfriend Lilly (Emily Cox) who is pregnant with their first child. He has embraced a new life and is awaiting the arrival of his parents who have fled Syria and reached Sofia in Bulgaria.
His brother Yassir (Tariq al Sales) has not arrived in Sofia, though. The last phone message from him ends abruptly and comes with a background soundtrack of gunfire. Yassir's bazuq is a reminder of the music they once made together and the bond that still connects them. Karim now feels compelled to travel to the Turkish/Syrian border to discover the whereabouts of his brother and bring him safely to Germany. His claim that he can be there and back in a few days seems optimistic at best.
Predictably, the naive Karim is plunged into the brutal realities of life in war-torn Syria as he is pulled into the anti-Assad movement despite his protestations that "I am not here to fight." The Accidental Rebel becomes a film of contrasts as Karim's life in Syria grows increasingly steeped in bloodshed whilst Lilly is left to puzzle at his fate and make his parents welcome in Germany. At one point, Chahoud cross cuts between Karim's howls of pain and Lilly's screams during childbirth.
Chahoud's unshowy approach always seeks to serve the story. He tries to maintain the balance between the narrative strands in Syria and Germany, and also to give a decent amount of weight to each of the characters. Lilly initially seems confined to the thankless role of a supportive girlfriend destined to wait anxiously by the phone for news of her man. Yet she becomes a more interesting figure as we learn about the mistakes of her past and watch the affectionate, wary friendship that grows between her and Karim's friend Max (Jonas Nay) during his long absence.
Splitting the story so evenly keeps pulling the focus away from Karim. As a result, tension is sacrificed and broad brushtroke developments start to dominate. Karim's character undergoes a number of extreme gear changes from plucky innocent to blood-on-his-hands rebel soldier, traumatised survivor and obsessive avenger. An engaging Mehdi Meskar keeps the character sympathetic but there isn't enough variation or texture in his performance to make Karim's eventful emotional journey entirely convincing.
Production companies: Neue Impuls Film Produktionsgesellschaft, Lightburst Pictures, Cactus World FIlms.
International sales: East West Filmdistribution, sasha@eastwest-distribution.com
Producers: Clementina Hegewisch, Johannes Jancke
Production design: Juliane Friedrich
Editing: Adrienne Hudson
Cinematography: Soren Schulz
Music: Hani Asfari
Main cast: Mehdi Meskar, Emily Cox, Jonas Nay, Husam Chadat