Dir/scr. Pamela Romanowsky, USA, 2015, 90 minutes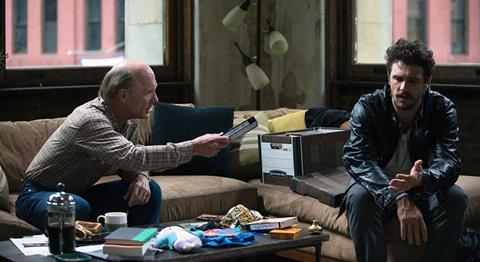 In The Adderall Diaries, James Franco adds the struggles of a drug-addled writer who likes kinky sex to his ever-expanding acting resume. The result is not altogether intoxicating.
Harris can turn on rage in an instant to transform himself into a vicious blue-eyed skull in a close-up
Franco, who optioned the book and produced, has a fan base, as does Stephen Elliott, whose 2010 memoir adapted in the film rallied a hipster readership. Those loyalties will boost the reach of this ambitious tale about the toll of abuse (and many other things) by first-timer Pamela Romanowsky. Given Franco's popularity, The Adderall Diaries may not flop, but this director/screenwriter would appear to be in over her head.
Franco plays Stephen Elliott, the much-abused son of a violent father (Ed Harris), who fled the older man when he could. When we meet him, he's got a book contract (thanks to agent Cynthia Nixon), but is spiraling downward, medicating his writer's block with sado-masochistic partners and his new drug of choice, Adderall. The real cure for his writing difficulties comes when Elliott finds his own inner tale in the trial of a man (Christian Slater) who has murdered his wife.
In the written memoir, Elliott's words flow out like testimony from someone who can't stop talking about his most horrifying experiences, or about drugs or about sex, of which there's a near-baroque variety. Among the book's charms are the author's wild and funny digressions which seem just as hard for him to suppress. To tame that literary adventure into a movie script – rather than celebrate its wildness in full — Romanowsky has stuck mostly to the father-son conflict, which means that her screen version loses much of the compound fracture of Elliott's psyche.
Revisiting those violent moments in convulsive flashbacks, the film also sacrifices the sheer scale of the book's emotional range. Her hope may have been that the performances would fill the gaps.
They do, but not enough. Franco, who shot the film while performing in Of Mice and Men on Broadway eight times a week (and wearing the beard that his audiences saw on stage), brings an exhaustion to the role that suits Elliott's dilemma and explains his Adderall use. Still, exhaustion doesn't help an actor reach too far.
Yet his drug binges and sex quirks seem more dutiful than shocking. Amber Heard, playing against type as a reporter who meets Elliott while covering the murder trial for the New York Times, doesn't bring us any closer to the edge as his sex partner. Those scenes with Franco, shot by DP Bruce Thierry Cheung, are some of the film's most cinematic moments. The fact that Elliott's drug was Adderall doesn't make the visual drama any stronger. Taking a pill (or even chopping it up and snorting it) doesn't offer the same acting possibilities as shooting up with a needle, even if you're drinking water from a rusty tap. Don't expect the flourishes of Requiem for a Dream or Trainspotting.
Among the film's lost moments are those with Slater, playing a family man turned murderer about whom we never learn enough, although his example is crucial in setting Elliott's life on a straighter path and pushing him toward reconciling with his father. Court scenes and interiors look like standard American television fare.
The film also underexploits its New York locations. Romanowsky transposed the setting from San Francisco, yet Gotham doesn't offer much except a few conversations by the river and some buddy-schtick on a rooftop between Franco and friend Jim Parrack. You get the sense that the film was shot in New York because that's where the ever-busy James Franco was situated at the time.
Ed Harris shares the emotional burden of The Adderall Diaries with Franco as the man who set Elliott's manias into motion. Harris can turn on rage in an instant to transform himself into a vicious blue-eyed skull in a close-up. Still, there's a homing instinct toward reconciliation operating with Franco and Harris that ends up as more sentimental than unsettling.
Adaptations of any book that's already popular set the bar high, especially with a work of literary fireworks. Romanowsky has taken on a lot for a debut feature, and the material is too much for her.
Production companies: Windowseat Entertainment, Rabbit Bandini Productions
International sales: Kathy Morgan International Kathy@kmi.com
Producers: James Reach, Joseph McKelheer, Vincent Jolivette, James Franco
Executive Producers: Robert Redford, Ryan Dorff, Bill Kiely, Leo Kiely
Screenplay: Pamela Romanowsky
Cinematographer: Bruce Thierry Cheung
Editors: Myron Kerstein, Marc Vives
Composer: Michael Andrews
Main cast: James Franco, Ed Harris, Amber Heard, Christian Slater, Cynthia Nixon, Jim Parrack