Dir. Elie Wajeman. France, 2015, 101 mins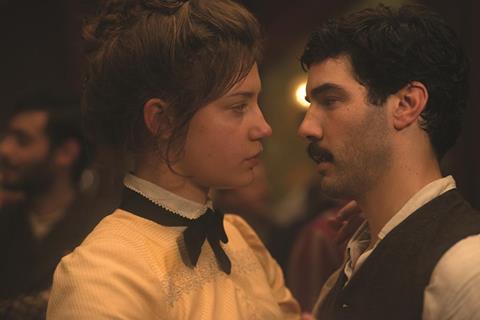 An intriguing premise, resonant themes and some winning performances from a cast led by Tahar Rahim and Adele Exarchopoulos still fall short of fulfilling the promise suggested by Elie Wajeman's second feature The Anarchists. Set in Paris in 1899, the drama pivots around the conflicted loyalties of an undercover cop who infiltrates the titular revolutionary cell. Cast names – and a trailer spotlighting the film's modest moments of action – should help The Anarchists storm a few barricades in its native France. Elsewhere, expect some niche theatrical and festival play, following the picture's opening-night slot in Cannes Critics' Week.
The always-engaging Rahim has his work cut out filling in the blank that has been sketched for this particular protagonist.
An orphan of humble origins, Corporal Jean Albertini (Rahim) makes a natural choice for his assigned task: lacking any political affiliations or even any notable characteristics, he's an affable presence who blends into any scene. He also possesses a quiet ruthless streak, callously breaking off with his girlfriend to clear the decks ready for his new life as a double agent.
Jean has been chosen to target a group of radicals led by Elisée Mayer (Swann Arlaud), who is naturally initially suspicious of the genial fellow who joins the ranks at his workplace, a nail factory. But after Jean proves his mettle when a political meeting is broken up by the police, Elisée takes him home to the handsome apartment owned by a rich sympathiser (Sarah Le Picard). Now Jean becomes the sixth member of a group that is defiantly opposed to the state and any kind of alternative power structures that might take its place.
The drama adds a welcome, if less-than-surprising, fresh element when attraction burgeons between Jean and Elisée's own girlfriend Judith (Exarchopoulos), even as the respectful friendship between the two men deepens.
The growing disaffection with Parliamentary democracy and establishment political parties in the West makes the arrival of The Anarchists particularly timely for audiences, while the group's chatty exploration of personal growth and gender equality feels similarly resonant. And when Elisée's band targets a private bank to liberate funds for the cause, modern audience sympathies can be taken for granted.
The cell's felonious activities follow a lengthy middle segment which feels rather claustrophobically imprisoned in the Paris flat, during which time the interplay of the characters plays out through devices such as a word association game. Although Jean later risks exposure when he encounters his ex-girlfriend while out drinking with his new friends, the inherent drama of the film's undercover premise seems of less interest to Wajeman and co-writer Gaëlle Macé than its exploration of character and political themes.
A sense of real jeopardy is rarely urgently felt, and the always-engaging Rahim has his work cut out filling in the blank that has been sketched for this particular protagonist. Scenes with his cynical police supervisor (filmmaker Cédric Khan, one of several cast members that featured in Wajeman's earlier Aliyah) register most strongly, and the temperature appropriately sizzles whenever, in snatched moments of passion, the camera zeroes in on Exarchopoulos' mouth.
Production companies 24 Mai Production, France 2, Mars Films
International Sales: Wild Bunch, edevos@wildbunch.eu
Producer Lola Gans
Screenplay Elie Wajeman, Gaëlle Mace
Cinematography David Chizallet
Editor François Quiqueré
Production design Denis Hager
Music Gloria Jacobsen
Main cast Tahar Rahim, Adele Exarchopoulos, Swann Arlaud, Guillaume Gouix, Karim Leklou, Sarah Le Picard, Cédric Khan, Emilie De Preissac
Wajeman exhibits impressive control over the formal elements, especially with gently fluid camerawork that initially seems to creep up on Jean's targets. Colours are notably desaturated, varying between monochrome blues for the police station and richer, warmer browns for rare forays into convivial settings. Gloria Jacobsen's composed violin-led score is used only sparsely. Occasional anachronistic song choices – including the Kinks' original version of I Go To Sleep – make their mark.