In the 19th century, a white medical officer and black sailor clash over the facts of a maritime disaster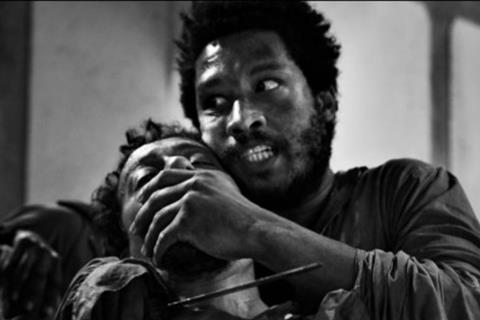 Director: Agustí Villaronga. Spain. 2021. 78 minutes
Salvaged from the wreck of an aborted theatre-play, Catalan writer-director Agustí Villaronga's tenth feature The Belly Of The Sea is an ungainly creative amphibian that's ultimately neither fish nor fowl. Based on a segment of Alessandro Baricco's 1993 novel 'Ocean Sea' – in turn inspired by Théodore Géricault's 1819 painting 'The Raft Of The Medusa' – this brackishly nautical enterprise ambitiously straddles periods, genres, registers and styles without ever finding its sea-legs.
Scattershot, sometimes rudderless handling of tricky material
World-premiering in competition in Moscow before a European premiere in the new, sea-oriented 'Harbour' section of Rotterdam, the widescreen, mainly-monochrome, Catalan-dialogue film would seem to have only marginal box-office prospects, even in its native Spain. While set in the early 19th century, parallels unsubtly drawn with the recent Mediterranean migrant crisis may assist the landing of further festival berths.
At just 78 minutes, The Belly of the Sea has – as previously been the case with Villaronga's diverse oeuvre – a quart-in-a-pint-pot feel, attempting to cover too much thematic and stylistic terrain in its relatively brief duration. This is the first time Bernat Aragonés has edited a Villaronga film, after supervising visual effects on the director's last three feature, and the collaboration's maiden voyage proves a rocky one.
The core of the picture concerns the conflict between two survivors of a maritime disaster, closely fitting the facts of the Méduse catastrophe from 1816 (Géricault began his famed painting the following year.) In a placid, tribunal-like setting, we see white, French medical officer Savigny (Roger Casamajor) and black ordinary sailor Thomas (Òscar Kapoya Besteiro) deliver contrasting evidence about the incident and its horrific aftermath. Their impassioned, graphic testimonies (the Baricco text is a series of monologues) are illustrated via flashbacks, choppily interspersed with more introspective or fanciful episodes.
'The Belly Of The Sea' was set to be staged in February 2020 at Bilbao's Arriaga Theatre, starring high-profile duo Dario Grandinetti and Eduard Fernández. But four months before opening night, in October 2019 (i.e. well before Covid-19) the show was cancelled "due to the impossibility of continuing with the production for artistic reasons." Villaronga instead started filming in his native Mallorca the following August, his cast now headed by Kapoya Besteiro and Casamajor (the latter a standout supporting player in Villaronga's best-known film, 2010's Black Bread, winner of nine Goya awards.)
The film version bears clear and heavy traces of these origins – not least via numerous overtly stylised sequences set on the crowded raft but visibly shot in a high-ceilinged inland warehouse-like space, flooded with knee-high water. Anachronistic costuming distractingly abounds in these quasi-Brechtian stretches. Elsewhere, suspension of disbelief is made much easier by conventionally-handled (and conventionally-scored) period-picture scenes, including some exteriors filmed on or near the sea itself.
Villaronga and Bernat also briefly interpolate "found" images, including somewhat on-the-nose displays of the Géricault canvas, this painting examined after it has been elaborately recreated in tableau-vivant style. Brief extracts from photographer Francesco Zizola's acclaimed photography/moving-image series In the Same Boat (2015), depicting migrant traumas in the Mediterranean, appear in the early stages; later, piles of corpses from the holocaust and other atrocities are glimpsed. But these touches come off as opportunistic and heavy-handed, typical of the director's scattershot, sometimes rudderless handling of tricky material.
Back in the 1980s, Chilean-French maestro Raul Ruíz frequently found clever and deceptively easy-looking ways to tell epic historical stories – often with similarly Conradian, seafaring themes – on shoestring budgets. He would probably have responded brilliantly to Baricco's discursive, high-flown, elliptical style, which has generally proven an awkward fit for cinematic treatment – as Giuseppe Tornatore found in 1998 with his big-budget flop The Legend Of 1900 (subject of an unlikely but startlingly lucrative Chinese re-release in 2019.)
By far the most effective sequence here is also the simplest. Around the hour mark, and for nearly five minutes, Thomas and Savigny conduct a fiery but respectful conversation outside the tribunal room, presented "straight" without the picture's usual stylistic/editorial bells and whistles. The Belly Of The Sea flares belatedly, briefly but vividly to life, touching on profound, thought-provoking matters of philosophy and psychology via these two very different seafaring fellows.
Villaronga's biggest strength lies in handling performers – he directed Nora Navas and Yordanka Ariosa to Best Actress wins at San Sebastian for Black Bread and The King of Havana (2015) – and the gracefully compellingly Kapoya Besteiro is a notable discovery. This is reportedly only his second feature-film credit (after 2008's little-seen Radio Love), and the part-time personal trainer deserves credit for so nimbly emerging from this waterlogged project with his reputation enhanced.
Production companies: La Perifèrica Produccions, Testamento
International sales: Feel Content, info@feelcontentintsales.com
Producers: Cesc Mulet, Javier Pérez Santana
Screenplay: Agustí Villaronga (based on "a text" by Alessandro Baricco)
Production design: Susy Gómez
Editing: Bernat Aragonés
Cinematography: Josep M. Civit, Blai Tomàs
Music: Marcús J.G.R.
Main cast: Roger Casamajor, Òscar Kapoya Besteiro, Muminu Diallo, Marc Bonnin, Armando Buika, Rafael Ramis
========================================================