Jia Zhangke produces his mentee Wang Jing's taut, thrilling debut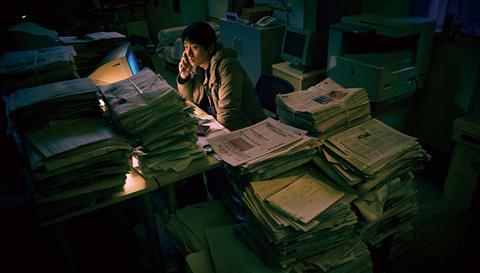 Dir: Wang Jing. China. 2020. 115 mins
Inspired by a true story, Wang Jing's debut feature The Best Is Yet To Come recounts how a dedicated newspaper journalist went to great lengths to report on social injustice back when China's teeming urban population still avidly read print media. It is afforded a certain timeliness by taking place in Beijing in 2003 during the aftermath of the SARS epidemic, with a sense of cautious optimism for the future as the mysterious virus retreats. Yet it is the film's ever pertinent call for objectivity and humanity in the daily news cycle which makes it stirringly relevant. Working under the auspices of producer Jia Zhangke, for whom he has previously served as an assistant director, Wang has delivered a thoroughly invigorating blend of character study and investigative thriller.
A propulsive Chinese take on the crusading journalist archetype
Receiving its world premiere at the Venice Film Festival's Horizons sidebar, The Best Is Yet To Come is poised for a run of prestige event engagements (Toronto will follow) but also looks set to become a box office success in its home territory. China's cinemagoers frequently spark to socially conscious material when it is relayed with sufficient storytelling brio. Internationally, speciality sales should prove strong on this propulsive Chinese take on the crusading journalist archetype with Jia's involvement bestowing considerable art-house cachet.
Aspiring journalist Han Dong (White K) has relocated to the capital to pursue his dreams despite being a high school drop-out. Touting a portfolio of online 'citizen journalism' and equipped with a defiant mantra ("Reportage isn't about having a diploma, it's about keen observation"), he weathers rejections at jam-packed job fairs but manages to grab the attention of Huang Jiang (Zhang Songwen), a veteran reporter at top newspaper Jingcheng Daily. Offered an internship with a slim chance of proper employment thereafter, Han Dong seizes the opportunity to establish his credentials and build a better life for his supportive girlfriend Xiao Zhu (Miao Miao).
Having earned his stripes by contributing to a report of a mining disaster, Han Dong embarks on a potentially explosive investigation into the trafficking of forged health certificates for Hepatitis B carriers. However, the journalist comes to question his angle when he realises that medical fraud is only being committed to circumvent unjust discrimination. Although many carriers of the virus are in fact asymptomatic, their professional opportunities are being unfairly curtailed as a result of the misplaced belief that transmission can easily happen in public spaces.
Production designer Liu Weixin's recreation of a period that paradoxically seems distant yet has not long passed is grittily evocative with a strong use of locations around Beijing and further afield. As with any journalism drama, though, it's the depiction of the professional milieu that really makes the proceedings ring true. Scenes in the newsroom feel unerringly authentic with staff beavering away behind large computer screens or walled-in by piles of paper while even the obligatory induction montage is spruced up with some choice tough love statements ("You'll be a reporter when you've worn out five pairs of shoes"). Out on the beat, the manner in which Han Dong researches the medical fraud story is chronicled in rigorous detail with White's quietly purposeful performance conveying the dogged journalist's affinity for the marginalised citizens he encounters throughout the process.
Given that Jia has not only produced but recruited some of his regular collaborators (cinematographer Yu Lik-wai and editor Matthieu Laclau) it's tempting note his influence. Devotees of the Sixth Generation pioneer will register the integration of footage shot on period appropriate digital video, a flight of fancy when a pen magically floats around the newsroom, and Jia's wry cameo as a Shanxi mine manager. However, Wang confidently steps out of the shadow of his mentor through sheer narrative urgency and an investment in a real-life hero who has cultivated the skillset necessary to challenge social inequality through mainstream channels. It makes for compelling viewing with Laclau's editing maintaining a taut thriller tempo without sacrificing crucial character beats while Yu's textured cinematography adds a noir quality and Yoshihiro Hanno's electronic score provides a suitably driven accompaniment.
The only misstep is that the idealistic journalist's girlfriend is often forgotten, which is generally the case in such dramatisations. Although the screenplay strives to give voice to even minor characters, Xiao Zhu receives short shrift and mainly serves as a link to Han Dong's humble background. Otherwise, this is a stellar debut feature which, much like its source of inspiration, more than puts in the work needed to earn its triumphant ending.
Production companies: Fabula Entertainment, Momo Pictures
International sales: Rediance, info@rediancefilms.com
Producer: Jia Zhangke
Screenplay: Huang Wei, Hwong Minmin, Chen Chengfeng, Li Jingrui
Production design: Liu Weixin
Editing: Matthieu Laclau
Cinematography: Yu Lik-wai
Music: Yoshihiro Hanno
Main cast: White K, Miao Miao, Zhang Songwen, Song Yang