A Romanian pizza delivery driver scours London's streets for his stolen moped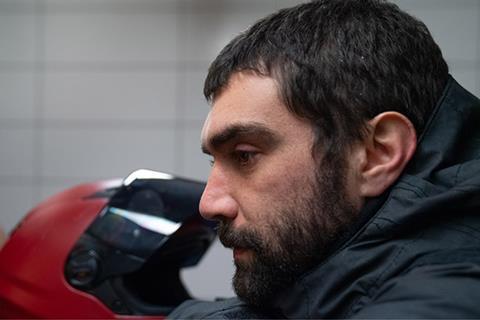 Dir/scr. Matt Chambers. UK. 2020. 79mins
In The Bike Thief, a London pizza delivery driver spends 24 hours scouring the streets in search of his stolen moped. Without it, the Romanian expat cannot earn a living, could lose his apartment — which is rented to him by his boss — and is unable to take his wife to work or his teenage daughter to school. With its title, premise and naturalistic cinematography, this British drama instantly recalls Vittorio De Sica's 1948 neorealist classic The Bicycle Thieves. Yet writer/director Matt Chambers has astutely turned his debut feature into an involving story about surviving in an unforgiving world amid the complexities of the current immigrant experience.
Familiar but affecting snapshot of a family doing their best to get by
Also effective is the casting of God's Own Country actor Alec Secareanu as The Bike Thief's protagonist, known only as 'The Rider', in a move that should help the Tokyo-premiering film gain further festival traction. As proved the case in that vastly different queer romance, there is a lingering and soulful physicality to Secareanu's on-screen presence — even when acting with his face concealed under a motorcycle helmet, as he does for much of the feature.
Winding through London's streets first in the inky evening hours, then in the harsh morning light, Chambers and cinematographer Nanu Segal (Old Boys, An Evening with Beverly Luff Linn) are initially content to observe The Rider's routine; weary but dutiful, zipping between drop-offs and tolerating his colleagues' antagonism in order to support his family. At home in a cramped tower block flat, he steals what time he can with his wife Elena (4 Months, 3 Weeks And 2 Days' Anamaria Marinca), before dropping her off at her cleaning job with their infant son strapped to her chest. With high-schooler Miri (Alexia Maria Proca), he is attentive, although she frequently uses her textbooks as barrier to avoid his attempts at fatherly conversation.
Precise, specific, yet also universal in the way that detailed, textured glimpses of one person's plight can be, these early scenes do not merely sketch a portrait of The Rider, but solidify a firm picture of this devoted husband and dad. While the film's moniker signals that he will soon be searching for his moped, Chambers inches slowly towards that pivotal point. And although tension peppers the score by first-time composer Graham Hastings (from Scottish band Young Fathers), The Bike Thief remains notably clear-eyed about its characters and their precarious situation, rather than excessively anxious or grim.
In fact, when the moment comes, The Rider embarks upon his quest to reclaim his bike with a resolute but also resigned air. Whether he is hiding the truth from Elena to avoid her worrying, asking his one kindly co-worker (Lucian Msamati) for advice or fretting over the questions asked when he reports the incident to the police — or, later, grappling with whether to resort to stealing himself to obtain another vehicle to keep working — The Bike Thief makes it apparent that he is choosing the only options available to him in the absence of a support system or, from the powers-that-be, much compassion and understanding.
Alongside Secareanu, both Marinca and Proca offer nuanced performances that add to this familiar but affecting snapshot of a family doing their best to get by. Indeed, each is gifted a particularly telling scene that either lays bare their characters' constant struggle or illustrates the small pleasures they are trying to relish. The Bike Thief may not drive through new terrain to tell their tale, but it makes its journey perceptively and thoughtfully.
Production company: Ugly Duckling Films, Ellipsis Pictures
Sales: Beta Cinema, beta@betacinema.com
Producers: Lene Bausager, Sophia Gibber, Peregrine Kitchener-Fellowes
Editing: Tommaso Gallone, Dan Roberts
Cinematography: Nanu Segal
Production design: Adam Faux
Music: Graham Hastings
Main cast: Alec Secareanu, Anamaria Marinca, Alexia Maria Proca, Lucian Msamati, Aaron Neil