Animated comedy sequel offers more of the same heavy-handed reliance on slapstick and schmaltz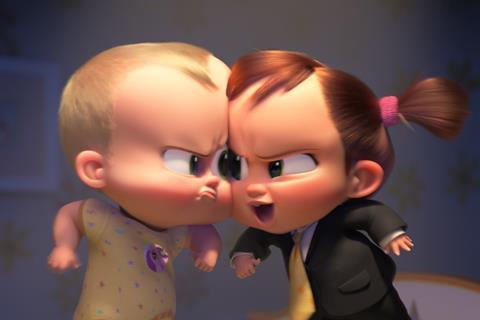 Dir: Tom McGrath. US. 2021. 107mins
The villain in The Boss Baby: Family Business brainwashes unsuspecting parents by bombarding them with bright, swirling images — an apt metaphor for the experience of watching this rambunctious, narcotizing sequel to the 2017 original. Shamelessly sentimental and weighed down by 1980s pop-culture references, DreamWorks' animated film lacks the novelty of the first picture — which introduced the idea of Baby Corp, the efficient organisation where all newborns come from — while crafting a convoluted follow-up that reunites distant brothers Ted and Tim in adulthood. Alec Baldwin and James Marsden bring some personality to the proceedings, even if Family Business mostly feels like a tool for keeping youngsters distracted for a couple hours.
The filmmakers' insist on overdoing everything: the schmaltz, the slapstick, the feverish pace
Arriving in US theatres (and on the Peacock streaming service) from July 2, the sequel will target family viewers over the Independence Day holiday. (A UK release is planned for October.) The franchise, based on Marla Frazee's picture books, has also spawned a short film and a Netflix series, so there's a built-in audience for Family Business among those seeking undemanding entertainment options.
Now grown up, Tim (voiced by Marsden, replacing Tobey Maguire from the original) laments that he's getting older — and that he and younger brother Ted (Baldwin) have drifted apart after being so close as kids. Still, he loves being a father to two girls, including his eldest daughter, precocious grade-schooler Tabitha (Ariana Greenblatt), who's starting to assert her independence and pull away from him.
But late one night, he's shocked to discover that his infant girl Tina (Amy Sedaris) can talk; which means she's a Boss Baby from Baby Corp, the secret corporation that monitors the safety of babies worldwide. Tina recruits Tim and former Boss Baby Ted to go undercover at Tabitha's prestigious, suspicious-seeming school, a mission that requires the two men to drink a serum that makes them look like they did when they were kids.
Boss Baby director Tom McGrath and screenwriter Michael McCullers once again team up for the sequel, resulting in another slick, self-consciously hip mixture of action, comedy and pathos. The original film tended to be hyperactive and strained — the cinematic equivalent of frantically shaking a toy in front of a child in order to hold her attention — and Family Business proves to be more of the same, lacking the wit or elegance displayed in top-flight animated fare.
That said, there is a touching notion at the centre of Family Business, which finds Tim befriending Tabitha in his boyhood form, learning more about her during his undercover mission than he ever did as her dad. Greenblatt gives a sweet performance, portraying Tabitha as a bright, kindhearted girl who's nervous about showing the world just how smart she is for fear of being mocked. As for Marsden, he puts his cheerfully overly-enthusiastic persona to good use playing a well-meaning father who's terrified of losing his connection to his daughter.
Otherwise, Family Business focuses on a familiar world-domination plot, with Ted and Tim uncovering that the school's administrator, Dr. Armstrong (Jeff Goldblum), is actually an evil genius who has plans for his students' parents. Although the animation is often colourful, the film's lively look isn't helped by the pedestrian storytelling, or the lazy shout-outs to dated or easily recognisable pop-culture ephemera. (Run-DMC, Enya and The Karate Kid are all setups for uninspired gags.) In general, Family Business isn't so much funny as it is densely layered with jokes, the filmmakers no doubt hoping that quantity will make up for quality.
Baldwin's snide Ted remains dryly amusing — the actor is essentially doing a riff on Jack Donaghy, his sharklike 30 Rock character — but the conceit is less fresh in the sequel, and the picture's attempts to dramatise the resilient brotherly bond between Ted and Tim fail to convince. There are plenty of would-be tearjerking moments in Family Business as different generations of this family reaffirm how much they mean to each other, but the sincerity of those scenes is consistently undercut by the filmmakers' insistence on overdoing everything: the schmaltz, the slapstick, the feverish pace. This is a picture about the importance of growing up that too often treats its audience like children, overwhelming them with stimulus until they're numbed into submission.
Production company: DreamWorks Animation
Worldwide distribution: Universal
Producer: Jeff Hermann
Screenplay: Michael McCullers, story by Tom McGrath and Michael McCullers, based on the books by Marla Frazee
Production design: Raymond Zibach
Editing: Mary Blee, Mark Hester
Music: Hans Zimmer and Steve Mazzaro
Main voice cast: Alec Baldwin, James Marsden, Amy Sedaris, Ariana Greenblatt, Jeff Goldblum, Eva Longoria, James McGrath, Jimmy Kimmel, Lisa Kudrow