A despairing stand-up comic is diagosed with breast-cancer in Ruth Meehan's appealing debut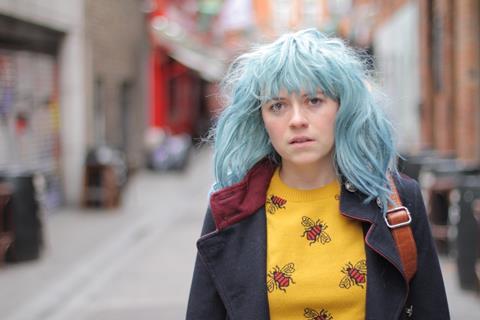 Dir: Ruth Meehan. Ireland. 2020. 99mins
The prospect of death becomes the best reason to choose life in The Bright Side. Ruth Meehan's assured debut feature views the experience of breast cancer through a world-weary woman seemingly eager to embrace a death sentence. The understanding, jagged wit and warmth makes for a conventional but likeable laughter-through-tears drama with modest commercial appeal.
Meehan confidently judges tone and pace
Inspired by Anne Gildea's memoir 'I've Got Cancer, What's Your Excuse?, The Bright Side finds Meehan drawing on personal material. The director's sister Alacoque died of cancer and the film is dedicated to " Alacoque + Mago and warrior women everywhere". The central figure Kate (Gemma-Leah Devereux) is a stand-up comic, like Meehan, and her sarcastic, often defensive humour is central to the character and the film.
Kate has a modestly successful career as a comic but has reached a stage in in life of wondering whether that's all there is. Her routines are tinged with bitterness and disappointment. She seems to approach every situation with both fists raised. Comedy is a strategy to keep the world at bay. Every failed relationship is material for her one-liners, every setback a punchline. Attempting to channel Marilyn Monroe at an audition for a toilet tissue commercial is just one more humiliation.
A fall from a trampoline results in a few bruised ribs, an X-Ray and the discovery of a lump on her left breast. Already suicidal, Kate seems to welcome the diagnosis as a "guilt-free way out".
Once Kate begins her treatment and meets a cross-section of fellow patients, it is clear where The Bright Side will be heading. Sisterly solidarity and a wall of positivity will inevitably chip away at her tough defences. The support group that surrounds Kate is well cast and grows to include posh, beacon of hope Fiona (Karen Egan), wise old Roisin (Barbara Brennan), Helen (Derbhle Crotty) who regrets the wasted years of not coming out until she was 43, and stroppy, youngster of the group Tracy (Siobhan Cullen) who is desperate to survive, in sharp contrast to Kate's indifference.
The predictability of the film doesn't diminish its impact. Meehan confidently judges tone and pace, favouring restraint and using humour to undercut any drift towards heavyhanded sentimentality. Kate's stand-up gigs punctuate the ongoing dramas and she starts using her breasts the way a ventriloquist uses a dummy as she chats, argues and confides in them.
The growing bonds between the women are deftly sketched especially during a trip away for a fly fishing weekend that allows cinematographer J J Rolfe to introduce picturesque scenery that is easy on the eye. During the trip, the booze flows, revelations follow and vulnerabilities are exposed. Tom Vaughan-Lawlor has a sweet supporting role as Andy, a widowed pharmacist who takes a shine to Kate.
Gemma-Leah Devereux, who played Liza Minnelli in Judy, comfortably shoulders the burden of the film as a complex, contradictory woman. Finer instincts start to challege her default settings of cynicism and aggression but Devereux makes you believe in every step of that inner struggle to arrive at a better place.
Production company/international sales: Playground Pictures tonydeegan@playgroundpictures.com
Producer: Tony Deegan
Screenplay: Jean Pasley, Ruth Meehan
Editing: Colin Campbell
Cinematography: J J Rolfe
Prod des: Mark Kelly
Music: Stephen Rennicks
Main cast: Gemma-Leah Devereux, Siobhan Cullen, Karen Egan, Barbara Brennan, Derbhle Crotty, Tom Vaughan-Lawlor