Paul Schrader's Competition title stars Oscar Isaac and Tiffany Haddish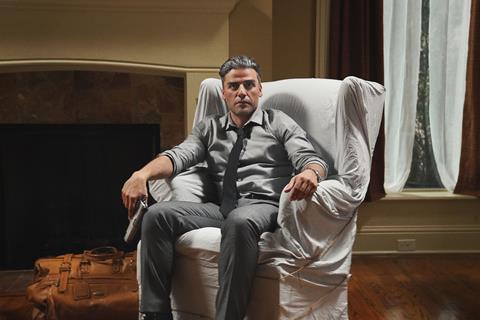 Dir/scr: Paul Schrader. US. 2021. 112 mins.
Perhaps the most arresting scene in veteran screenwriter turned director Paul Schrader's new film comes when Oscar Isaac's professional gambler and the gambling agent played by Tiffany Haddish go on what both know (but neither has quite admitted) is their first date. They're walking in a botanical garden that has been turned into a magical light show. Nature has been given the Las-Vegas treatment, but the tone is romantic enough until the camera soars up high to show this park from far above – and suddenly everything looks like a video game. The zoom out pens us back into a space even smaller than the over-lit casino salons which the hesitant couple have fled to get a breath of fresh air.
One more male-slanted Paul Schrader script about a haunted man at a crossroads
It's a neat metaphor for what's going on in The Card Counter – a film that continues the second, third or fourth coming (opinions differ) of the 75-year-old director, 45 years after his script for Taxi Driver transformed him from film critic to hot studio property. In some ways, this is a more muted outing than First Reformed, the 2017 title that brought Schrader the kind of critical and awards-season kudos his work hadn't seen for years. Despite The Card Counter's delve into the trauma of Abu Ghraib and the scandal of "enhanced interrogation" for a man and a nation, Schrader's latest spends much of its running time deliberately opting to be as dramatically locked down as its central character – something that will skew it towards more resilient and mature audiences when Focus Features releases it in the US on September 10, following a Venice Competition premiere.
If Ethan Hawke let the anguish bubble up as the Calvinist priest of First Reformed, Oscar Isaac keeps a lid firmly jammed on the pressure cooker that is 'William Tell' – the poker moniker of a former marine turned military prison internee turned gambler who muffles his emotions and anger the same way he covers all the furniture and fittings of the motel rooms that seem to be his only home. Tell is a professional poker and blackjack player who tours the US playing for low stakes and winning sums small enough not to attract the ire of casino owners before moving on. His talent is counting cards in order to narrow the odds – a skill he learned while in military prison, back when he was still called William Tillich and was serving time for the crimes he was judged to have committed while on guard duty at Abu Ghraib.
"I keep to modest goals" is the watchword of a man with a precise side parting who aims not to attract notice, whose cheap suits stretch across his back when he sits anything but poker straight, and whose first answer to the proposal of gambling agent La Linda (Haddish) that he start playing for higher stakes is a definite 'no thanks'. But then Tell meets Cirk (Tye Sheridan), a mixed-up drifter with a grudge against Willem Dafoe's Major Gordo – a shadowy contractor who avoided punishment for crimes in Iraq because he was classed as a service provider, not a soldier. Long cut off from the world and its noise (the worst thing about Abu Ghraib was "the noise", he tells Cirk at one point), lulled by his obsessive routines, the numbers and odds he runs over in his head, Tell suddenly faces two knocks on the shell he has crawled into – one romantic, from the clearly interested La Linda, the other one, much more timid and confused, from Cirk, stirring a paternal instinct in the lonely gambler for what we guess is the first time.
But La Linda is a bit of a cypher, a dose of feminine warmth in a dark male story. In fact, it's the 'alternative family' strain of The Card Counter that is its weakest element. And as a gambling film, Schrader's latest will disappoint connoisseurs of the genre who like to rank movies from Rounders to Hard Eight and The Cincinnati Kid. Although there's some amusing sideshow action involving a Ukrainian-born poker whizz who calls himself Mr USA, William plays the game like an accountant. If he was the real William Tell, he would know all about arrow trajectories and life insurance.
The Card Counter cuts frequently to flashbacks of the horror that was Abu Graib filmed with a distorted fish-eye lens, setting scenes of the mild, awkward male ennui as Cirk and Wiliam bond to a nerve-jangling soundtrack by Robert Levon Been of hard rock band Black Rebel Motorcycle Club. But the film is all about what is happening below the surface – in William, and in America. Its odd meld of drab suburban casinos, wrapped motel rooms, nightmarish Iraqi torture sequences and military correctional facilities where the furniture is bolted to the floor, all build to a video-artist vision that comes bursting surprisingly out of an old-school box – and results in one more male-slanted Paul Schrader script about a haunted man at a crossroads.
Production companies: Saturn Streaming, Astrakan Film Lab AB, Redline
International sales: HanWay Films, info@hanwayfilms.com
Producers: Braxton Pope, Lauren Mann, David Wulf
Production design: Ashley Fenton
Editing: Benjamin Rodriguez
Cinematography: Alexander Dynan
Music: Robert Levon Been, Giancarlo Vulcano
Main cast: Oscar Isaac, Tiffany Haddish, Tye Sheridan, Willem Dafoe, Alexander Babara, Bobby C. King, Kat Baker, Bryan Truong, Dylan Flashner