Inside a martial arts dojo, young Black boys learn to overcome their very real fears of the world outside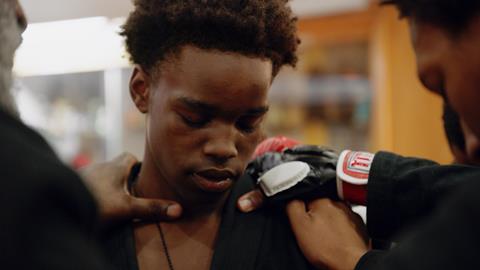 Dir: Laura Checkoway. US. 2022. 94 mins.
"When I started The Cave, I thought Black boys needed discipline," says Jason Wilson, the central subject of The Cave Of Adullam. "I realised quickly they didn't need more discipline, they needed more love." Laura Checkoway's heartfelt documentary takes us inside the titular academy where Wilson does that work, moulding young African-American minds by teaching them martial arts — and, more importantly, helping them process trauma and get in touch with their feelings. But the film's inspirational tone is mitigated by the sobering reality facing Wilson's pupils, who are battling racism as well as confronting loss and a negative self-image.
The martial-arts exercises overlap with the exorcising of hidden anguish, the catharsis often accompanied by tears.
The Cave Of Adullam recently won Best Documentary and Best Editing at Tribeca, awards that will help boost its profile — as will the fact that the project is produced by Laurence Fishburne. Not unlike other recent documentaries, such as The Work, Checkoway's film explores masculinity and mental health, examining how young men grapple with personal issues through an unconventional group-therapy setting. In our Black Lives Matter era, The Cave Of Adullam should garner interest from subsequent film festivals, possibly accompaied by a modest theatrical or streaming release.
Wilson runs The Cave Of Adullam Transformational Training Academy in Detroit, catering to young Black men ranging in age from grade school to teenagers. Checkoway spends time with Wilson, who turned his own life around after a childhood where he could have become a criminal, and she also visits a handful of his students, each of whom regards The Cave to be an oasis away from their personal troubles — although, as they'll come to realise, those troubles are something they carry with them when they walk through the dojo's doors.
What becomes apparent from the opening sequence, in which Wilson comforts a crying pupil, is that this instructor isn't so concerned about training these boys to become karate masters. Instead, he's trying to help them master self-control and mindfulness, and the demands of martial arts are merely a metaphor for the emotional challenges they will face out in the world.
Checkoway, who was Oscar-nominated for her 2017 documentary short Edith+Eddie, illustrates those challenges through intimate portraits of the pupils. One student, Kevin, is still self-conscious from a very visible case of eczema on his face when he was very young and his classmates cruelly made fun of his condition. Meanwhile, Gabe seems to be struggling, in part, because he's never had a relationship with his father, who has been incarcerated for years. These boys and others attend The Cave, their martial-arts exercises overlapping with the exorcising of their hidden anguish, the catharsis often accompanied by tears.
Like Wilson, The Cave Of Adullam approaches the boys with great sensitivity, allowing for many unguarded moments as breakthroughs gradually occur. To be sure, Christian Lundberg's score can sometimes oversell the dramatic high points, and Checkoway's feel-good approach feels a tad too demonstrative. Perhaps not surprisingly, then, the most affecting sequences are the quiet glimpses into the young men's lives, the film revealing the obstacles these boys face in the wider world. With a despairing casualness, pupils mention the killing of Black children by cops, and Wilson peppers his preaching about controlling one's temper with grim reminders about how Black Americans are discriminated against by law enforcement, necessitating their need to remain calm in tense situations. That these young men need such lessons is a silent condemnation of a larger societal ill.
Wilson proves to be a compelling figure, a soft-spoken man devoted to helping this new generation come to terms with their emotions, forgive family members (often fathers) who have wronged them, and be confident when it comes to navigating adulthood. The documentary captures several instances of him simply talking to his students, sometimes displaying tough love but more often being a compassionate male role model for kids still trying to figure themselves out. In different ways, The Cave's pupils are harbouring grief and anger, and Wilson is committed to showing them that men shouldn't be afraid to be vulnerable in order to let go of the past. The Cave Of Adullam marvels at the small steps these boys take to become whole.
Production companies: Cinema Gypsy Productions, Wavelength, Banca Studio
International sales: CAA, amanda.lebow@caa.com; and ICM, jessica.lacy@icmpartners.com
Producers: Laurence Fishburne, Helen Sugland, Roy Bank, Laura Checkoway, Joe Plummer, Jenifer Westphal
Cinematography: Greg Harriott, Mike Doyle
Editing: Christopher McGlynn
Music: Christian Lundberg