Ellen Page produces and co-stars in this story about rehabilitated zombies set in Dublin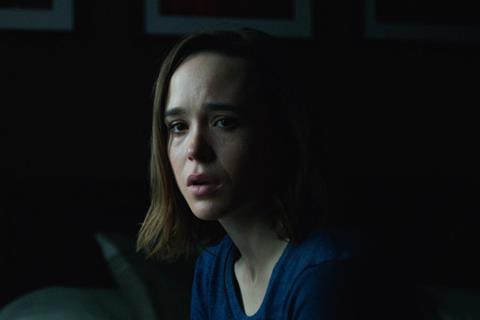 Dir/scr. David Freyne. UK/Ireland/France. 2017. 95 mins.
For his debut, writer-director David Freyne drops the viewer into a raddled, recovering Dublin, where zombies have laid waste to the city and traumatised the surviving population. An antidote has been found to the flesh-eater MAZE virus, however, and 'the cured' are slowly being reintegrated into society. Disturbingly, they remember their former bloodthirsty ways, and living with the knowledge that you may have eaten your next of kin isn't easy for the rehabilitated undead.
The Cured is at its sharpest when drawing acute political parallels
Produced by Ellen Page, who also co-stars, The Cured examines societal attitudes to the marginalised in a plot which bears superficial similarities to the BBC's TV series In The Flesh. There's a drab air to this low-budget film, however, which even Sam Keeley's presence and Tom Vaughan-Lawlor's menace can't totally re-animate. The Cured is at its sharpest when drawing acute political parallels. As a zombie film, the shocks are few – if effective – until The Cured lifts itself out of its porridgey aesthetic during the final act and its depressed cast of characters remembers to get their flesh-eating game on.
Freyne's encouraging debut starts out with former zombie Senan (Keeley) and his friend Conor (Vaughan-Lawlor) being released after their treatment has proved successful. Senan has been taken in by his American sister-in-law Abbie (Page), but former barrister Conor has to go to a halfway-house for the cured where he is given instructions by a brutal probation officer and instructed to sweep the streets.
Senan struggles with his conscience. His relationship with the less-regretful Conor is complicated and they harbour a dark secret. Senan is clearly traumatised by the past, but so is numb widow Abbie, who has been busy keeping her young son alive. Senan goes to work as a porter back in the hospital where Dr Lyons (Paula Malcolmson) is struggling to find a cure for the 25 percent of zombies who have been resistant to treatment. Then, the government announces plans to kill them all.
Outside the walls of the prison, or the house where Abbie once lived with Senan's brother, the general populace is restless, impatient and distrusting; scenes of violent mayhem begin to erupt on the rubbish-strewn streets of Ireland's capital city. The cured think about joining together to defend themselves. There's a pronounced aesthetic at play in The Cured – or a lack of budget - which emphasises the drab and downbeat as the principals grow ever more anguished. The film's soupy pea-greens and brown prison tones may hide some of the seams on the special effects, but also they also turn The Cured a murky watch.
Highlights include performances from Sam Keeley (Monsters: Dark Continent), who is a sympathetic presence throughout his character's many travails, while Tom Vaughan-Lawlor (the upcoming Maze, Love/Hate) is suitably menacing as the powerful Conor.
Production companies: Tilted Pictures Limited
International sales: Bac Films, sales@bacfilms.fr
Producers: Rachael O'Kane, Rory Dungan, Ellen Page
Executive producers: Conor Barry, Aaron Farrell, John Keville
Screenplay: David Freyne
Cinematography: Piers McGrail
Production design: Connor Dennison
Editor: Chris Gill
Music: Rory Friars, Niall Kennedy
Main cast: Ellen Page, Sam Keeley, Tom Vaughan-Lawlor