Dir. Stéphanie Di Giusto. France-Belgium-Czech Republic. 2016. 111mins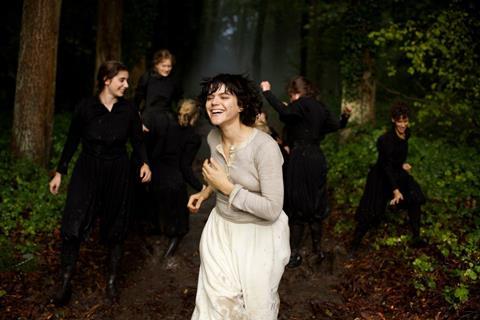 The inspiration behind great art can be as mysterious as the reasons why great artists are so easily pushed aside by new styles. That's but one lesson imparted in The Dancer (La Danseuse), an intelligent, thoughtful biopic about 19th century dancer Loïe Fuller that has more on its mind that a strict recitation of her career highlights. Director Stéphanie Di Giusto's unassuming feature debut portrays Fuller not as a stereotypically tormented genius but, rather, as a dedicated dancer ill-prepared for the ambitious, creative tornado that was Isadora Duncan, a new talent who would soon supplant her.
While The Dancer adheres to biopic conventions, Di Giusto uses them as a starting point for her inquisitions into art and artists
Screening in Un Certain Regard at Cannes, The Dancer should entice modern-dance fans, who may already be familiar with the rivalry that developed between Fuller and Duncan. A cast that includes Soko, Gaspard Ulliel, Mélanie Thierry and Lily-Rose Depp ought to help drive international sales, not to mention interest among those who've never heard of Fuller or her legendary Serpentine dance.
Starting in the late 19th century when Fuller (Soko) is still living on a farm in the Midwest with her alcoholic father, The Dancer follows her as she moves to New York, longing to be an actress before deciding to focus on dance. Soon she develops an avant-garde routine that incorporates long, flowing garments backed by coloured lights, making her movements feel like a whirlwind of pulsating images independent of her body. Success in New York propels her to even more acclaim in Paris, but the seeds of her downfall are sown once she befriends a hungry young dancer named Isadora Duncan (Depp).
While The Dancer adheres to biopic conventions, Di Giusto uses them as a starting point for her inquisitions into art and artists. Soko plays Fuller as someone whose humble background could never have foretold her meteoric rise in the dance world. The actress reveals the quiet, despondent insecurity that eats at Fuller, but never makes it apparent what drove this enigmatic dancer to endure great pain for her physically demanding performances.
Similarly, the film shows little interest in explaining its protagonist, simply acknowledging the innate ability Fuller had to revolutionize an art form by deemphasizing herself in service of the grand spectacle of her movements. Instead of psychoanalyzing her subject, Di Giusto explores how an innovator ultimately gets imprisoned by her innovation, fated to become passé because of changing times and new breakthroughs.
In The Dancer, that new breakthrough is Duncan and Depp gives her an ethereal grace that stands in stark contrast to Fuller's athletic earthiness. Without overstating it, Di Giusto dramatizes how Fuller felt eclipsed not just by Duncan's pure dancing talent but also by her beauty, creating a tense, vaguely erotic dynamic between the two characters that transcends the material's campy, bitchy cat-fight potential.
To be sure, Di Giusto doesn't pick sides in the ensuing rivalry. But her frank, sympathetic approach, aided by Benoît Debie's shimmering cinematography (particularly during Fuller's gorgeous dance numbers), suggests an admiration for the challenges involved in devoting one's life to a creative passion — and, also, how debilitating it can be to watch that life brushed aside for another's.
Production companies: Les Productions du Trésor, Wild Bunch, Orange Studio, Les Films du Fleuve, Sirena Film, Voo et Be tv, RTBF (Télévision Belge), Cofinova 12, A Plus Image 6, Palatine Etoile 13, Canal +, Ciné +
International sales: Wild Bunch, sales@wildbunch.eu
Producer: Alain Attal
Screenplay: Stéphanie Di Giusto and Sarah Thibau, with the collaboration of Thomas Bidegain, freely adapted from the novel Loïe Fuller, danseuse de la Belle Epoque by Giovanni Lista
Cinematography: Benoît Debie
Editor: Géraldine Mangenot
Production design: Carlos Conti
Main cast: Soko, Gaspard Ulliel, Mélanie Thierry, Lily-Rose Depp, François Damiens, Louis-Do de Lencquesaing, Amanda Plummer, Denis Ménochet