A teen pregnancy is the catalyst for disturbing events in Manuel Martin Cuenca's suspenseful drama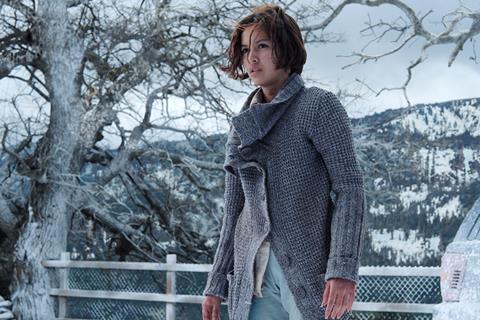 Dir: Manuel Martin Cuenca. Spain. 2021. 122mins
Disturbing events in striking locations are a constant in the films of Spaniard Manuel Martin Cuenca, and The Daughter, a twisted tale of surrogate motherhood set in a mountain region in Spain's beautiful Jaen province, continues the theme. Sometimes wonderfully suspenseful and sometimes woefully plodding, at times The Daughter feels like an exercise in style, its refusal to open up about its characters' motivations guaranteeing that the focus remains firmly on its highly-polished surface. But this Spanish maverick director has long been a festival favourite, and there's little in The Daughter to suggest that this will change.
The Daughter is gripping, and the script generally keeps one step ahead
Fourteen-year-old Irene (Irene Virguez, debuting) runs across the hills and fields to a rendezvous with Javier (Javier Gutierrez), from where they drive to Javier's remote mountainside home. For too long we're not clear what's going on, but it gradually emerges that she's part of a troubling plot by Javier and his wife Adela (Patricia López Arnaiz). Irene is pregnant and has escaped from the juvenile detention centre where Javier works in order to be with the couple who, having tried and failed to have kids of their own, have decided to live with Irene until she gives birth and then raise the child as their own. As a setup, it's grimly satisfying – there's never any question of whether things will work out, it's just a matter of how badly they'll go wrong.
At first, events unspool surprisingly smoothly, as Irene, herself now a surrogate daughter, plays along. But things start to unravel with the introduction of Miguel (Juan Carlos Villanueva), a veteran local cop assigned to locating Irene following her disappearance, and with the reappearance – following his own release from the detention centre – of the child's father Osman (Sofian Elben), who Irene's still in love with. And there's still the biggest issue of all to tackle: unsurprisingly to everyone except Adela and Javier, Irene decides she wants to keep the child.
Potentially, it's potent, heart-wrenching stuff. But Martin Cuenca enjoys upending audience expectations, and the chilly remoteness of the setting – literally chilly, when it comes to the film's terrific, snow-covered final act – seems to spill over into the film itself, as though the director prefers to maintain a fastidious distance rather than deal with the turbulent and messy psychological complexities underneath. This is really a film about the madness of maternity, but its remoteness means that too little of that humanity makes the journey into the viewer's heart or mind.
As an exercise in mounting tension, though, The Daughter is gripping, and the script generally keeps one step ahead. The film is heavy, too, with the hallmarks of the director's enjoyably ironic style: bright palettes, intensely communicative silences, and supercharged ellipses. One of these ellipses is very daring indeed, involving a presumed hillside murder that the viewer never sees. But the plot unravels after a little afterthought. The murder, for example, passes by with very little interest from Miguel, despite him having his suspicions about Javier and Irene.
For a director with a minimalist approach, much here seems excessive. Too many scenes feature Javier's four-by-four hurtling down country roads; while if drone abuse were a crime, The Daughter would be under arrest. The score is sometimes unwieldy, while one scene in which Miguel circles round the house, doubting whether to enter, works up the suspense well but then drags on too long.
All the performances are intense and buttoned down; nobody seems to get very worked up about anything. This is particularly impressive in Javier's case, given the increasingly violent emotions surely churning away inside him as the heat rises. Gutierrez, also the protagonist in Martin Cuenca's most recent outing The Artist, is a compelling master of ambiguity: Javier could, at all times, be both an abusive monster and a loving husband. It's a hard-to-play combination that Gutierrez makes entirely credible, and we end The Daughter unworried that we still haven't quite worked him out. The problem is that the script hasn't, either.
Production companies: Mod Producciones, La Loma Blanca, La Hija Producciones La Película A.I.E.
International sales: Film Factory v.canales@filmfactory.es
Producers: Fernando Bovaira, Manuel Martín Cuenca, Pablo Alfaro Águila-Real
Screenplay: Manuel Martín Cuenca, Alejandro Hernández
Art direction: Montse Sanz
Editing: Ángel Hernández Zoido
Cinematography: Marc Gómez del Mora
Music: Vetusta Morla
Main cast: Javier Gutierrez, Patricia López Arnaiz, Irene Virguez