Jim Jarmusch opens Cannes with a zombie feature which draws a gloomy portrait of our walking-dead existence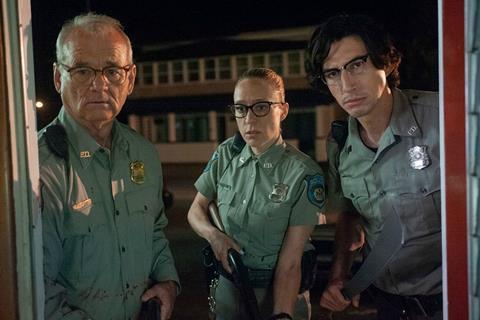 Dir/scr: Jim Jarmusch. US. 2019. 104mins.
A wry, bitter sense of resignation permeates The Dead Don't Die, an off-kilter zombie film by Jim Jarmusch which sees very little in the world that is worth saving. Set in a universe where characters are aware of the undead from other horror movies, this scary/funny concoction is uneven and clearly indebted to pioneers such as George A. Romero, who long ago understood that zombies could be effective metaphors for scores of social woes. And yet, Jarmusch, who often bends genres to fit his idiosyncratic vision, lands at something uniquely unsettling and dispiriting, launching a broadside against materialism, Trump's America and our collective apathy. It gets its point across, no matter how inelegantly.
The Dead Don't Die isn't subtle at positioning itself as a commentary on the worst elements of the modern world
After opening Cannes 2019 (in Competition), The Dead Don't Die will roll out in the US on June 14 and Europe a month later. Jarmusch has assembled a who's-who of celebrated indie actors, including several he has worked with before, including Bill Murray, Adam Driver and Tilda Swinton. But those hoping for a crowd-pleasing hipster zombie adventure may be disappointed by the filmmaker's glee at subverting audience expectations. As a result, crossover potential looks unlikely, although Jarmusch diehards should be on board.
The Dead Don't Die takes us to the sleepy town of Centerville — an obvious stand-in for a "real America" community far away from the big cities — which is patrolled by sluggish police chief Cliff Robertson (Murray) and his loyal partner Ronnie Peterson (Driver). But after polar fracking causes the planet to shift off its axis, strange things occur — most worryingly, the dead suddenly start to rise from their graves and feast on the living.
Not as accomplished or thoughtful as his recent films, such as Only Lovers Left Alive and Paterson, Jarmusch aims to provoke, using a not always successful merger of different tones. On the one hand, The Dead Don't Die feels like a lark — an excuse for the iconic auteur to gather some of his favourite repertory players for an amusing, low-key riff on the zombie film. (Everyone from Tom Waits to RZA to Iggy Pop shows up for what are sometimes little more than cameos.) The film has no compunction about being bizarre or self-referential — the characters acknowledge that they're inside a Jim Jarmusch film — and this quality is equally endearing and off-putting, depending on the effectiveness of the next joke.
But at the same time, an air of despair slowly starts to assert itself, undercutting the mirth with a bracing bleakness. The Dead Don't Die isn't subtle at positioning itself as a commentary on the worst elements of the modern world, especially when the reanimated legions begin craving the vices they loved when they were alive, including cellphones, the internet and coffee.
Jarmusch makes clear his disdain for our distracted, consumerist age, and although his critique may not be nuanced or original, he supplements it with interesting observations about how we have become inured to our increasingly dysfunctional and dangerous reality. Jarmusch's zombies represent everything from global warming to alt-right groups, and The Dead Don't Die is most trenchant when it shows how blasé the living can be around these ravenous creatures. In our modern world, zombies are just one more terror we've learned to normalise.
The Dead Don't Die's large ensemble results in the film feeling episodic and unfocused, moving from incident to incident without necessarily building to something more cohesive. Among the cast, Swinton has a blast essaying another of her peculiar, oddly-accented inventions — she plays a mortician who happens to be a whiz with a samurai sword — while Driver wrings every possible laugh out of his serenely subdued cop.
In recent films, Jarmusch has managed to craft sharply eccentric characters who are also deeply empathetic. For The Dead Don't Die, he seems more interested in types, which isn't as satisfying, but their lack of personality is also part of the point. There's a lifelessness to the living that leaves them feeling like zombies who haven't bothered dying yet. With Jarmusch's drone-rock band SQÜRL providing the ambient, mournful score, The Dead Don't Die places the viewer in an environment without hope or escape. The film's scattershot humour doesn't always land, but even when it does it's merely masking what is ultimately a gloomy portrait of our walking-dead existence.
Production company: Kill the Head
Worldwide distribution: Focus Features/Universal Pictures International
Producers: Joshua Astrachan, Carter Logan
Production design: Alex DiGerlando
Editing: Affonso Gonçalves
Cinematography: Frederick Elmes
Music: SQÜRL
Main cast: Bill Murray, Adam Driver, Tilda Swinton, Chloë Sevigny, Steve Buscemi, Danny Glover, Caleb Landry Jones, Selena Gomez, Austin Butler, Luka Sabbat, Rosie Perez, Eszter Balint, Iggy Pop, Sara Driver, RZA, Carol Kane, Larry Fessenden, Rosal Colon, Sturgill Simpson, Maya Delmont, Taliyah Whitaker, Jahi Winston, Tom Waits