Marie Leuenberger plays a housewife turned activist protesting her right to vote in 1970s Switzerland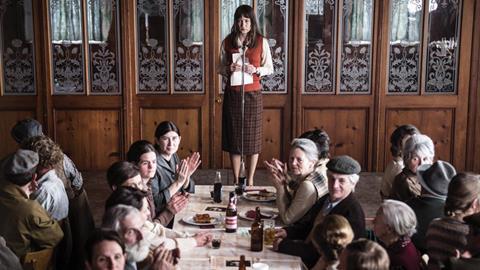 Dir/scr: Petra Volpe. Switzerland. 2017. 96 min
Switzerland is perhaps an unexpected presence on the women's suffrage roster of shame. Polite and picturesque, it's hardly the first place that comes to mind as a hotbed for repressive gender politics. Nonetheless, it took until 1971 for Swiss women to gain the right to vote; even later for full emancipation. This earnest, but slightly underpowered drama takes up that story, documenting the collision of 1970s protest culture with the community of a sleepy, picture postcard mountain village. The film's title refers to the argument put forward by Swiss religious and political leaders against allowing women to vote.
The Divine Order has a satisfying, feelgood trajectory and empathetic central performance from Marie Leuenberger
Although the obvious comparison to draw is with Sarah Gavron's Suffragette (2016), the culture clash dynamic of The Divine Order means the film has perhaps more in common with Matthew Warchus' Pride, although it has neither the wrenching emotional impact of the former or the riotous comedy of the latter.
A gentle, unassuming picture, it does have a satisfying, feelgood trajectory and empathetic central performance from Marie Leuenberger, although it remains to be seen whether this will be enough to win over audiences outside Switzerland; as Suffragette demonstrated, women's rights can be a tough sell at the box office. The film should, however, generate plenty of festival interest, particularly from programmers looking for accessible, issue-based fare.
The film opens with a montage of archive footage showing a bacchanale of counter-cultural debauchery and protest. The voice of Nora (Leuenberger) reels off a socio-political shopping list of all the events and movements which have so far failed to encroach on life in her little hamlet. A needle-scratch sound effect as we cut from archive footage to the pristine, snow-dusted time capsule of mountain life suggests a broad comic approach which subsequently doesn't materialise.
Nora, the young wife of Hans (Max Simonischek), mother of two boys and drudge to her cantankerous father-in-law, has accepted her lot in life unquestioningly. The woman's role, once married, is an endless cycle of sock-washing, tea-making and dusting, topped off with the same joyless, unflattering headscarf and haircut combination which has been passed down through generations of women before. The haircut is emblematic; Nora's political awakening is partly played out in the hairdressers chair, with the realisation that she should be able to choose her own destiny along with her hair-do.
Other factors include the fact that her husband can - and does - forbid her from taking a part time job, and a parenting over-reaction from her brother-in-law which sees her rebellious niece locked up in a women's prison. Tentatively, and supported by the widowed Vroni (Sibylle Brunner) and divorced Italian cafe owner Graziella (Marta Zoffoli), Nora starts to voice her support for women's right to vote in the forthcoming poll on the issue.
In a device with some parallels with Spike Lee's Chiraq, Nora becomes the face of a women's strike, although protest Swiss-style features more knitting and schnapps than violent dissent. Like the somewhat repressed characters, the picture is rather coy when it comes to sexual politics — although Nora does come to realise that among the things she is fighting for is the right hat to orgasm. The gauche sex scene in which she claims that right is toe-curling for all the wrong reasons.
The regulation 1970s colour palette of ochres and oranges is deployed, and the costume department has fun with synthetic fabrics and authentic, if eye-searing, period prints. Less successful is an energy-sapping score which feels like the antithesis of the spirit of polite rebellion that the film attempts to capture.
Production company: Zodiac Pictures International
International sales: Susan Wendt, TrustNordisk susan@trustnordisk.com
Producers: Reto Schaerli, Lukas Hobi
Cinematography: Judith Kaufmann
Editor: Hansjörg Weissbrich
Music: Annette Focks
Production design: Su Erdt
Main cast: Marie Leuenberger, Max Simonischek, Rachel Braunschweig, Sibylle Brunner, Marta Zoffoli, Bettina Stucky