Leah Purcell directs and stars and writes this Outback revenge thriller based on her own stageplay of an 19th century story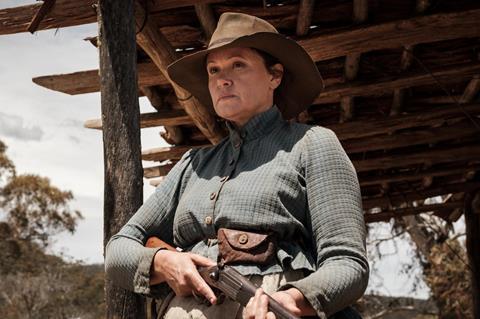 Dir/scr. Leah Purcell. Australia. 2021. 95 mins.
Australia's history of racial prejudice drives The Drover's Wife The Legend of Molly Johnson, an unrelenting 19th century-set Western that delivers a new reckoning with many of the nation's familiar cinematic themes. Following a mother determined to protect her children as a lawman and an Aboriginal fugitive each encroach upon her life, the atmospheric revenge-thriller marks the feature filmmaking debut of actor/writer/director Leah Purcell, who plays the titular matriarch with steely resolve, rousingly adapts her own play and book, and delivers an impassioned film with an unflinching Indigenous and feminist perspective.
An impassioned film with an unflinching Indigenous and feminist perspective
After premiering at SXSW, further festival slots should follow, as should audiences when the movie releases in Austalia later in 2021. Samuel Goldwyn Films has acquired US rights, and should be able to capitalise upon the topical storyline. An account of discrimination so entrenched that it tints everything it touches, and of women and people of colour fighting back, make this film as relevant now as ever.
Purcell has told this narrative three times now, on page, stage and screen, completing a multi-format trilogy that began in 2016, as inspired by Henry Lawson's 1892 short story The Drover's Wife. It's easy to see why she is so drawn to the tale: while the eponymous figure was not afforded a name in the original account of outback terror, The Legend of Molly Johnson establishes its heroine's identity throughout her repeated victimisation and spirited battle against oppression.
Everyone in the outpost of Everton knows Molly and her children, who she cares for alone on their remote property while her husband droves sheep. Newly arrived from London, Sergeant Nate Clintoff (Sam Reid) and his wife Louisa (Jessica De Gouw) are the exceptions. But when they steer their wagon to her door, enticed by the scent of a fresh-cooked roast — from a wild bull Molly shoots in an evocative early scene — they get a firm impression of a no-nonsense, heavily pregnant woman.
When the shackled Yadaka (Rob Collins) comes looking for food and shelter soon afterwards, he too meets Molly at her most steadfast. Even when her 12 year-old eldest son Danny (Malachi Dower-Roberts) takes a clear liking to their unexpected visitor, her stony attitude rarely cracks.
Via opening glimpses of Molly sporting bruises, viewers instantly know that violence taints her story, with her resolute demeanour taking on a survivalist tone. As conveyed with a fierce yet also mournful glint in Purcell's eye, Molly is no stranger to pain, hardship and doing whatever she must to survive. This becomes necessary when Clintoff starts investigating her husband's absence, Yadaka broaches her past and the cruel townsfolk trade secrets about her history.
Purcell turns in the type of powerhouse portrayal that a film can hang from. As a director, she also guides layered work from of her co-stars, especially the conflicted Reid, defiant, proud and caring Collins, and the engaging young Dower-Roberts as a son filled with undying love for his mother.
DoP Mark Wareham's (Jasper Jones) smooth camera can try a touch too hard to shake off the film's initially stagey feel, even while continually capturing striking landscapes while Salliana Seven Campbell's moody score segues effectively from western twanging to wailing rock guitars. Like Purcell's focus on the importance of storytelling in passing on knowledge, or Molly's actions and reactions, none of this is particularly subtle. But The Legend of Molly Johnson both earns its boldness and wears it as a badge of honour.
Production companies: Oombarra Productions, Bunya Productions
International sales: Memento Films International, sales@memento-films.com
Producers: Bain Stewart, David Jowsey, Angela Littlejohn, Greer Simpkin, Leah Purcell
Screenplay: Leah Purcell, inspired by 'The Drover's Wife' by Henry Lawson
Editing: Dany Cooper
Cinematography: Mark Wareham
Production design: Sam Hobbs
Music: Salliana Seven Campbell
Main cast: Leah Purcell, Rob Collins, Sam Reid, Jessica de Gouw, Benedict Hardie, Tony Cogin, Harry Greenwood, Malachi Dower-Roberts