Dir: David Leveaux. UK. 2016. 107mins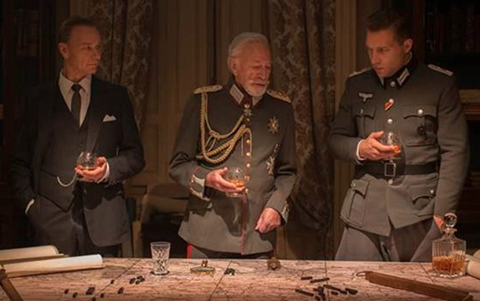 Christopher Plummer is regal, lion-in-winter fun in The Exception, but otherwise this is a fairly unremarkable World War II drama involving intrigue in the home of the exiled German Kaiser. British theatre director David Leveaux makes his feature debut, giving this story of clandestine love affairs, divided loyalties and bruised egos a stiff stateliness that never quite matches the twinkle in its Oscar-winning star's lively eyes.
The Exception's best, most complicated romance is the one between Christopher Plummer's Kaisere Wilhelm and his loyal wife, played by Janet McTeer
Premiering in Toronto, The Exception will court buyers on the strength of Plummer's warm performance. This period film should skew older, although the presence of Jai Courtney and Lily James, who play the story's central romantic pair, might attract some younger date-night crowds.
Based on Alan Judd's novel The Kaiser's Last Kiss, The Exception is set in 1940 as Stefan Brandt (Courtney), a captain in the now-fascist German army, is assigned to Holland to check in on Kaiser Wilhelm II (Plummer), Germany's exiled king, who lives in a palatial estate with his wife Princess Hermine (Janet McTeer), both of them holding out hope that one day they can return home and again rule their kingdom. Brandt's mission is to see if a British spy lurks among Wilhelm's staff, but he falls in love with a maid, Mieke (James), whom he doesn't realise is the very spy he's hunting.
Playing the disgraced former Kaiser who presides over his little fiefdom as if he were still king, Plummer admirably avoids the scene-chewing that might be expected from such a role. Wilhelm is a tragic figure in many ways — he can't let go of the military failures of World War I, as if obsessively revisiting them could somehow rewrite the past — but there's also a poignant grandeur to his demeanour. The veteran actor portrays the Kaiser in a state of perpetual readiness to regain his throne, and the crispness of the character's wit and royal bearing makes him endearing rather than pathetic.
But The Exception's title doesn't refer to Wilhelm, and indeed the movie is more focused on the burgeoning love affair between this Nazi captain and the maid, who confides in him that she's Jewish, adding to Brandt's conflict about whether to obey his orders or follow his heart. But the tasteful romantic drama doesn't throw off many sparks, and Courtney projects only blankness, his character's competing allegiances failing to prove compelling.
James fares better, Mieke pretending to be meek and mild around the Kaiser while operating in a more strategic manner once she's away from Wilhelm's estate. She's a seductive, smart character, but once Simon Burke's screenplay pivots into thriller terrain, James (like the rest of the cast) has to take a backseat to plot machinations.
Indeed, The Exception ends up becoming a pedestrian showdown between boo-hiss Nazis — Eddie Marsan is subdued in his villainy as Heinrich Himmler, who pays the Kaiser a visit — and our heroes, who must band together to protect Wilhelm. Rather than being gripping, the film settles into a series of melodramatic scenes in which characters must decide where their loyalties lie. It's all rather drab, so thank goodness Plummer provides a little flair with the simplest of gestures and the subtlest of reactions.
For all the time Leveaux devotes to his young lovers, The Exception's best, most complicated romance is the one between Wilhelm and his loyal wife. McTeer superbly elevates a potentially underwritten role, showing how Hermine has fiercely guarded her husband's dignity and interests over the years. The princess is no Lady Macbeth — there's no cold, bloody calculation to Hermine — and so her doggedness in ensuring that Wilhelm one day regains his crown proves to be a very touching display of her adoration and affection for this weary outcast.
Production companies: Egoli Tossell Film, Ostar, Alton Road Productions, Silver Reel, Lotus Entertainment, uMedia, Film House Germany, Screen Flanders
International sales: Lotus Entertainment, info@lotusentertainment.com
US sales: United Talent Agency, info@unitedtalent.com
Producers: Judy Tossell, Lou Pitt
Executive producers: Philip H. Geier, Jr., Bill Haber, Bob Boyett, Eugene Beard, Claudia Bluemhuber, Florian Dargel, Irene Gall, Ian Hutchinson, Adrian Politowski, Gilles Waterkeyn, Bastien Sirodot, Bill Johnson, Jim Seibel, Jens Meurer, Philip Moross, James Gibb, Christian Angermayer, Klemens Hallmann
Screenplay: Simon Burke, based on the novel The Kaiser's Last Kiss, written by Alan Judd
Cinematography: Roman Osin
Production design: Hubert Pouille
Editor: Nicolas Gaster
Music: Ilan Eshkeri
Main Cast: Lily James, Jai Courtney, Janet McTeer, Christopher Plummer, Ben Daniels, Eddie Marsan