Exceptional performances from Anthony Hopkins and Olivia Colman anchor Florian Zeller's deeply moving debut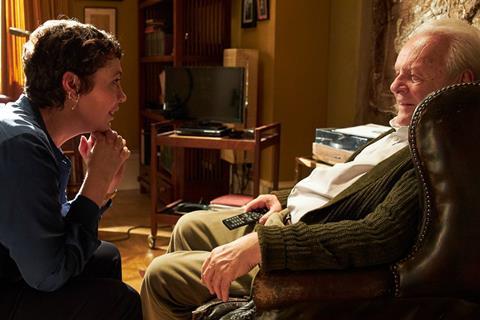 Dir: Florian Zeller. UK/France. 2020. 97mins
Anthony Hopkins and Olivia Colman play characters locked in a battle of wills that neither can win in The Father, a deeply moving, quietly unnerving domestic drama about dementia which is pitiless in its depiction of how that illness strips away everything from those afflicted — and the person closest to them. Adapting his own acclaimed play, Florian Zeller (making his feature directorial debut) takes a commonplace scenario — an adult daughter must decide what to do about her ailing parent — and infuses it with bleak insight about aging and death. Hopkins gets the showier role as a lion-in-winter patriarch who refuses to yield to his worsening condition, but Colman is his match, delivering a performance of almost inexpressible heartbreak.
Ahead of its Sundance premiere, The Father was purchased by Sony Pictures Classics for US release, and the movie's Oscar-winning cast and thoughtful air are in keeping with the company's prestige-release pictures. The film will have to contend with the "too depressing" tag that made superficially similar movies such as Amour a daunting audience proposition, but good reviews should entice the curious.
As the film opens, Anthony (Hopkins) is living in his London flat when he's visited by his loyal daughter Anne (Colman), with some news: she's going to move to Paris to be with a man she's in love with. This means that someone will need to look after Anthony, who at 80 is suffering from severe memory loss and decaying mental faculties. Anthony insists he doesn't need a caretaker — or, worse, a nursing home — but the next time he sees Anne, he's confused because she doesn't look like Colman. (Indeed, she's now played by Olivia Williams.)
With a screenplay written by Christopher Hampton and Zeller, The Father quickly upends expectations for where this story is going. Every scene of the movie, we think, is from the perspective of Anthony's failing mind, and so we struggle to understand precisely what is real and what is imaginary. Colman seems to be his daughter, but different men appear as her love interest — Rufus Sewell, mostly, but sometimes it's Mark Gatiss — and we're unclear if Anne is actually moving to Paris. (Later in the film, she tells a doctor, in front of Anthony, that he keeps making up this story about her leaving London.)
Audiences are accustomed to psychological thrillers with mind-bending plots and unstable main characters — the fun in these films is solving the puzzle. The Father is a head-trip of its own, but Zeller isn't trying to plays games. Rather, he has crafted an absorbing and upsetting simulation of dementia, which can leave the individual unable to keep track of time or details. Working with editor Yorgos Lamprinos, the filmmaker sets most of the action inside Anthony's flat — or, what he believes is his flat — and then sends us spiralling, unsure of the chronology of certain sequences, occasionally repeating scenes with different perspectives or supporting actors. Eventually, the viewer simply must succumb to this cloud of confusion — we are trapped in the same mental fog that plagues Anthony.
That narrative conceit could be a difficult hurdle, but Hopkins and Colman treat it with such naturalism that it becomes the grim reality of their characters. Anthony's mixture of anger and vulnerability is understandable — the audience can't always get its bearings, so how can he? — and Hopkins plays the ailing man as a stubborn titan who is convinced that everyone around him is jumbled, not him.
Meanwhile, Colman is dynamite playing a dutiful daughter who knows that her father is getting worse but holds onto hope that maybe she can keep the inevitable at bay. Anne has to be the strong one in this relationship, which means enduring his occasional insults and temper tantrums. Colman expresses a lot without saying much, and the waves of helplessness, pain and love that cross her silent face are beautifully modulated.
To be sure, there remains a certain stagy quality to the proceedings, a buttoned-down elegance that can sometimes be too stately and restrained. But on the whole, The Father incorporates what could have just been a storytelling gimmick and infuses it with such sorrow, grace and even the occasional dark joke that it becomes a profound exploration of how we say goodbye to someone dear to us — even though they have not yet really gone.
Production companies: Trademark Films, F Comme Film, Cine-@
International sales: Embankment, info@embankmentfilms.com
Producers: Christophe Spadone, Simon Friend, David Parfitt, Jean-Louis Livi, Philippe Carcassonne
Screenplay: Christopher Hampton and Florian Zeller, based on the play by Florian Zeller
Production design: Peter Francis
Editing: Yorgos Lamprinos
Cinematography: Ben Smithard
Music: Ludovico Einaudi
Main cast: Anthony Hopkins, Olivia Colman, Mark Gatiss, Imogen Poots, Rufus Sewell, Olivia Williams