Welsh-language debut from Lee Haven-Jones is a slow-burn genre offering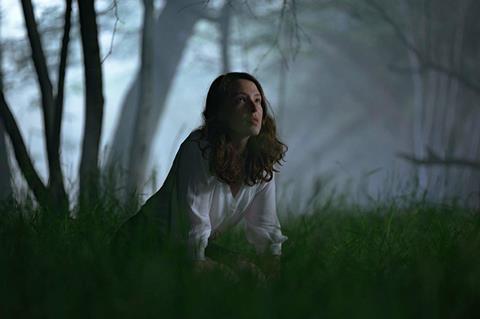 Dir: Lee Haven-Jones. UK. 2021. 93mins
British TV director Lee Haven-Jones' otherworldly feature debut The Feast, shot entirely in the Welsh Language, is centred around a well-to-do family in a rural community who are forced to face the consequences of their selfish behaviour. Draped in a hypnotic atmosphere, this slow-burn, small-scale horror is underpinned by a beguiling central performance from Annes Elwy.
A satisfying morsel of regional British filmmaking
Premiering in the Midnighters section of this year's virtual SXSW, The Feast should capture the attention of further festivals with genre strands. Domestic attention, where Welsh-language fare is a rarity, is already secured, with Bankside boarding sales ahead of last year's Virtual Cannes, and Picturehouse Entertainment securing UK and Ireland rights back when The Feast was a work in progress at LFF 2020.
Deep in rural Wales, local MP Gwyn (Julian Lewis Jones) and his wife Glenda (Nia Roberts) live with their two sons Gweirydd (Sion Alun Davies) and Guto (Steffan Cennydd) in a sprawling modern house that seems strikingly at odds with the countryside which surrounds it. As Glenda is at pains to point out, they are only there occasionally, when they are not living the high life in London. This time they are back to host a lavish dinner party in the hopes of strong-arming their farming neighbours into allowing lucrative mining on land viewed by the community as sacred.
The family and guests are joined by Cadi (Elwy) a local girl who is working as a waitress for the evening. As soon as she arrives, it's clear that something's not quite right; she barely says a word and flits around the house, stroking paintings, leaving muddy footprints and intriguing the boys. Yet the family is so caught up in its own issues — Gweirydd is weirdly obsessed with his triathlon training, while recovering drug addict Guto is desperate to escape his parents' clutches and return to London — that nobody notices Cadi's strange behaviour until her attentions turn increasingly unhinged.
Central to Roger Williams' screenplay is its setting, and the house has a distinctive character. Supposedly opulent, it's also cold and anonymous, deliberately refusing to draw any inspiration from, or sympathy with, the rolling green hills that rise up around it. That its inhabitants have no respect for the traditions of the land is obvious in both the ostentatious design of their home — built, we discover, on the bones of Glenda's parents' farm — and the way in which they are sucking it dry.
Performances are as intriguingly off-kilter as the architecture. As preening matriarch Glenda, Nia Roberts combines a sharp air of snobbish entitlement with a raw vulnerability as she is compelled to confront her past. Steffan Cennydd brings depth to his portrayal of Guto; the only member of the family who seems grounded in reality until the demons of his addition are forcibly unleashed. And in the middle of them all, Annes Elwy is quietly mesmerising. Initially, Cadi seems to be the wide-eyed interloper, buffeted by these bizarre family dynamics, but gradually becomes more forceful until we realise it is she, not they, who are dominating proceedings. In a role which utilises little dialogue, Elwy plums Cadi's surprising depths with a quiet intensity.
Other moments are not nearly so strong. The film has a tendency to indulge in well-trodden genre cliche; the use of female sexuality as weapon and punishment, for example, or the wildly dysfunctional family which is hiding shameful secrets. There's also a misjudged throwaway reference to extreme sexual violence which does absolutely nothing to serve the story. Yet, despite these less-than-savoury moments, The Feast ultimately proves to be a satisfying morsel of regional British filmmaking.
Production company: Jojo
International sales: Bankside Films, films@bankside-films.com
Producer/screenplay: Roger Williams
Production design: Gwyn Eiddior
Editing: Kevin Jones
Cinematography: Bjorn Stale Bratberg
Music: Samuel Sim
Main cast: Annes Elwy, Nia Roberts, Steffan Cennydd, Sion Alun Davies, Julian Lewis Jones