Louis Hofmann leads an engaging drama based on Holocaust memoir set in wartime Berlin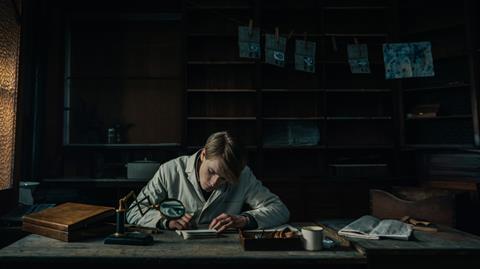 Dir/scr: Maggie Peren. Germany/Luxembourg. 2022. 117 mins.
There are several documented cases of Jews who survived the Holocaust by hiding in plain sight in Germany, often by adopting an assumed 'Aryan' identity. One of the best-known is that of the late Cioma Schonhaus, whose 2004 memoir 'The Forger' told the story of his audacious regime-defying life in wartime Berlin and escape to Switzerland – by bicycle. Maggie Peren's loose adaptation is more interested in the cocky, bravado spirit of Schonhaus' account than its finer narrative details. Instead, it sets out to do something not much seen in Holocaust survivor movies: to celebrate the exuberant life force of a resourceful chameleon who refuses to play the victim.
It's an engaging drama, if not an especially resonant one
The result is an engaging drama that makes the most of the boyish charms of German actor Louis Hofmann, who became hot international property thanks to breakout German-language Netflix series Dark (and will soon be seen alongside Mark Ruffalo and Hugh Laurie in All the Light We Cannot See, a limited series from the streamer also set in wartime Berlin). It's an engaging drama, if not an especially resonant one – The Forger takes only the shallowest of dives into the moral contradictions and complexities that hover like unresolved afterthoughts around Hofmann's genial chancer. Those strands could have been teased out in the longer, episodic format that The Forger seems at times to aspire to.
Schonhaus' remarkable story already featured as one of the strands of Claus Rafle's 2017 docudrama The Invisibles, based on the interlaced accounts of four Berlin teenagers who survived the war. But in the way it shows Jewish creativity gleefully manipulating the German psyche, The Forger also has a family relationship with Sam Gabarski's 2017 film Bye Bye Germany, set amongst a group of Jewish camp survivors who become travelling salesmen in postwar Germany, leveraging a nation's guilt to sell tablecloths. Another potential echo is the skein of American 'passing' melodramas that stretch from Douglas Sirk to Rebecca Hall, but though these should reverberate in The Forger, they don't. If there's more than glee and panache behind what the Jewish Cioma is feeling when he has his hair done in full Waffen SS style and dresses up as a German naval officer to pull girls in fancy restaurants, it's well hidden behind the shiny buttons of that dress jacket.
Opening in what a title describes tersely as 'Berlin, 1942', The Forger shaves off the start of Cioma Schonhaus' survival story, just as it edits out what many other scriptwriters would have considered to be its thrilling conclusion – that danger-laced bike ride all the way from Berlin to Switzerland. There's a refreshing lack of backstory: we're forced to work to understand that while Cioma's family has already been deported, he has been spared because of his work in a munitions factory – though a Gestapo functionary calls to make an inventory of everything in the upscale, bourgeois family apartment he still lives in, and seal most of it off.
Cioma's real talent is art and graphic design, and it's this that leads him into a side job forging official documents for fellow Jews – an activity coordinated by Franz Kaufmann (Marc Limpach), a real-life anti-Fascist protestant church member and former Reich civil servant who is presented here as a sort of flipped bureaucrat, as Germanic in his methods as he was before he changed sides. The ration cards he earns allow Cioma and his equally gregarious Jewish friend and flatmate Det (Jonathan Berlin) – whose tailoring skills come in handy when altering Nazi uniforms – to live the high life right at the heart of Hitler's capital city, hanging out in upscale joints like the dinner-dance club where Cioma first hooks up with his love interest Gerda (Luna Wedler), a fiercely independent Jewish girl who is herself living off her wits, and her body.
A well-crafted film in the most analogue sense of the term, The Forger paints a picture of a weary wartime Berlin in which decadence and depression are intermixed. Shot mostly in half-light, with greens and blues predominating, it feels at times as if it's playing out in some underwater realm. A sparsely used soundtrack by Bulgarian composer Mario Grigorov supplies half-jaunty, half-melancholy klezmer-style melodies, but mostly it's the slightly amplified, hyper-real sound and foley work that strike a note of unease, one that's notably absent in the story.
Maybe the problem is that Cioma's just too likeable to have much shade. We admire his chutzpah when he talks his way out of a potentially disastrous encounter with two police inspectors by pulling rank, criticizing their negligence and asking to see their IDs. But we can't help but be troubled by his apparent mental and emotional removal of his close relatives, who have simply 'gone east'. Is his survival-as-performance art another kind of forgery, one that more usually goes under the name of self-deception? The Forger doesn't seem particularly interested in the question. Though engaged with its characters, it reaches for something like ethical depth only in Cioma's relationship with his landlady, Frau Peters – an intense Nina Gummich. A casual racist, she's also a woman who knows, deep down, that there will come a time after a German defeat when she will have to continue living with herself – and it's a thought she hates. That's genuinely interesting, and it makes for The Forger's most compelling moments of drama.
Production company: DREIFILM
International sales: Beta Cinema, beta@betacinema.com
Producers: Alexander Fritzemeyer, Martin Kosok
Production design: Eva-Maria Stiebler
Editing: Robert Sterna
Cinematography: Christian Stangassinger
Music: Mario Grigorov
Main cast: Louis Hofmann, Jonathan Berlin, Luna Wedler, Nina Gummich, Marc Limpach, Andre Jung, Yotam Ishay