A teenage girl is thrown into turmoil when her missing boyfriend's return coincides with a spate of murders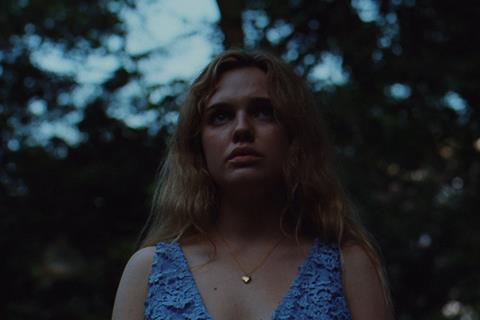 Dir/scr: David Raboy. Canada. 2019. 109mins
It's childhood's last summer, the scant few months between June's high-school graduation and September's full-time jobs or college campus move-ins. And Charlotte (Odessa Young) is convinced that, before that, something awfully significant is going to happen. Or is that just something significantly awful?
Raboy is certainly skilled at establishing a mood
That feeling of uncertainty hangs over The Giant like an approaching storm (literally – the darkly brooding skies in this film are always threatening rain). But like those clouds, the film really doesn't deliver. Deliberately elliptical, only elusively dramatic, it's a movie that leaves audiences wanting more — or maybe less, but definitely wanting. Film festival bookings seem assured after the arty picture's Toronto Discovery premiere, but any life beyond that will probably play out on small screens.
Pegged as a horror film, The Giant's storyline certainly promises some genre thrills. A year ago, it seems, Charlotte's fragile mother hung herself. That same night, Charlotte's bad-news boyfriend Joe (Ben Schnetzer) disappeared, leaving her to handle her grief alone. Now, suddenly, his truck's been sighted in town again. Soon, at night, the screams of terrified women echo across dark spaces. In the morning, the brutally murdered bodies of high-school students are found by the side of the road.
It's a straightforward set-up for a thriller, but filmmaker David Raboy, making his feature debut, refuses to tell it straightforwardly, or even search for many thrills. His script slips from past to present to past again, while toggling between dreams and reality. His style, like perhaps too many young filmmakers these days, feels heavily in thrall to Terrence Malick. There is wistful, wondering narration, pasting together a meandering narrative. There are closeups of raw, unspoiled, mystical nature. There are beautiful blonde women looking off into the distance, perhaps in search of a point.
As the movie proceeds along several tracks at once – coming-of-age drama, ghost story, murder mystery – you wait for them to eventually intersect. At one moment, with its rural settings, dangerous boy and disaffected girl, it seems safely headed into Badlands territory, certainly a still-fertile place to explore. But then it introduces another memory, another metaphor. And any drama begins to slip away.
There are positives here, although nearly every one ends up compromised. Young up-and-comer Young is sympathetic as Charlotte, but the script gives her little to do but look worried and confused. Madelyn Cline gets to go a bit deeper as her concerned friend, but their dialogue sounds more like a screenwriter talking to himself than two 18-year-old BFFs talking to each other. Cinematographer Eric K. Nue captures some striking shots of troubling skies and waving fields of grass, except in the film's attempt to be timeless, the production design strips settings of all detail, making everything dark, empty, interchangeable. There's no here here.
Raboy is certainly skilled at establishing a mood; from its very first unsettling shots, The Giant promises something extraordinary. Unfortunately, by its last shot, we're still waiting.
Production companies: Camera Ready Pictures, Vixens, Bogie Films, Extra A Productions
Domestic sales: Mikey Schwartz-Wright, UTA
International sales: Noémie Devide, Insider Films
Producers: Dennis Massel, Daniel Dewes, Rachael Fung, Gary Farkas, Clément Lepoutre, Olivier Muller
Production design: Amber Unkle
Editing: David Raboy
Cinematography: Eric K. Yue
Music: Ari Balouzian
Main cast: Odessa Young, Ben Schnetzer, Jack Kilmer Madelyn Cline, Danny Ramirez, P.J. Marshall