The upper-class wives of 1980s Mexico compete for social dominance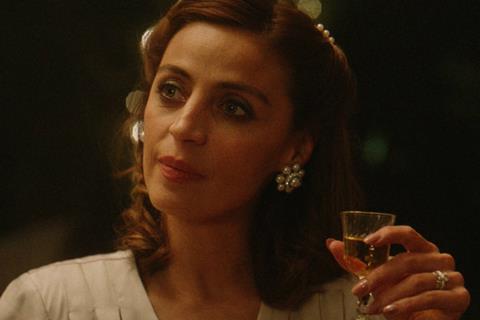 Dir: Alejandra Márquez Abella. Mexico. 2018. 93 mins.
They were not raised to have careers. They were not raised to have opinions. They were raised to be perfect upper-class wives – charming and chic and socially adept. But now, in 1982, it is starting to go bad. Alejandra Márquez Abella's film, which premieres at Toronto, looks at that generation of upper-class Mexican women without tears, or rancour – just a certain resigned restraint.
Márquez Abella keeps things tight, and intimate, her closeups presenting a parade of small, mounting embarrassments
The carefully composed Ilse Salas stars as Sofia, a wife, mother of three, and social arbiter of a small, charmed circle. Her hair is perfect. Her parties are productions. She is also a terrible snob, sending her children off to summer camp with the warning "Don't hang out with Mexicans!" A self-loathing Latina, Sofia assumes anything American, or European, is always better (her husband's family, we learn, are recent Spanish transplants). But these are the early '80s, and the Mexican peso is about to take a tumble – and upend many of these lives with it.
Márquez Abella captures all of this with an anthropologist's care. We notice early on that information, even the most trivial, is power. Knowing where to get the very best is everything – and every woman's most jealously guarded secret. No silence is more deafening than the one following "Who's your caterer?" It's an absurdly silly competition, but with nothing else to fight for, these wives play it with extravagant seriousness. In one scene at a tennis club, as the camera slowly circles a chatty luncheon table, we watch the women poke and parry, trying to gain any sort of social advantage. Status is difficult to hold on to, and Sofia is losing hers.
It's happening slowly though, and although the film is shot in widescreen, Márquez Abella keeps things tight, and intimate, her closeups presenting a parade of small, mounting embarrassments. A refused credit card. The disappointed eyes of a servant who has not been paid. She also captures a very specific time, and culture, in early '80s Mexico. Everybody smokes, every dress comes with shoulder pads – and every woman dreams of Julio Iglesias. (Somehow getting him to come to one of her parties is Sofia's particular obsession.)
Yet with all this care, the film can feel a little flimsy. Salas is alert and multidimensional as Sofia – we can glimpse the wasted potential beneath the perfect princess pose – but none of her friends stands out. Even Sofia's husband, played by Flavio Medina, is a cipher. Only Paulina Gaitan, as Ana Paula – the nouveau-riche upstart eager to take Sofia's place – seems like a real person. The story seems to end several times only to draw to a muted close, without ever delivering one truly emotional scene. The Good Girls is a nice piece of social and cultural criticism, and Salas makes for a formidably icy matron. It's a cool, contained effort. Exquisitely observed, Márquez Abella's sophomore feature remains more analytical than wholly engaging.
Production companies: Woo Films
International sales: Luxbox festivals@luxboxfilms.com
Producers: Rodrigo S. González Ortiz, Gabriella Maire
Screenplay: Alejandra Márquez Abella, based on characters created by Guadalupe Loaeza
Editing: Miguel Schverdfinger
Cinematography: Dariela Ludlow
Music: Tomás Barreiro
Main cast: Ilse Salas, Flavio Medina, Paulina Gaitá