Archive film and TV clips are woven into a homage to Hitchock's Vertigo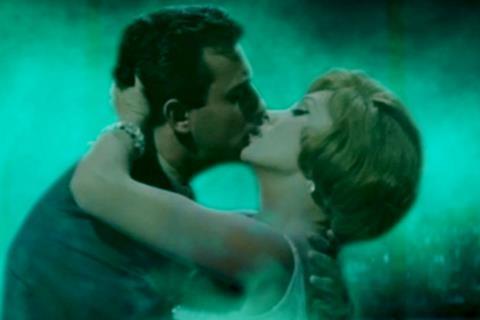 Dir. Guy Maddin, Evan Johnson, Galen Johnson. USA/Canada. 2017. 62 mins
Any number of film historians, cinephile artists or buffs have dabbled with that much-loved party trick: the themed assemblage of movie clips. But with Guy Maddin, whose phantasmagorical films invariably pay homage to the cinema of the past, such an undertaking is guaranteed to be in its own league of mischief and wonder.
For a long spell this plays as silent film, individual scenes savagely edited to excise speech
His latest work, co-directed with Evan and Galen Johnson and screening in Berlin's Forum, is a dazzling, studious exercise in found footage excavation and reconfiguration, laced with tongue in cheek. It's a love letter to Hitchcock's Vertigo and the city of San Francisco… and perhaps also to Rock Hudson. And Chuck Norris. Continued festival play is a given.
The starting point and structure are provided by that most famous of San Francisco movies. The directors make reference to key scenes, sequences, motifs and locations from Vertigo, not via clips from the Hitchcock — there is just one: Jimmy Stewart's hands on the rung of the fire escape — but from dozens of other films and television shows set in the city. Rooftop chases, car pursuits, gallery viewings, cosmetic makeovers, pensive walks by the Golden Gate Bridge and much falling from high buildings are recreated through high and low art, familiar and obscure, drama and cheese, a nudge and a wink.
The title comes from the green haze that surrounds Kim Novak as Judy, re-appearing as Madeline for the obsessive Scottie's delectation; Maddin and the Johnsons add their own puffs and tints of green throughout the montage. A series of actors occupy Stewart's detective role, notably two from TV – Hudson from McMillan & Wife and Karl Malden from The Streets of San Francisco. Similarly, Novak reappears as Susan Saint James, Gina Lollobrigida, Doris Day, Faye Dunaway. It's not just characters who morph before our eyes; the city is constantly on edge and in flux, through time, natural disaster and man-made disorder.
For a long spell this plays as silent film (one of Maddin's favourite modes), individual scenes savagely edited to excise speech, turning exchanges into a series of silent sighs, murmurs and tics – and creating an inspired commentary on people's inability to connect. When they do connect, it's often for amusement, as when Michael Douglas bears his backside in Basic Instinct, then comments on his older partner's physique in Streets of San Francisco. An appropriately strident original score by Jacob Garchik is performed by the Kronos Quartet.
The filmmakers make a play of revealing their innumerable sources at the end credits, which include Dark Passage, Bullitt, The Conversation, The Towering Inferno, Pacific Heights and San Andreas. In this context, one needn't ask why a whole sequence is devoted to Chuck Norris's immobile and inconsequential presence. But an answer of sorts is offered by Rock Hudson, when a co-star in McMillan & Wife asks, "What are we looking for?" His answer: "I don't know, but at this point I'll take anything."
In Berlin, The Green Fog was accompanied by a 10-minute short, Accidence, directed by the same trio as a nod towards Rear Window. A single shot embraces the balconies of an entire apartment block that teems with incident, not least a murder – involving doppelgangers and a poodle – and its investigation. With the action playing on an eerie, absorbing loop, it's easy to envisage this as a gallery exhibit, even alongside the feature.
International sales: The Festival Agency, iv@thefestivalagency.com
Producers: Evan Johnson, Guy Maddin
Editors: Evan Johnson, Galen Johnson
Music: Jacob Garchik
Sound design: John Gurdebeke