An emergency hotline operator takes a terrifying call in Gustav Möller's claustophobic debut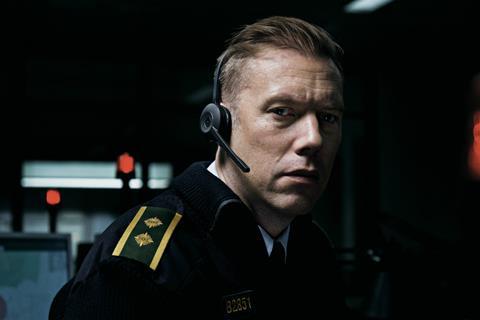 Dir: Gustav Möller. Denmark. 2018. 85mins
Denmark's Gustav Möller cranks up the dial with The Guilty, an uber high-concept, low-budget, tense thriller set in a cramped call centre using tight close-ups, over-the shoulder prowls and applause-worthy sound design. It may be a genre exercise working within self-imposed strict limitations – which also put a marker on the achievable level of success – but this is a dynamic calling card for both Möller and his actor Jakob Cedergren, and a viewing experience which pleasurably forces much of the action into the viewer's own head.
For a film which deliberately refuses to open out The Guilty makes a big statement about the talent involved in it
With a terse 85-minute running time, The Guilty illustrates Möller's confidence with the craft of film-making and a willingness to play with it at the start of his career as he tracks an operator on the police emergency hotline who handles a disturbing distress call. Debuting in Sundance's World Competition and already set for further festival exposure in Rotterdam and Goteborg, the film is set to become a favourite on the circuit. It's an ask, commercially: wider audiences usually express a desire to leave their office, not enter a new, smaller one, in their leisure time. But this is almost perfect for arthouse and prestige cable, where connoisseurs will rightly view Möller as a name to watch.
And, also, that of Cedergren (Submarine), who carries the entire show on his face, in extreme close-up. (Continuity for just the right amount of sweat on his upper lip must have been a challenge). Swedish-born Möller, who co-wrote this with Emil Nygaard Albertsen and executed it with a team of fellow recent Danish Film School graduates, doles out the information with a precise rhythm – not that the film has any score to help. Instead it's the sound that draws a great deal of this picture, cutting between the call centre and the rain of North Zealand where what appears to be a brutal abduction is taking place. The sound of the windscreen wipers coming down the telephone line feels like a mounting pulse.
Cedergren plays Asger Holm, first seen dealing with a panicked call from a speed-head in Copenhagen. Immediately it becomes clear that Asger is not the kind, caring emergency operator so often portrayed on TV and in film; he's impatient and judgemental. He eventually snaps: "It's your own fault." He seems tense, certainly lacks people skills, and pops an Alka-Seltzer as his colleague chews on a sandwich. Calling through to police HQ, he discovers his boss Bo is doing a rotation on the phones. There's a court case the next day: it becomes clear Asger is a detective on suspension, confined to desk-duty. Why?
As the camera looms and the sound chops and changes, Asger takes the call which serves as the film's inciting incident, even though we witness nothing at all, and even the dialogue is cryptic; a dislocated voice, a woman in trouble. From here, The Guilty ratchets up the pace as Asger struggles to remain in control of himself and the situation.
For a film which deliberately refuses to open out – Asger even moves to a smaller room, where the lights eventually fail – The Guilty makes a big statement about the talent involved in it. While all roads in Denmark clearly don't lead to Dogme, Möller 's strict self-imposed rules are pleasantly reminiscent of that creative era.
Production company: Nordisk Film Spring
International sales: TrustNordisk, susan@trustnordisk.com
Producer: Lina Flint
Screenplay: Gustav Möller, Emil Nygaard Albertsen
Cinematographer: Jasper Spanning
Editor: Carla Luffe
Sound editor: Oskar Scriver
Main cast: Jakob Cedergren