Amandla Stenberg impresses in this adaptation of the award-winning YA novel by Angie Thomas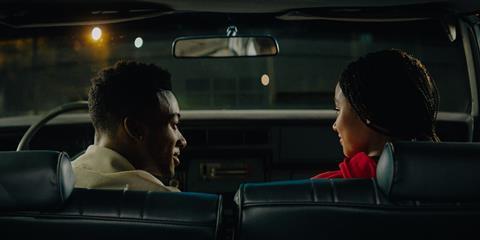 Dir: George Tillman Jr. US. 2018. 133mins.
Like its young heroine, The Hate U Give is earnest, impassioned and spoiling to be heard. A portrait of race and class in America which is driven by electric urgency, this moving drama is a marvellous platform for relative newcomer Amandla Stenberg, playing a teenager who witnesses a murder and then must navigate the aftershocks. The Hate U Give's narrative sometimes wobbles, straining to reconcile its social commentary with some less-than-convincing thriller elements, but there's no denying the fervour and insight that director George Tillman Jr. brings to this adaptation of the YA novel by Angie Thomas.
A surprisingly bold and thoughtful studio film about racism
Opening October 5 in the US and October 22 in the UK, this Fox release targets the zeitgeist with its examination of racist white institutions and oppressed African-American communities. Star power courtesy of Regina Hall and Anthony Mackie will help raise visibility, and no doubt the movie's powder-keg subject matter, as well as the popularity of its source material, will also be a draw.
Stenberg plays Starr, a bright 16 year-old African-American girl whose family lives in a lower-working-class section of a big city, which prompts her parents to ship her to a better (and predominantly white) school across town. Starr has become accustomed to living two lives — acting more "refined" among her classmates lest they focus on her skin colour - but her conflicting worlds collide when a beloved childhood friend is shot dead in front of her after being pulled over by a white policeman.
The Hate U Give chronicles what happens to Starr after this senseless murder. As the only witness, she is asked to testify in front of a grand jury to determine whether the policeman should stand trial, but as we'll quickly learn, getting justice for her slain friend is far more complicated than it should be. Hall is quite affecting as Starr's protective mother Lisa, who fears for her daughter's safety. But it's not just the police that concern Lisa: Starr's father Maverick (Russell Hornsby), a former gang member, knows that his old associates — especially the cold-blooded drug dealer King (Mackie) — will stop at nothing to ensure that Starr doesn't provide any testimony that implicates them.
The introduction of King as a periphery menace proves to be The Hate U Give's one contrived, movie-ish element. Otherwise, Tillman (Notorious, Soul Food) delivers an absorbing, candid look at a family in turmoil and a young woman coming to terms with her identity. Audrey Wells' screenplay skilfully speaks to the current political moment, addressing everything from Black Lives Matter to white privilege in ways that feel organic to Starr's specific experience. A film like The Hate U Give could easily devolve into a well-intentioned polemic, but Tillman and his cast infuse the story with humanity, illustrating how Starr's dilemma is similar to that of so many other black Americans.
Stenberg (The Hunger Games, The Darkest Minds) never loses sight of how, self-possessed though Starr might be, she's still just an insecure teenager. The performance is agreeably modest as Stenberg slowly reveals how Starr begins to find her voice, push past her fear, and become an advocate for her friend and other victims of police brutality. Hornsby adroitly plays an ex-convict determined to give his children a better life than he had. There's a tenderness to his hardened character that's touching, which makes it all the more unfortunate that Mackie's portrayal of King is so one-dimensional. The Hate U Give so strenuously pushes past media stereotypes of African-American life that it's a pity that King feels like a relic of musty gangster/crime dramas, bringing artificiality to a film that otherwise exudes lived-in realism.
But even if The Hate U Give succumbs to cliché on occasion, it remains a surprisingly bold and thoughtful studio film about racism. Tillman and his young star illuminate the tension Starr feels at her prep school, where her seemingly progressive classmates can't always see past their own racial blind spots. And while The Hate U Give is sympathetic to its characters' flaws, it's also clear-eyed enough to acknowledge that such deep-seated social ills can't be erased by one good deed — or even a good film. Such profound cultural change takes time, which is why Tillman's film preaches perseverance, embodied in Stenberg's indomitable performance.
Production companies: State Street Pictures, Temple Hill Entertainment
Worldwide distribution: 20th Century Fox
Producers: Marty Bowen, Wyck Godfrey, Robert Teitel, George Tillman, Jr.
Screenplay: Audrey Wells, based on the novel by Angie Thomas
Production design: William Arnold
Editing: Craig Hayes, Alex Blatt
Cinematography: Mihai Malaimare Jr.
Music: Dustin O'Halloran
Main cast: Amandla Stenberg, Regina Hall, Russell Hornsby, Algee Smith, Lamar Johnson, Issa Rae, K.J. Apa, Anthony Mackie, Common