This female-driven debut has much to say about the class system in Paraguay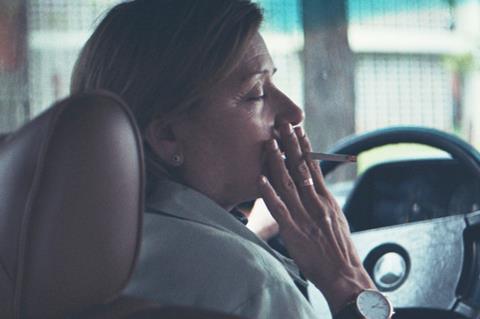 Dir: Marcelo Martinessi. Paraguay /Uruguay /Germany /Brazil /Norway /France. 2018. 95 mins
Fiftysomething Chela (Ana Brun) has retreated from the world. Born into wealth, but now mired in debt, she views the humiliation of her heirlooms being pawed by potential buyers through the crack of a nearly-closed door. She leaves the grubby financial practicalities to her outgoing life partner Chiquita (Margarita Irún), while Chela sits at her easel, dabbing reproachfully at a small abstract canvas, rendered in beige watercolour and simmering discontent.
There is much to admire for those who chime with the languid rhythms and language of loaded sidelong glances
Then Chiquita is sent to prison for fraud and Chela is forced to cope on her own. This accomplished first feature from Marcelo Martinessi favours a low key approach, but combines a commentary on class in Paraguay with a piercing character study.
The intimacy and gentle mischief at play here in this entirely female-driven story might not connect with audiences geared towards big bold directorial statements and showy performances. But there is much to admire for those who chime with the languid rhythms and language of loaded sidelong glances. An acting prize for the mesmerising Ana Brun is not out of the question; this would certainly give a boost to the picture going forward from its premiere in competition in Berlin. Further festival berths seem assured. Theatrically, the film could connect with the same audience which responded to the prickly depiction of older female sexuality in Sebastián Lelio's Gloria.
In a role which is shrouded, initially, in an aggrieved silence, and later with a watchful reserve, Ana Brun conveys much of her performance with her eyes. The elegantly arched eyebrow and cool, appraising glance tells us as much about the pride and entitlement of Chela, bourne through life on a cushion of privilege until the moment when the bank calls in the debts. While the other women in her rarefied social circle trade precious nuggets of gossip, Chela silently judges. She snipes her displeasure at the bargain basement maid – the only kind they can afford – when the woman fails to arrange her tray of essentials – coffee, water, diet cola, a rosary, her daily pills and an ornate bottle of Bols liqueur – in the correct manner.
With Chiquita in prison, Chela is adrift. But after driving her elderly neighbour Pituca (María Martins, draped in cultured pearls and malice), she finds work ferrying the wealthy women of a certain age to and from card games in her solid mercedes. Music is used sparsely but with wit – as Chela eases the car cautiously down the drive for the first time, on the radio a symphony by Tchaikovsky works itself into a frenzy of disproportionate anticipation.
It is through her driving that Chela meets Angy (Ana Ivanova). A younger woman, she is luxuriantly at ease with her own sexuality. She dispenses casual confidences to Chela about the beautiful, useless men she has discarded. Chela, basking in Angy's attention, blossoms. She is smitten by Angy's relaxed style, her earthiness and candour. The camera clings close, capturing the nervous flicker of Chela's lashes as she snatches glances at the other woman's lithe body.
Production company: La Babosa Cina
International sales: Luxbox festivals@luxboxfilms.com
Producers: Sebastián Peña Escobar, Marcelo Martinessi
Screenplay: Marcelo Martinessi
Cinematography: Luis Armando Arteaga
Editor: Fernando Epstein
Production design: Carlo Spatuzza
Main cast: Ana Brun, Margarita Irún, Ana Ivanova, Nilda Gonzalez, María Martins, Alicia Guerra,Yverá Zayas