Alexander Payne reunites with his 'Sideways' star Paul Giamatti for this wistful 1970-set character study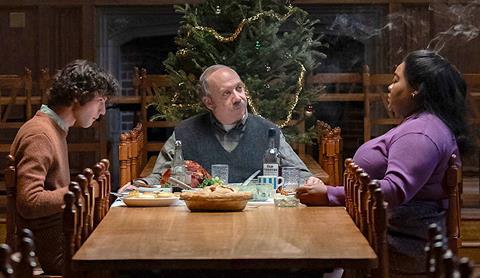 Dir: Alexander Payne. US. 2023. 133mins
In The Holdovers, a lifetime of disappointment, resentment and regret are etched on the weary face of Paul Hunham, an unpopular prep-school teacher played beautifully by Paul Giamatti. Reuniting with Alexander Payne, who directed him nearly 20 years ago in Sideways, the Oscar-nominated actor again portrays a grumpy failure trying to make sense of how everything went wrong. If anything, Giamatti finds even deeper reserves of dark humour and bottomless melancholy as this instructor, who must supervise one of his malcontent students over the holidays since the teen cannot be with his family. Featuring excellent supporting performances from Da'Vine Joy Randolph and newcomer Dominic Sessa, The Holdovers is crushingly wistful in precisely the way moviegoers have come to expect from Payne.
Crushingly wistful in precisely the way moviegoers have come to expect from Payne
After screening in Telluride and Toronto, this gentle comedy heads to the London Film Festival before opening in select US cities on October 27 followed by a nationwide release on November 10. (A UK release is scheduled for January.) Fans of Payne's earlier work, especially Sideways and The Descendants, should be enticed, especially once reviewers praise The Holdovers as a comeback after 2017's poorly-received Downsizing.
Giamatti plays Paul, a patronising ancient-civilisations teacher at Barton Academy, an all-male prep school in New England in 1970. An alum who considers it his responsibility to demand excellence from his students — even though many of them are dullards who got in because of their rich parents — Paul is furious to learn he hass been assigned to chaperone students who must remain on campus during the holidays because they have nowhere else to go. He is particularly unhappy that one of them is Angus (Sessa), who is bright but insolent. Together with Mary (Randolph), Barton's sarcastic cook, Paul will try to make the best of an undesirable situation.
Payne's eighth feature boasts so many of his trademarks — a bittersweet tone, unhappy characters navigating uneasy relationships with one another — it might be surprising to learn that this is one of his few films he didn't write. (The screenplay is by television writer David Hemingson.) Nonetheless, The Holdovers fits neatly into his oeuvre, providing plenty of familiar pleasures that have not lost their potency.
Most will correctly predict that the initial chilliness between Paul and Angus will melt over the two-week holiday break, but Payne unhurriedly charts that development, giving the two characters enough time to find common ground. Making his screen debut, Sessa possesses a naturalness that allows Angus to be vulnerable but also caustic. Sessa and Giamatti are well-matched, their rapport built around their characters' quick-wittedness and similarly pessimistic worldview. Paul will come to appreciate Angus — the teen is far more complicated and soulful than most of his classmates — while Angus will watch Paul's haughty demeanour evaporate as the student starts to understand what missteps brought him to this point.
Randolph gives her best performance since her breakout role in 2019's Dolemite Is My Name, and while she's normally associated with comedies — and is delightfully surly here — the real discovery is how terrific a dramatic actress she is. Mourning the death of her son, who was killed in Vietnam, Mary is single and alone, dreading the thought of her first Christmas without her boy. Lacking any other options, she is drawn to Paul and Angus during these quiet days at Barton, and the cast have an easy chemistry, never settling for broad laughs or treacly sentiment. Instead, Payne nicely juxtaposes the characters' funny, cranky personalities with the prep school's literal and metaphorical emptiness, which casts a light melancholy over every scene.
Shooting digitally but altering the images to look like they were captured on film, cinematographer Eigil Bryld uses softer colours to suggest a bygone era – not to create nostalgia but, rather, to suggest the 1970s in American cinema, a hallowed period when idiosyncratic filmmakers were telling character-driven stories. Of course, Payne has always preferred that narrative approach, pinpointing the emotional truths of individuals who have experienced heartbreak. That is especially true of Paul, who has devoted his whole life to Barton, only to discover that perhaps the school (and its denizens) do not feel as warmly about him.
Giamatti's Sideways character was young enough to still have a chance to change his ways, but the older Paul sees less in front of him than he does in the rearview mirror — and this unusual Christmas will force him to be honest about his unfulfilled potential. Hemingson's crisp dialogue, which has Paul speak in an affectedly elevated way in order to lord his intellectual superiority over others, provides clues into this teacher's hidden sorrow, but the rest is provided by Giamatti; his resigned expression and his slumped shoulders. Paul thinks he knows everything, but he is the one with much to learn.
Production companies: Miramax, Gran Via
Worldwide distribution: Universal Pictures
Producers: Mark Johnson, Bill Block, David Hemingson
Screenplay: David Hemingson
Cinematography: Eigil Bryld
Production design: Ryan Warren Smith
Editing: Kevin Tent
Music: Mark Orton
Main cast: Paul Giamatti, Da'Vine Joy Randolph, Dominic Sessa, Carrie Preston, Andrew Garman