An unsettling, tightly-acted comedy/drama from Stephen Karam, adapting his own stage play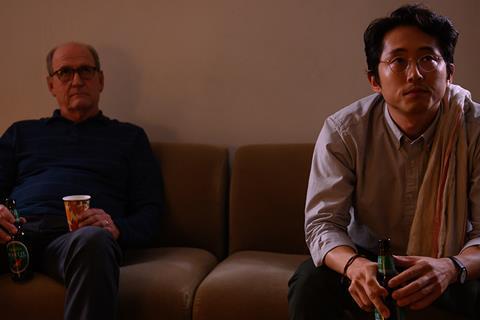 Dir: Stephen Karam. US. 2021. 108mins.
Adapting his Tony-winning play for the big screen, writer-director Stephen Karam only amplifies its intimacy and subtle discord as he examines a painfully ordinary American family as they prepare for Thanksgiving and slowly come unglued. Comedy/drama The Humans is a marvel of slight shifts in tone and rhythm, guided by a uniformly strong cast of actors who deliver naturalistic performances which show the cracks in their characters' pleasant veneer. Making good use of the story's claustrophobic qualities — the picture is almost entirely set within a rundown two-storey apartment — Karam's directorial debut reverberates with sadness and regret, even though the conversation is often relatively cordial.
Karam subtly builds tension, highlighting all the fault lines between the characters.
Screening in Toronto's Special Presentations section, The Humans stars, among others, Richard Jenkins, Beanie Feldstein and Steven Yeun, which should give the picture plenty of indie cachet. Those who saw Karam's play should be intrigued, but even viewers unfamiliar with the source material will recognise this as another addition to the hallowed genre of comedy-dramas about dysfunctional families.
The Blakes have gathered for Thanksgiving at adult daughter Brigid's (Feldstein) new apartment that she shares in New York's Chinatown with boyfriend Richard (Yeun). Melancholy father Erik (Jenkins) and reserved mother Deirdre (Jayne Houdyshell) have brought with them his ailing mother Momo (June Squibb), and they're also joined by Brigid's sister Aimee (Amy Schumer), a lawyer who has just been laid off and has ended her relationship with her girlfriend.
Set over the course of a day, The Humans doesn't offer huge stakes or even seemingly a strong dramatic conflict. And yet Karam subtly builds tension, highlighting all the fault lines between the characters. Erik appears to like Richard, but he's not happy they've moved to what he considers a bad neighbourhood, while Aimee resents her mother's attempts to bond by mentioning other people she knows who are gay. The film is abuzz with micro-aggressions, but the dialogue isn't filled with rat-a-tat banter or expert punchlines. Instead, Karam makes this a realistic family gathering in which old hurts, in-jokes and meaningless small talk weave in and out of the conversation.
But there's something ominous going on nonetheless, and it's not just the unholy noise the characters hear outside the apartment walls. Brigid explains it's the upstairs neighbour clomping around or the loud trash compactor in the hallway, but these unpredictable, unnerving sounds feel like jump scares accentuating the unease surrounding this Thanksgiving feast. Add to that Erik's strange, plaintive stares out a window — what is he looking at? — and one begins to sense an unspoken animosity within the Blakes that may or may not come to a head over dinner.
On stage, The Humans placed all the action within a large two-storey structure, the characters coming across as microscopic in the towering set. Rather ingeniously, Karam duplicates the effect by often placing his camera in another room, shooting the scenes from a distance. The effect mimics the play's ability to minimise the importance of the characters and their troubles — there's nothing particularly special about the Blakes — while recapturing the audience's sense that we're studying the family as if they are lab specimens. Karam's writing marvellously simulates (and comments on) the banality of all dysfunctional-family drama, boiling it down to its essence: furtive looks, whispered asides, a nervous changing of the subject to avoid touching on anything too sensitive.
At the same time, Jenkins and his costars locate the humanity within these roles, exuding tenderness and an aching need to connect. Erik's sarcastic tone is merely a defence mechanism for slumbering disappointments gnawing at him, while Yeun's Richard is the model of the well-mannered boyfriend, working hard to ensure everything goes well while harbouring annoyance that he can't be his true self around his potential in-laws. Houdyshell, reprising her stage role, is superb as the Blakes' most gentle member — but one particular scene near the end, the camera slowly pushing in on her, will reveal the anguished depths that have been there all along.
Production designer David Gropman turns Brigid's apartment into a dilapidated wonder — the unsightly walls, dingy fixtures and faulty wiring all serve as apt metaphors for the family's crumbling emotional infrastructure. And as day turns to night, cinematographer Lol Crawley makes excellent use of low-light photography to suggest the depression consuming the characters. Darkness descends on the Blakes, both literally and figuratively, and even though a late-reel revelation threatens to throw off the film's carefully calibrated tone, audiences should be nonetheless still enveloped in their unresolved, ineffable sorrow.
Production companies: A24, IAC
International sales: A24, natalie@a24films.com
Producers: Louise Lovegrove, Stephen Karam
Screenplay: Stephen Karam, based on the play by Stephen Karam
Production design: David Gropman
Editing: Nick Houy
Cinematography: Lol Crawley
Music: Nico Muhly
Main cast: Richard Jenkins, Jayne Houdyshell, Amy Schumer, Beanie Feldstein Steven Yeun, June Squibb