Dir: Brad Furman. US. 2016. 127mins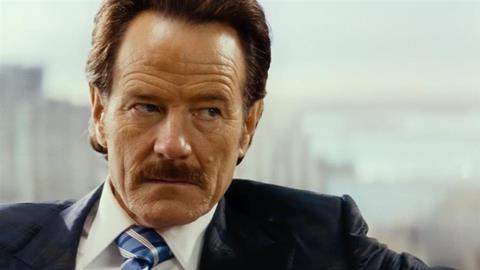 A federal agent learns about the dangers that can befall a man who goes undercover — both in terms of his safety and his psyche — in The Infiltrator, a moderately engaging thriller that coasts along without ever evolving into the more riveting character study it has the potential to be.
Mazur's inner battle and his growing sympathy for Roberto aren't exactly surprising plot twists for an undercover-agent thriller
Bryan Cranston is appreciably grizzled as an agent whose attempts to infiltrate the Medellín Cartel produce all kinds of unexpected consequences, but this straightforward drama doesn't have much new to say about the madness of America's drug war, the moral quagmire that comes from living a double life or the ruthlessness of the criminals moving narcotics across borders.
Hitting US theatres on July 13, this Broad Green release will target adult audiences who crave more grownup drama amidst the summer season's younger-skewing fare. Cranston's visibility from his Emmy-winning turn on TV's Breaking Bad will be a help, as will a supporting cast that includes Diane Kruger and (in a minuscule role) Amy Ryan. But The Infiltrator may not be able to convince viewers to venture out to the theatre — more likely, they'll catch up with this conventional drug drama on home screens.
Based on actual events, The Infiltrator stars Cranston as Bob Mazur, a former IRS accountant who became a Customs officer, going undercover to bust Tampa drug dealers in the mid-1980s. But Mazur decides to get ambitious with his final assignment before retirement, adopting the persona of a flashy money launderer who ingratiates himself with members of the Medellín Cartel, hoping to gain access to big boss Pablo Escobar in the process.
Before that happens, though, he must woo Escobar's top lieutenant, Roberto Alcaino (Benjamin Bratt), which requires he bring along a rookie agent, Kathy Ertz (Kruger), to pose as his fiancée.
Director Brad Furman approaches The Infiltrator much as he did 2011's The Lincoln Lawyer, telling a no-fuss story which is led by a slightly inscrutable main character who is just trying to do his job. Drawing inspiration from Mazur's memoir, Furman and screenwriter Ellen Brown Furman want to illustrate how Florida became a war zone in the 1980s because of the flow of illegal drugs from Colombia.
In the film, Mazur is presented as a smart, dedicated federal agent who has a loving wife and two kids — he's more family man than suave drug cop — and Cranston brings a quiet decency to this decidedly ordinary man.
As a result, Mazur's transformation into his undercover alter ego — a guy with a big personality and an incredibly glamorous fiancée — is meant to sow the seeds for a possible future inner fissure as this mild-mannered agent becomes seduced by the dangerous, fast-moving world of drug runners, shady bankers and ferocious enforcers. But The Infiltrator doesn't really dramatise this struggle, offering only generalities as Mazur tries to balance his sedate married life with his whirlwind trips alongside Roberto, who brings him into the fold as a trusted associate. Mazur's inner battle and his growing sympathy for Roberto aren't exactly surprising plot twists for an undercover-agent thriller.
On Breaking Bad, Cranston received much acclaim for playing an everyman who unearthed a captivating, calculated ruthlessness inside himself when his life was threatened. With The Infiltrator, he gets to navigate a similar character arc, although Mazur doesn't afford him the same nuance and screen time that a multi-season television drama did.
Mazur's intimate bond with the beautiful, resourceful Kathy, who emerges as the only person he can trust, repeatedly flirts with becoming a romantic relationship, and Cranston and Kruger deftly dance around the sexual tension that starts to build up. It's to The Infiltrator's credit that it doesn't follow that relationship down a predictable path, resolving it on a melancholy, thoughtful note. And yet, the actors' slow-burn chemistry ultimately doesn't add up to much.
Like many crime dramas before it, The Infiltrator pairs Mazur's honourable federal agent with the one member of a criminal organisation who's actually an articulate, kindly, cosmopolitan fellow. Naturally, this will make him feel more conflicted about his assignment, but despite Cranston and Bratt's best efforts, they can't escape the fact that their film is laced with such clichés.
Production companies: Good Films, Miriam Segal Productions, Road Less Traveled Productions, George Films, Lipsync Productions
US distribution: Broad Green Pictures, www.broadgreen.com
International sales: Sierra/Affinity, info@sierra-affinity.com
Producers: Miriam Segal, Brad Furman, Don Sikorski, Paul Brennan
Executive producers: Martin Rushton-Turner, Camela Galano, Peter Hampden, Norman Merry, Kate Fasulo, Jill Morris, Scott Lastaiti, Bryan Cranston, Robert Mazur
Screenplay: Ellen Brown Furman, based on the book by Robert Mazur
Cinematography: Joshua Reis
Production design: Crispian Sallis
Editors: David Rosenbloom, Luis Carballar, Jeff McEvoy
Music: Chris Hajian
Website: www.theinfiltrator.com
Main Cast: Bryan Cranston, Diane Kruger, John Leguizamo, Benjamin Bratt, Yul Vazquez, Amy Ryan