Dir/scr: Nancy Meyers. US. 2015. 121mins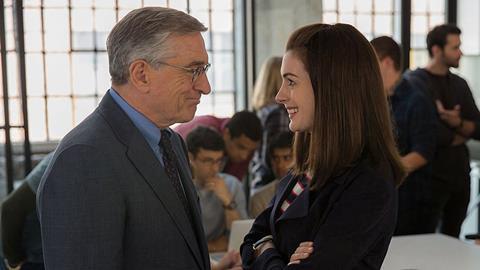 As cosy and bland as it sometimes feels, workplace dramedy The Intern eventually manages – with the help of admirably game performances from Robert DeNiro and Anne Hathaway – to find something worth saying about Millennial generation women and men and their baby boomer forebears. It makes for a pleasant, if lightweight return to the screen for writer-director Nancy Meyers nearly six years after oldie romcom It's Complicated.
A wide US opening on Sept 25 should allow global distributor Warner to make the most of Hathaway's star power and DeNiro's pull with older moviegoers, though matching the $112.7m grossed domestically by It's Complicated may not be easy. International runs – some starting on Sept 24, others spread through October – might be a bit less lucrative (It's Complicated managed $106.4m outside the US and Canada).
Dialing it down from some of his recent broader comedy outings, DeNiro plays 70-year-old New York widower Ben Whittaker, a straight-laced yet amiable former business executive. Bored with retirement, Ben lands a 'senior internship' at an e-commerce fashion start-up founded by the driven and slightly less amiable Jules Ostin (Hathaway, who hit big last year with Interstellar to add to her Oscar cachet for Les Miserables).
When Ben is assigned as Jules' personal helper, the two begin to bond. And when Jules starts to feel that control of her business is slipping away and her marriage to good-natured child-minding dad Matt (Anders Holm, from The Interview) is on the rocks, Ben becomes a much needed personal and professional adviser.
There are plenty of predictable jokes about old people and the Internet, old people and sex (Ben soon starts dating the baby boomer office masseuse, played by Rene Russo) and young people's obsession with social media. And there are plenty of ever so cute minor characters, from Ben's much younger co-workers to Jules' adorable little girl.
But when the film gets more serious it produces some affecting moments between the two leads, as Ben helps Jules find more balance in her life while warning her not to sacrifice her role as entrepreneur to her role as wife and mother. The subtly raised issues update some of the themes raised by Meyers (who started out as a writer) in her script for 1987 Diane Keaton hit Baby Boom.
The film's cutesy feel is enhanced by its brightly lit look and a perky multi-generational soundtrack including modern hits from Meghan Trainor and Kendrick Lamar as well as classics by Ray Charles, Astrud Gilberto and Gene Kelly.
Production companies: Waverly Films, RatPac-Dune Entertainment
Worldwide distribution: Warner Bros Pictures
Producers: Nancy Meyers, Suzanne Farwell
Executive producers: Celia Costas, Steven Mnuchin
Cinematography: Stephen Goldblatt
Production design: Kristi Zea
Editor: Robert Leighton
Music: Theodore Shapiro
Website: http://www.theinternmovie.com
Main cast: Robert DeNiro, Anne Hathaway, Rene Russo, Anders Holm, Jojo Kushner, Andrew Rannells, Christina Scherer