Natalie Meta's 'stridently entertaining' second film plays in Competition at the Berlinale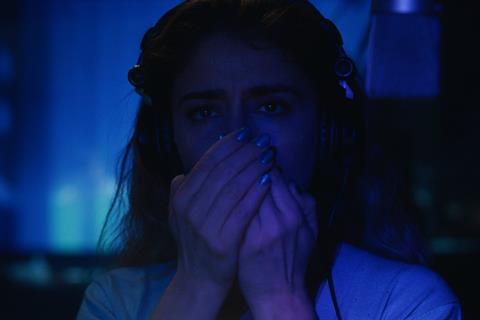 Dir. Natalia Meta. Argentina/Mexico. 2020. 94 mins
With its constantly mutating tones, body snatching waking nightmares, subliminal flashes of fetish and tortured use of a pipe organ, the second film from Natalia Meta is a slippery thing to pin down. Like the ragged mental state of its main character, it unravels as it goes on. But it is also never less than stridently entertaining, in part thanks to a brittle central performance from Erica Rivas. She plays Ines, a voice-over artist and chorister who is plagued by bad dreams which seem to be seeping into her waking life. Crackles of interference which are picked up by the microphones at work seem to be emitting from deep inside her. Ines comes to believe that her body or soul is being invaded by intruders which are using her dreams as portals. Why, how and who are questions that the film blithely disregards.
May work best with audiences who are able to suspend disbelief and who prefer atmosphere to coherence in their movies.
The domestic success of Meta's first film, Death In Buenos Aires, should go some way towards generating interest in this film, which is based on the novel 'El Mal Menor' by C.E. Feiling, among Argentine audiences. Elsewhere it will be Rivas, so deliriously chaotic as a jilted bride in Damián Szifron's Wild Tales, who may be a draw for arthouse savvy audiences on the festival circuit.
On first impressions, shaped by an extended sequence which introduces Ines and follows her on an ill-fated holiday with her boyfriend Leopaldo (Daniel Hendler), the film has a maliciously comic kinship with Wild Tales. Needy Leopaldo nags her for crumbs of love, stakes a claim on her unconscious life ("Who were you dreaming about? Your ex?") as well hogging her attention when they are together. When the relationship ends, abruptly and very finally, it at first seems like an eventuality that Ines has somehow wished into existence. The membranes between real and dreamed, between sanity and delusion, are permeable. This is what gives the picture its intriguing lure. This is also what makes it so infuriating.
A few months after the disastrous holiday, Ines has settled back into work, dubbing Japanese horror movies into Spanish and rehearsing with as part of a female voice choir. The unexpected arrival of her mother (Cecilia Roth) is cause for more stress than support; yet a new encounter, with organist Alberto (Nahuel Pérez Biscayart), hints at potential romance. But something is amiss, a problem with Ines' voice which could rob her of her livelihood. Fortunately, a passing stranger is on hand to diagnose the problem: "You have an intruder." As storytelling devices go, this is a pretty shoddy one.
Given the emphasis on the aural component, it's fitting that the sound design of the picture is one of its most unsettling aspects. Noises bleed into the film; incessant whines which may be real or may be imagined. Or may be a heady hybrid of both. Less successful are the visual tricks, like the snaking presence under the sheets of Ines's bed. It's a creepy image, but it's not one which makes much sense with the rest of the story. It's a story, ultimately, which may work best with audiences who are able to suspend disbelief and who prefer atmosphere to coherence in their movies.
Production company: Rei Cine, Picnic Producciones
International Sales: Film Factory Entertainment info@filmfactory.es
Producers: Benjamin Domenech, Santiago Gallelli, Matias Roveda, Natalia Meta, Fabiana Tiscornia
Screenplay: Natalia Meta, Leonel D'Agostino
Editing: Eliane Katz
Cinematography: Bárbara Alvarez
Production Design: Ailí Chen
Music: Luciano Azzigotti
Main cast: Érica Rivas, Nahuel Pérez Biscayart, Daniel Hendler, Cecilia Roth, Guillermo Arengo, Agustín Rittano, Mirta Busnelli