Members of Chicago's The Jane Collective look back on the abortion service they ran in the late 1960s and early 70s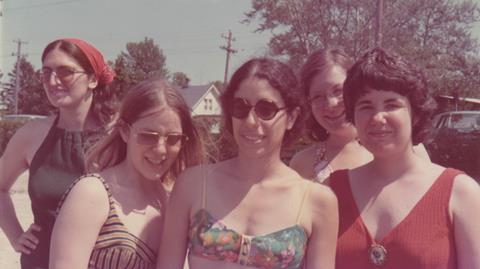 Dir: Tia Lessin, Emma Pildes. US. 2022. 101 mins.
Real life is better than fiction in The Janes, Tia Lessin and Emma Pildes' revelatory documentary about an underground network which operated in Chicago in the late 60s and early 70s to provide access to - and information about - abortion for women who were desperate and dying with nowhere else to go. At a time when reproductive rights are under serious threat, particularly across the United States, the film business is responding by reminding the world of what happened to women when these did not exist. Last September's Venice winner Happening is now followed closely by two complementary titles at Sundance 2022, the other being Phyllis Nagy's drama Call Jane, starring Elizabeth Banks and Sigourney Weaver. The Janes covers the same territory with all the strokes of the big picture, alongside the pain of the real.
Drama doesn't really get you there in the same way as The Janes.
Indeed, no fiction could hope to match the strangeness and sadness of the truth here, from the cheerful untrained bruiser of an abortionist Mike, to the grandmotherly figure who pulls out an old set of dusty abortion tools from a plastic carrier bag. Lessin and Pildes give a worthy account of some crazily courageous young women, who testify now before their camera as to what they did - and why. Mostly young academics who met in and were part of the 1968 protest movement in Chicago, these women are still classy, smart company on camera today, giving an honest account of their illegal activities at a time when you had to be married to get a diaphragm or the pill - and you certainly couldn't work if you were pregnant. They recount how they came to together as the 'Jane Collective', opening up a hotline for the desperate. (As in 'Pregnant? Need Help? Call Jane,' plastered on fliers all over Chicago. It was, really, no surprise that they got caught - although it did take a long time.)
These women are also funny. One recounts a terrifying incident at an empty college where she found a woman bleeding alone after a botched abortion. 'It must have been scary for you,' says the sympathetic interviewer. She nods. "Plus, I was high!"
The Janes is a typically well-crafted HBO production, leaning on archival footage and current-day testimony to tell this story. The women here weren't a homogenous unit: they came from radically different backgrounds, but united in an environment raging with civil rights and anti-war and feminist activism. It was a much less law-abiding time. Mayor Daley authorised the police to kill protestors in Chicago and the Black Panthers were advocating violence. Often shouted down by fellow male protesters, keen to help their sisters, they looked for a way to change the world, and breaking the law wasn't an issue (they called it "standing up to illegitimate authority".)
And it's not just that these grey-haired ladies formed an illegal underground network which seems, even with the best will in the world, to have been medically dubious. (Pete the abortionist comes on camera to confess it was "better than construction - a step up for me". Up until then, the mob ran abortion in the city, and the fact that he was the best available says a lot about the "quacks and butchers" in circulation.) But these women also learned how to perform the procedure themselves for patients who couldn't afford his prices, carrying out over 11,000 abortions themselves. Nobody will come away from this film without being shocked into a consideration of what reproductive rights really mean, or, as they say, "what desperate people will do". Drama doesn't really get you there in the same way as The Janes.
Most of the women who speak here had undergone an abortion. They were mainly white - with one Black representative who pushed for wider access - and a counter-cultural feminst gang who debated long and intensely about what they were doing (the other offical name for The Jane Collective was The Abortion Counselling Service of Women's Liberation). Here, you get a strong sense of their personalities, even over a too-short 101 minutes, thanks to some incisive editing by Kristen Huntley. They set up a system with patients being ferried between 'The Front' and 'The Place', using blindfolds and code names, because they were serious about their work, and this was a serious offence. When seven of them were arrested, they faced a sentence of 110 years each. It's serious again today too, and The Janes shows exactly why.
Production companies: Pentimento Productions, HBO
International distribution: HBO
Producers: Emma Pildes, Daniel Arcana, Jessica Levin
Cinematography: Keith Walker
Editing: Kristen Huntley
Music: Max Avery Lichtenstein