Dir. Nick Hamm. UK/US, 2016, 94 mins.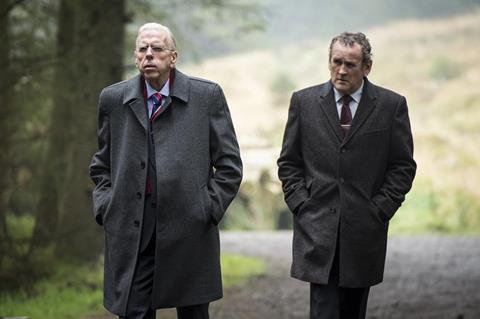 Playing fast and loose with the historical record, Northern Irish directing and writing talents Nick Hamm and Colin Bateman come together to dramatise the origin story of another Ulster duo, fiery Unionist leader Ian Paisley and former IRA leader turned member of parliament Martin McGuinness, former sworn enemies who in May 2007 became, respectively, First Minister and Deputy First Minister of Northern Ireland.
This is a small but punchy British film that looks set to embark on its own road trip
Although it breaks no new ground, there's heart, humour, charm and even a little healthy mischief in a film that re-imagines the rapprochement between the two former foes, that would lead to a road map for peace in Northern Ireland, in the form of a road trip.
Part of the film's undeniable audience appeal has to do with the sparring of two actors who are here at the top of their respective games, Timothy Spall – who convinces as the firebrand Reverend despite hardly resembling him at all – and Colm Meaney, more subdued but equally convincing as the reformed Catholic freedom fighter.
There's an opt-out clause at the end of an opening caption which briefly fills us in on the background of the October 2006 St Andrews conference which states: "This story imagines that journey".
Those who gathered in the Scottish holiday and golfing resort for talks designed to regulate the devolution of power to the Northern Irish parliament at Stormont included British prime minister Tony Blair (Toby Stephens), Irish Taoiseach Bertie Ahern (Mark Lambert) and all the major parties of the region, in addition to security and intelligence personnel – here mostly bundled up in a single speaking role, John Hurt's veteran MI5 boss Harry Patterson.
The film indulges the fiction that the former enemies' decade-long refusal to address a word to each other was finally broken that weekend – although McGuinness would later reveal that their first conversation came a whole six months later, just before they both took up office in Belfast. We're asked to believe that in the midst of the conference, Paisley demanded to fly back to Belfast to celebrate his fiftieth wedding anniversary, and McGuinness insisted on being allowed to accompany him. In the real world, Paisley's wife Eileen was with him in St Andrews.
These white lies get Paisley and McGuinness into a car to the airport together, driven by a seemingly naive young chauffeur played by Freddie Highmore, who asks the two if they are by any chance famous? What follows is a stand-off and slow thaw that is also a long exercise in backstory presentation,
We are reminded of the bigotry of a preacher who condemned dancing and called the Pope "the Antichrist" in the European Parliament – Spall centres it all in a mouth that seems ready at any time to spit fury. But McGuinness's executive role, and possible military involvement, in an organisation that killed hundreds of innocent people, is also charted as the two men, after an initial freeze, begin to circle around each other verbally, the more conciliatory McGuinness attempting at times to play the joker, Paisley rarely departing from his stern, self-assumed moral high ground.
Warmly shot, with soaring overhead shots of Scottish landscapes that will do the local tourist board no harm, and with a sometimes over-sentimental emotional but still effective orchestral soundtrack by Billy Elliot composer Stephen Warbeck, this is a small but punchy British film that looks set to embark on its own road trip.
Production companies: Greenroom Entertainment, Tempo Production
International sales: IM Global, sales@imglobalfilm.com
Producers: Piers Tempest, Mark Huffam, Nick Hamm, Matt Jackson, Stuart Ford
Executive producers: Jo Bamford, Norman Merry, Janine Modder, Miguel Palos Jr
Screenplay: Colin Bateman
Cinematography: Greg Gardiner
Editor: Chris Gill
Production designer: David Craig
Music: Stephen Warbeck
Main cast: Timothy Spall, Colm Meaney, Toby Stephens, Catherine McCormack, Ian McElhinney, Barry Ward, Ian Beattie, Freddie Highmore, John Hurt