Revisiting Larry Clark's 1995 cause celebre with the surviving cast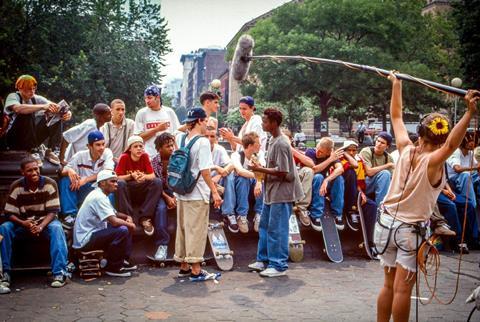 Dir: Eddie Martin. Australia. 2021. 91 mins.
Whatever became of the unknown teenagers who served as the beating heart of 1995's Kids, Larry Clark's controversial look at a group of out-of-control young adults in New York? The Kids provides the sobering answer, speaking to a few of the cast's non-professional actors, who were initially excited that their skateboarding scene was being dramatised for a film, only to eventually realise they had been exploited. There's tragedy and outrage here — particularly in director Eddie Martin's examination of how those from troubled backgrounds are ill-equipped to cope with stardom — but also a gnawing frustration that the documentary doesn't dig deeper to fully explore Kids' impact on its unsuspecting stars.
Dissects what was always dubious about Kids — how Clark trumpeted the film as unvarnished truth about modern teens while shamelessly glamorising his characters' bad behaviour.
This Tribeca premiere will interest anyone who remembers the brouhaha Clark's indie sensation caused during its 1995 release. This is less of a making-of documentary than an oral history from those reflecting on how the experience changed them. (Producer Caroline Rothstein previously wrote a 2013 profile about the same subject matter for Narratively.) Not surprising considering the film's critical view of Clark and screenwriter Harmony Korine, neither man participated — nor did stars Chloe Sevigny and Rosario Dawson — and the lack of big names may hurt commercial prospects. But those needing a reminder about fame's dark side may be drawn to this cautionary tale.
Martin (All This Mayhem) introduces us to cast members who were once a tight-knit bunch hanging out in Washington Square Park in the early 1990s, using skateboarding as an escape from broken homes and poverty. Now adults, they look back on that time, recalling how fellow teen (and NYU film student) Korine was adopted into the group, as well as Clark, a famed photographer far older than these skaters.
The Kids' subjects admit to being dazzled by the prospect of seeing their lives turned into a stark story which stripped away comforting notions of youth as a period of innocence and hope. Indeed, Kids emphasised sex and drugs, with Clark depicting his characters as amoral and directionless. (The non-actors essentially played versions of themselves.) But once Kids became a cause celebre, the cast noticed Clark and Korine distancing themselves from the group, capitalising on the film's success to further their own careers.
For those on camera, including Hamilton Chango Harris (who co-wrote and produced The Kids), an unmistakable bitterness emerges, specifically when they're discussing the premature death of two of Kids' principal figures: Justin Pierce (who played the charismatic Casper) and Harold Hunter (portraying the cocksure Harold). Confidants and family eulogise Pierce and Hunter, who died, respectively, from suicide and a drug-related heart attack, lamenting that their dreams of becoming Hollywood stars led to self-destruction. Sudden fame can be hard for anyone, but The Kids suggests that the fact that Pierce and Hunter were so young, and lacked the support system to keep them grounded, made the transition even more harrowing.
The documentary dissects what was always dubious about Kids — how Clark trumpeted the film as unvarnished truth about modern teens while shamelessly glamorising his characters' bad behaviour. Clark's non-actors were swept up in his vision, with several of Martin's subjects now regretting the outlandish things they did in the film. Clark comes across as an opportunist who took advantage of his cast's naivete to burnish his artistic reputation, especially in archival footage of his combative Cannes press conference, where he refused to address questions about having underage actors engaging in drug use and sex.
But that sharp critique, connected to a larger rumination about how film audiences can be suckered by the illusion of gritty "authenticity," doesn't entirely compensate for The Kids' shortcomings. The most obvious deficiency is also the most heartbreaking, which is that Pierce and Hunter are only seen through old clips. Pierce died in 2000, Hunter six years later, and while their deaths still bring tears to their friends' eyes, the two men don't feel especially present as the documentary's ostensible emotional centrepiece.
Instead, The Kids becomes a story about Harris finding a new life far from the hardscrabble New York of his adolescence. Although no doubt cheering, Harris' personal narrative isn't always very compelling. (Likewise, other cast members' complaints about Clark can't help but come across as minor in comparison to what befell Pierce and Hunter.) Kids touched a nerve by handling provocative material in a cavalier way. The Kids tries to illustrate the human toll of such an approach — how the impoverished teens Clark exploited were left to fend for themselves — but the documentary fails to make that condemnation sting as righteously as it should.
Production companies: Six Seasons, Resolution Media
International sales: Dogwoof, ana@dogwoof.com
Producers: Hamilton Chango Harris, Peter Bici, Caroline Rothstein, Jessica Forsyth, Shannon Swan
Screenplay: Eddie Martin and Hamilton Chango Harris
Editing: Shannon Swan
Cinematography: Hugh Miller
Music: Michael Yezerski