A pair of French criminals attempt to lay low in Algiers in this colourful feature debut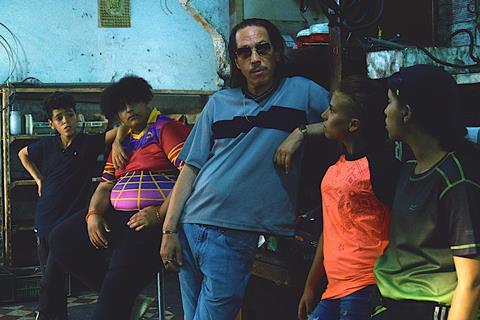 Dir: Elias Belkeddar. France. 2023. 99mins
Elias Belkeddar's feature directorial debut combines crime, comedy and romance and, although the different elements do not always mesh together seamlessly, they provide enough spark for a story about a bad man who tries to become a little more good. The King Of Algiers contains three delightful performances, led by Reda Kateb as a gangster who falls for the kindhearted manager (Meriem Amiar) of a cookies-and-cakes company. With Benoit Magimel as the man's irreverent best friend, the film mostly goes for lighthearted laughs, occasionally flirting with darker terrain that is not as confidently crafted. But when the love story takes centre stage, this is a low-key treat.
Tries to balance between being edgy and romantic
Premiering in Cannes in a midnight slot, The King Of Algiers should perform well in France, where it opens May 24, bolstered by its likeable stars. But international audiences may also find much to enjoy in the high-concept premise. Expect reviews to be positive, if not overly glowing, as The King Of Algiers finds a receptive audience for those seeking harmless, crowd-pleasing fun.
Kateb plays Omar, a French criminal who has just received a 20-year sentence – his only course of action to avoid prison is to lie low in Algiers. His dear friend, and fellow crook, Roger (Magimel) agrees to stay in the Algerian capital with him, the two enjoying their exile living in a big, empty mansion like bachelors. In an attempt to at least create the appearance of going straight, Omar gets a job at a pastry plant, immediately finding himself attracted to Samia (Amiar), who is intrigued by him but soon learns about his past.
Initially, this lark is powered by the chummy rapport of Kateb and Magimel, who effortlessly convey the longtime friendship of two literal partners in crime. Like overgrown boys, Omar and Roger crack silly jokes and hang out, simply enjoying each other's company. Belkeddar, whose 2018 short A Wedding Day screened in Critics' Week, views these two men as endearing goofballs, and much of the early comedy stems from their childish antics during this unexpected holiday. (When they try to work out, for example, they make sure to do it with alcoholic beverages in hand.)
But when Samia enters the story, The King Of Algiers shifts into more of a gentle romance, with Kateb and Amiar becoming the central players. They're a lovely onscreen pair as Omar awkwardly tries to court Samia, who is wary of this new guy working at her factory. Once she finds an old YouTube clip of Omar being arrested, she realises she has reason to be suspicious, but Kateb delivers a charming performance that wins over both her and the viewer.
As would be expected, just because Omar and Roger are out of France does not mean they are truly out of the crime racket, and these seasoned pros soon take young local crooks under their wing. (There's also the little matter of some drugs from a previous job that they would still like to shift.) When we see what terror Omar is capable of inflicting, it's a reminder that new love cannot completely reform this hardened criminal – but at the same time, the tonal shift is so extreme that it risks upending The King Of Algiers' otherwise lighthearted approach. In general, plot mechanics get in the way of the character dynamics that are this film's real reason for being, so it is disappointing that Belkeddar veers closer to thriller terrain near the end.
Magimel, who seems to be everywhere at this year's Cannes between this picture, the Un Certain Regard title Rosalie and the Competition entry The Pot-Au-Feu, savours playing the middle-aged Roger, who does not take life too seriously even though he is involved in dangerous business. Flirting with a neighbour, freestyle-rapping when the spirit moves him, Roger is making the most of this vacation, but his old criminal tendencies will eventually bring trouble to his and Omar's door.
As Magimel drifts more to the periphery, Kateb and Amiar are permitted to shine, the no-nonsense Samia forcing Omar to change his ways — at least somewhat — if he wants this relationship to work. The King Of Algiers tries to balance between being edgy and romantic but, much like Omar, the film eventually acknowledges that it's best to put away a life of crime in order to arrive at a happy ending.
Production companies: Iconoclast Films, Chi-Fou-Mi Productions
International sales: StudioCanal, marta.monjanel@studiocanal.com
Producer: Eric Lenclud
Screenplay: Elias Belkeddar, Thomas Bidegain, Jerome Pierrat
Cinematography: Andre Chemetoff
Production design: Arnaud Roth
Editing: Simon Jacquet
Music: Sofiane Saidi
Main cast: Reda Kateb, Benoit Magimel, Meriem Amiar, R'Mimez, Chahine Beriah, Mourad Khan