An elegy for a lost time and place starring Jimmy Fails, whose life inspired it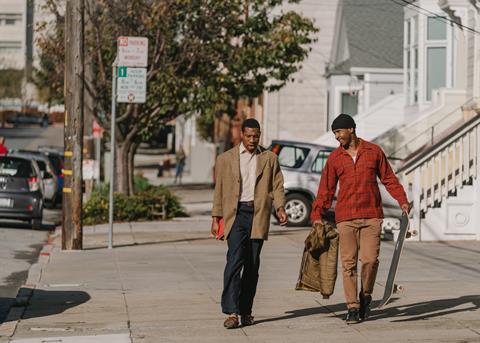 Dir: Joe Talbot. US. 120 min. 2018.
This elegy for a lost San Francisco and the city's displacement of its black population has all the right intentions, but a loose method of storytelling that can feel attenuated. Directed by fifth generation (white) San Franciscan Joe Talbot, and developed with his friend and the film's African American star Jimmie Fails, whose life inspired it, this ambitious debut features flashes of imaginative visuals, quirky dialogue, and well-meaning messages about gentrification and disenfranchisement.
Set in a unique slightly surreal version of San Francisco, the film resembles the dream-like vision of early Spike Lee
Fails plays a version of himself, a man estranged from his surroundings who skateboards around town with his best friend Montgomery, an idiosyncratic aspiring playwright (Jonathan Majors). Fails' obsession, and the only thing he cares about, is his childhood home, a majestic vintage Victorian house supposedly built by his grandfather. Even though he no longer lives there, he spends his days touching up the red trim on the balconies outside. When the home's occupants leave it empty as part of an estate sale, Fails moves in, fulfilling his life's seemingly singular desire—until he's thrown out by a real estate broker.
The Last Black Man in San Francisco has a good title and some auspicious emerging talent, but it will need a lot of critical support - which it began to receive after its Sundance premiere - if it's going to break out in the marketplace. Set in a unique slightly surreal version of San Francisco, the film resembles the dream-like vision of early Spike Lee—and the way Talbot introduces viewers to his story, in a bravura opening sequence, recalls Lee's more stylised work.
We first see a little black girl licking a lollypop and looking up at a white man in a Hazmat suit, who's part of a crew cleaning up the polluted San Francisco Bay. It's a pointed, not-so-subtle allegory about a community which has been forgotten. There are other Spike-ian touches, such as ultra-slow-motion snapshots of the city's citizens; a group of young black men talking on a random street corner; a dolly shot in which we see passing stereotypes of black life; and an orchestral score that evokes African American jazz by way of Aaron Copland.
But the oddball qualities of the film eventually begin to wear thin. While Jim's melancholic feelings towards a home, in a larger way, that's no longer his own principally defines him, one would expect there to be more to the man. There's a strong scene when Jim confronts his father (Mudbound's Rob Morgan, always excellent) and a brief encounter with a mother he seemingly hasn't seen in years, but Jim doesn't feel fleshed out enough. Similarly, it's hard not to see Montgomery more than a mere comic sidekick, and when he confesses at one point about his own play, "I don't have a plot yet," we know how he feels.
The real Jimmie Fails makes for a sympathetic performer, with a solemn and amenable expression that feels real. In fact, when he tells a couple of trash-talking young white women on a bus, "You don't get to hate [San Francisco] unless you love it," the sentiment is clearly genuine. And Majors' Montgomery is an admittedly quirky companion, who gets the occasional laugh from trying to sound like a tough gangsta when he's obviously a more sentimental sort.
But the most distinctive character may be the house itself and Jona Tochet's beautiful production design. Situated in a district known as the "Harlem of the West," as a passing white tour-guide explains riding a Segway (in one of the film's many jibes as gentrified San Fran), the home is an architectural gem, decorated with stained-glass windows, ornate columns and balustrades, gorgeous inlays and built-ins, and inside, furnished with antique lamps with beaded shades and hand-made furniture with flower-designed upholstery. It is an awesome house—admittedly one worth fighting for.
Production Companies: A24, Plan B
International sales: A24
Producers: Khaliah Neal, Joe Talbot, Dede Gardner, Jeremy Kleiner, Christina Oh
Screenwriters: Joe Talbot, Rob Richert
Production Design: Jona Tochet
Editor: David Marks
Cinematography: Adam Newport-Berra
Music: Emile Mosseri
Main cast: Jimmie Fails, Jonathan Majors, Rob Morgan, Tichina Arnold, Danny Glover