Matt Damon, Adam Driver, Ben Affleck and Jodie Comer star in Ridley Scott's medieval epic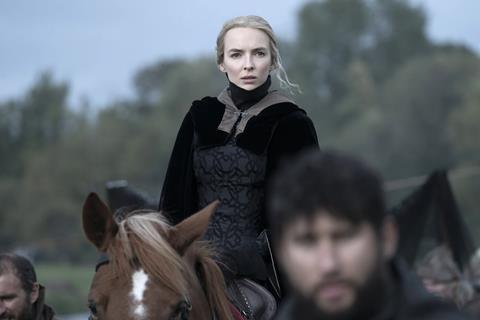 Dir. Ridley Scott. US. 2021. 152 mins
Gladiator and Rashomon collide thunderously in Ridley Scott's medieval epic The Last Duel, a heavy weapon heave-ho about two clench-jawed soldiers (Matt Damon, Adam Driver) and the woman (Jodie Comer) they tussle over for ownership Each gets a chapter in which events leading up to a public fight-to-the-death are presented; the last is labelled 'the truth'. Damon and Affleck wrote a third each, with Nicole Holofcener contributing the final instalment from the female perspective. Whether it's the sheer weight of the narrative repetition - which involves rewatching a brutal rape - or the two-men/one-woman perspective, which results in an underwritten character and a strained performance from Comer, The Last Duel is crushed by the weight of its own armour.
It hews more closely to Scott's Gladiator with its warrior iconography and duel-to-the-death, while lacking any of that award-winning film's heart
Violent and bloodthirsty in its depictions of medieval battle, The Last Duel closes out the Venice film festival, with a special award ('glory to the film-maker) given to director Ridley Scott. It's a hyper masculine film - all metal and savagery - with marquee names in Damon, Driver, and Affleck, who plays a bleach-blonde libertine squire. Released through Disney, it will aim for a hard-core action audience to bypass mixed notices and what will undoubtedly be a distinct lack of enthusiasm from female film-goers. Even with the Rashomon structure, it hews more closely to Scott's Gladiator with its warrior iconography and duel-to-the-death, while lacking any of that award-winning film's heart.
Damon is gruff and dangerous as Normandy soldier Jean de Carrouges, a flinty and taciturn man who is a powerful fighter and eventual enemy to court favourite and upstart Jacques Le Gris (Driver). We see them in the very beginning of the film donning their armour and getting ready to joust to the death under the eyes of the teenaged king of France, Charles VI (Alex Lawther). Meanwhile, Marguerite de Carrouges (Comer) gets dressed in black and climbs onto a pyre in this public arena while the CGI-amplified citizens of Paris jeer on.
We flash back 16 years - from 1386 to 1370 - where de Carrouges and Le Gris are comrades-in-arms at the Siege of Limoges. It's a relationship which will deteriorate sharply when Le Gris becomes the favourite of Pierre D'Alencon, the King's cousin, played by Affleck as an English-accented louche draped in gold brocade who engages in orgies with Le Gris and uses the word 'fuck' a lot, which is a little jarring for a 14th century piece set in France. Le Gris, meanwhile, played by a glum Adam Driver, may be popular with the ladies but lacks a certain finesse when it comes to seduction.
Without voiceover narration (how could you fit in a word over the endless medieval monk music?), the story is presented from three points of view and each has gaps in the plot which will be filled in by the next. But there are enormous structural problems to this approach - the repetition, the inevitability after the first narrative - that Scott and his three writers and five producers can't offset. Perhaps it's the swords and the suits of armour, or the (excellent) sound effects, from oozing blood to clanging weapons, or maybe even the sight of horses tumbling and falling, but it eventually becomes overbearingly leaden and dead-eyed. There's also the inescapable sense that this is about two unlikeable, posturing men (see the scene where the gauntlet is thrown down and accepted) and a powerless woman who is a chattel ("It's a property crime and you're her owner"). Attempts to redress the balance and provide modern MeToo relevance in the third act simply don't fly, whether it's because they come too late - the film runs 152 mins in total - or lack the sense of surprise the film-makers might have anticipated.
Stylistically, The Last Duel plays on Scott's strengths. Snow, drifting flakes, slow motion 360-degree surround-sound battle sequences, drone footage - all these elements make it a muscular package. Shot in Ireland and France, before and after lockdown, The Last Duel is based on a true story, that's certain. And this battle to the death was the last legal duel in France, that is true too. Whether such depressing squabbles really needed to be commemorated in film is another question entirely, unless it's to provoke gratitude that no matter how bad we think things are now, the world has definitely moved on.
Production companies: Scott Free, Pearl Street Films
International distribution: Disney
Producers: Ridley Scott, Kevin J Walsh, Jennifer Fox, Nicole Holofcener, Matt Damon, Ben Affleck.
Screenplay: Matt Damon, Ben Affleck, Nicole Holofcener, based on the book by Eric Jager.
Production design: Arthur Max
Cinematography: Dariusz Wolski
Editing: Claire Simpson
Music: Harry Gregson-Williams
Main cast: Matt Damon, Adam Driver, Ben Affleck, Jodie Comer, Harriet Walter, Marton Csokas, Nathaniel Parker, Adam Nagiatis, Alex Lawther