Dir: Kim Farrant. Australia-Ireland. 2014. 111mins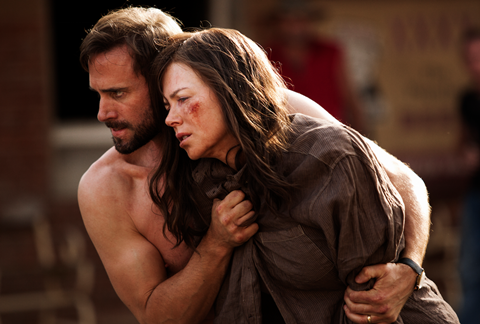 The disappearance of a married couple's two children plays out in dispiritingly predictable and melodramatic fashion in Strangerland, a self-consciously anguished mystery story. Sporting one of Nicole Kidman's most emotionally (and, in one scene, literally) naked performances, the directorial debut of Australian filmmaker Kim Farrant is undone by a series of overwrought, miscalculated scenes that can't be redeemed by an expert cast that's fully committed to the heavy-handedness.
Kidman exudes exhaustion and bitterness, trapped in a lifeless marriage in a town she can't stand.
Premiering in Sundance's World Cinema Dramatic Competition, Strangerland will have to shake off lukewarm reviews, putting its faith in stars such as Kidman, Hugo Weaving and Joseph Fiennes. Nonetheless, this film seems destined to be a commercial underperformer.
Living in a desolate Australian town in the middle of nowhere, Catherine (Kidman) and Matthew (Fiennes) have resigned themselves to an unhappy marriage, sleeping in separate beds but still trying to keep up appearances in front of their two children: sullen Tommy (Nicholas Hamilton) and his sexually blossoming older sister, 15-year-old Lily (Maddison Brown). One morning, though, the parents wake up to discover that their children are gone. Were they kidnapped? Did they run away? Or is a dark secret from the family's past coming back to haunt them?
Working from a script by Fiona Seres and Michael Kinirons, Farrant wants to use the disappearance as a springboard to discuss larger topics such as sexuality, aging and guilt. Nothing in Strangerland is as simple as it appears, whether it's the detective assigned to the case (an agreeably sombre Weaving) or the circumstances surrounding the children's vanishing.
Unfortunately, while Farrant shows plenty of ambition (and works with cinematographer PJ Dillon to paint this rugged landscape as gorgeously unwelcoming), Strangerland is ruined by the preciousness of its ideas. For example, Weaving's David Rae isn't just committed to finding the kids because it's his job: His wife ran out on him years ago, taking his two children with her, and so he (like Catherine and Matthew) has lost his offspring. Additionally, it's not enough for Catherine to feel strange about her daughter's burgeoning sexuality — after learning how promiscuous Lily is, she quickly becomes aggressively sexual herself, tempting random men around her so as to prove that she's still attractive.
All the while, Farrant's ensemble strains mightily to make Strangerland more believable than it has any right being. Kidman exudes exhaustion and bitterness, trapped in a lifeless marriage in a town she can't stand. (The reason for their move to this backwoods community is but one of the film's many fraught mysteries just waiting to be revealed.) And yet, when Catherine wants to reconnect with her carnal side, Kidman does justice to the transformation, dignifying the radical change even if it never feels plausible.
Fiennes is much less successful in a drab role as the failed father and husband. Matthew is all beaten-down passivity, and the actor can't elicit sympathy for such a milquetoast character. Brown gives Lily plenty of raw sex appeal and teen angst, but it's less a person than a societal symbol — unfiltered underage passion incarnate — and so the performance lacks much nuance.
But if Strangerland struggles to justify its thematic boldness, the storytelling also suffers on the level of basic mystery plotting. As we soon realise, one of the characters actually knows more than he's letting on about the children's disappearance, and yet there's not a lot of suspense or intrigue in the investigation. Perhaps that's because Farrant mostly sees this search as a metaphorical inquiry into the unspoken fears and desires that all communities share. But considering that her grander aspirations fall flat, one would at least like to enjoy the down-and-dirty pleasures of a good-old-fashioned whodunit.
Production companies: Screen Australia, Worldview Entertainment, Screen NSW, Bord Scannán na hÉireann, The Irish Film Board, Wild Bunch, Dragonfly Pictures, Fastnet Films
International sales: Wild Bunch, www.wildbunch.biz
Producers: Naomi Wenck, Macdara Kelleher
Executive producers: Andrew Mackie, Richard Payten, Bryce Menzies, Sarah E. Johnson, Adriana L. Randall, Molly Conners, Maria Cestone
Screenplay: Fiona Seres, Michael Kinirons, based on a story by Seres
Cinematography: PJ Dillon
Editor: Veronika Jenet
Production designer: Melinda Doring
Music: Keefus Ciancia
Main cast: Nicole Kidman, Joseph Fiennes, Hugo Weaving, Lisa Flanagan, Meyne Wyatt, Maddison Brown, Nicholas Hamilton