Dir/scr: Alan Zweig. Canada. 2013. 90mins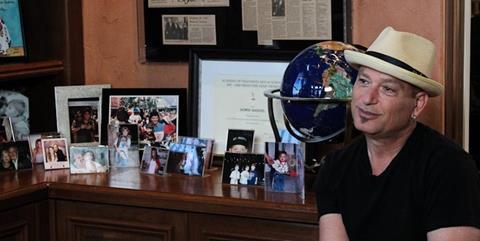 Alan Zweig's latest documentary When Jews Were Funny doesn't exactly break new ground on the Jewish question—that is, why are so many comedians Jewish? But it's still an entertaining and humorous examination of comedy, identity and what it means to be Jewish today, decades after assimilation.
Surprisingly, what makes the documentary enjoyable is Zweig's vagueness.
Destined for Jewish-friendly art-houses and small screens, When Jews Were Funny is a decidedly niche project—but with millions of Jews on the planet, it could be a fairly big niche.
Made up mostly of talking head interviews with Jewish comedians—interspersed with a few select comedy routine excerpts from the '50s and '60s (with the likes of Jackie Mason and Henny Youngman)—When Jews Were Funny is refreshingly casual and formless, and devoid of clichéd archival material.
There are none of the familiar clips of immigrant Jews on the streets of New York, orshtetls in Eastern Europe or comedians in the Borscht Belt, so familiar to audiences of TV documentaries. Rather, Zweig smartly focuses on the faces of the men—and couple women—who relay their favorite Jewish jokes and talk combatively, or defensively, or eloquently about Jewish culture and humor. (Example: "How many Jewish mothers does it take to screw in a lightbulb?" "None," they say, "I'll just sit in the dark.")
The interviews touch on several themes that might be familiar to students of comedy: that humor comes from oppression, and that with assimilation and comfort and success, people tend not to be as funny. After all, complaining—or kvetching (in Yiddish)—is at the heart of much Jewish humor, the film suggests.
Highlights include a conversation with stuntman-comedian Super Dave Osborne (ne: Einstein), who berates Zweig for his ambiguous questions; a hilarious interview with Judy Gold, who tells one crackling "Jewish Mother" joke after another; and an array of elderly comedians, who take great pains to deny any identification as "Jewish comedians," throwing a wrench in Zweig's thesis.
Surprisingly, what makes the documentary enjoyable is Zweig's vagueness. Speaking off-screen in a deep baritone voice, he stops and starts and stutters. This allows for lots of interruptions, counter-interrogations and verbal parries—all hallmarks, we come to learn, of being Jewish. So what could have seemed unorganized actually works within the parameters of the project.
Zweig also has another trick. As much as When Jews Were Funny is a documentary about Jewish comedy, there is another layer to the film. Though we never see the director (except for an ending credit sequence), it's also a personal documentary about his own family life.
We find out that Zweig is in his 60s, newly married to a woman who is not Jewish, and has recently become the father of his first child. Fraught with questions about how Jewish his daughter will be, and whether the legacy of Jewish humor is doomed to die out, Zweig skillfully manages to make a film that's a more intimate and heartfelt investigation than a historical one.
Though the filmmaker and one of his subjects admit at one point that the entire project reflects the very self-obsessive nature of Jewish identity, the criticism is also a valid one. It's surprising, for one, that no one ever acknowledges the ascendancy of black comedians, an ethnic group that has suffered similar levels of oppression and managed to make light of their plight. But When Jews Were Funny isn't meant for everyone: It'd certainly kill in the Catskills.
Production Company: Sudden Storm Entertainment
International sales: Film Sales Company
Producers: Jesse Ikeman, Jeff Glickman
Executive producers: Perry Rosemond, Ted Fass
Cinematography: Naomi Wise
Editor: Randy Zimmer
Music: Michael Zweig
Main cast: Howie Mandel, Shelley Berman, Norm Crosby, Shecky Greene, Jack Carter, David Steinberg, Andy Kindler, Elon Gold, Gilbert Gottfreid, David Brenner, Bob Einstein, Judy Gold, Marc Maron