Mike Mitchell takes over directing duties on this eagerly-anticipated sequel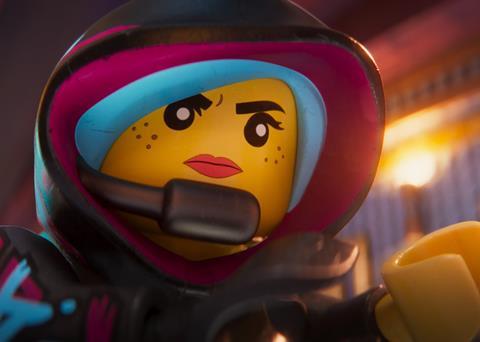 Dir: Mike Mitchell. US. 2019. 106mins.
The songs are catchier but the jokes aren't as consistent in The Lego Movie 2: The Second Part, the energised but only sporadically engaging follow-up to the inspired 2014 original. This sequel explores plenty of intriguing ideas — specifically, the anxiety children experience when trying to shed their sweetness in order to seem cool — but most of The Second Part's pleasures come from our familiarity with these characters and their world, neither of which is as delightful as in the first film.
Ultimately, the soundtrack ends up packing a bigger wallop than the film that houses it.
The Second Part arrives in the US and UK on February 8, hoping to match The Lego Movie's $469 million worldwide gross. Considering that the 2017 spinoff The Lego Batman Movie brought in $312 million — and that The Lego Ninjago Movie made far less — audience fatigue is a concern. Still, this Warner. Bros release should enjoy robust returns for a few weeks — but then comes the third and supposedly final How To Train Your Dragon instalment, which will be this film's first direct competition.
Set five years after The Lego Movie, The Second Part introduces us to a Bricksburg that has become a dystopian wasteland that would make George Miller proud. Emmet (voiced by Chris Pratt) has held onto his sunny disposition, while his good friend Lucy (voiced by Elizabeth Banks) has embraced the bleak landscape, becoming a brooding desert warrior. That's when an alien named General Mayhem (voiced by Stephanie Beatriz) captures Lucy and a few of their pals, including Batman (voiced by Will Arnett), and takes them to her remote planet. Emmet gives chase, encountering a rogue space ranger, Rex Dangervest (also Pratt), who is like an edgier, more suave Emmet.
Filmmakers Phil Lord and Christopher Miller, the team behind the 21 Jump Street movies, wrote and directed The Lego Movie, but for The Second Part they only handle screenplay duties, with Mike Mitchell (Shrek Forever After, Trolls) directing. The fun pop-culture riffing remains, but The Second Part lacks the density of ingenuity, humour and whiz-bang action that marked the first film. Rather than bursting with imagination and wit, the sequel feels busy, overstuffed, a little routine.
That disappointment is tempered, somewhat, by getting to spend more time with these funny characters. Emmet remains a lovably ordinary guy, while Lucy continues to flaunt her action-hero credentials, even as she tries to conceal her embarrassing, uncool past. But just as The Lego Batman Movie revealed the limits to how amusing Arnett's raspy-voiced Dark Knight could be, so too does The Second Part struggle to be as innovative as The Lego Movie, repeating character dynamics rather than expanding them.
Not that the filmmakers don't try to dig a little deeper into Emmet and Lucy. Emmet's fortuitous meeting with Rex allows him a chance to prove to Lucy he's not just a nice-guy pushover. (Unlike the adorably naïve Emmet, Rex is voiced by Pratt with endless cockiness, while the script takes the opportunity to spoof Pratt's live-action blockbuster roles — particularly, Jurassic World's dinosaur-wrangler Owen Grady.) And Lucy discovers that she'll have to own up to the dorkier person she once was, running the risk of no longer seeming impressive in Emmet's eyes.
But those ideas, along with a few other thematic threads, don't have the punch necessary to resonate: like the film's hit-or-miss gags, they bounce off rather than really land. And because Lego Movie viewers discovered that film's conceit at the end — what we were watching was actually the playtime of a suburban kid — there isn't the same surprise here when Emmet and the gang square off with the diabolical Queen Watevra Wa-Nabi (voiced by Tiffany Haddish). Deep down, we know that this elaborate construction will eventually connect to what's going on with that suburban family, which undercuts the suspense.
The Second Part's action sequences are diverting without ever being dazzling, while the animation remains vibrant. The new film is certainly ambitious: Mitchell and his screenwriters have envisioned The Second Part as almost a semi-musical, stopping the proceedings for several intricate numbers. But they too are only moderately successful, with the best song coming during the end credits and serving as a commentary on end-credits music. Ultimately, the soundtrack ends up packing a bigger wallop than the film that houses it.
Production companies: Rideback, Lord Miller, Vertigo Entertainment
Worldwide distribution: Warner Bros.
Producers: Dan Lin, Phil Lord, Christopher Miller, Roy Lee, Jinko Gotoh
Screenplay: Phil Lord & Christopher Miller, story by Phil Lord & Christopher Miller and Matthew Fogel, based on Lego Construction Toys
Production design: Patrick Marc Hanenberger
Editing: Clare Knight
Music: Mark Mothersbaugh
Main voice cast: Chris Pratt, Elizabeth Banks, Will Arnett, Tiffany Haddish, Stephanie Beatriz, Alison Brie, Nick Offerman, Charlie Day, Maya Rudolph, Will Ferrell