Dir. Juan Carlos Medina. UK, 2016, 105 mins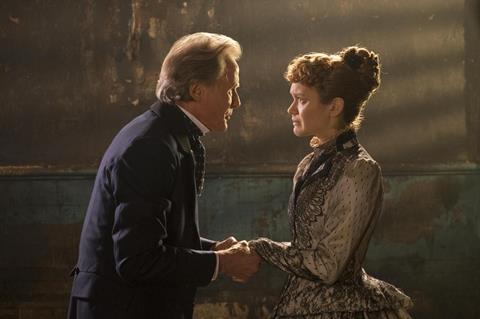 Airless, over-stuffed Victorian interiors are mirrored in the plot of The Limehouse Golem, a drippingly lurid drama set in 1880s London, adapted for the screen by Jane Goldman from Peter Ackroyd's novel. Fans of British TV's Ripper Street will find much that's familiar here – or perhaps they'll find just too much: chat, plot, back-story, perspectives, stabbings and characters with murky pasts, all crammed into Limehouse and pretty much untouched by natural light.
Olivia Cooke shows why she's rapidly becoming the femme-du-jour, singing and joking on-stage in a role which twists and turns
At times feeling a little like The Illusionist, The Limehouse Golem has been a long-gestating project; it's certainly one with a strong plot at its core which may enough to seduce genre audiences. And the up-and-coming actress Olivia Cooke – breaking hearts in Toronto in the US indie Katie Says Goodbye – gets to try out her talents as the mysterious young widow Elizabeth Cree, opposite Bill Nighy (replacing the late Alan Rickman) as Detective Inspector Kildare, who becomes obsessed with her. However, director Juan Carlos Medina (Insensible/Painless) fails to muster Golem's many moving parts, and tension leaks from the film like the blood from one of its many savaged corpses.
Cooke is the film's main focus, playing Elizabeth, a beloved music hall comedienne who is suspected of murdering her controlling husband (Sam Reid), and now is due to face trial. At the same time, a fearsome Jack The Ripper-style fiend dubbed the Limehouse Golem (a mythical Jewish creature) has been slaughtering the inhabitants of the area. Inspector Kildare, a man with his own troubled past, is accompanied by his Watson-like sergeant (Daniel Mays) as he investigates both cases: he starts to focus on a music hall run by real-life music hall dame Dan Leno (Douglas Booth).
There he finds an odd bunch of troubadors – including a weasly uncle (Eddie Marsan) and a jealous acrobat (Maria Valverde). As Elizabeth's troubled past is related in flashback, Inspector Kildare is led to the British Library, where, helpfully, the Golem has been writing a diary - illustrated, of course – detailing his crimes. It seems as if the killer is one of four men who use the reading room there, and Medina/Goldman generously award them all a fantasy sequence in which they are seen to be the murderer and brutally slash some poor bystanders. One of them is Karl Marx, no less.
Sweeping through the muddy streets of Limehouse, its gin palaces and music halls, dusty interiors dressed in velvet, brocades and flocked wallpaper, The Limehouse Golem favours more intimate, golden-hued interiors, but a 105-minute running time may leave viewers blinking in the dark. That's if the overwrought plot doesn't stun them into submission. Olivia Cooke shows why she's rapidly becoming the femme-du-jour, singing and joking on-stage, playing both victim and oppressor. Douglas Booth makes use of his androgyny and proves a surprisingly fluid presence. Nighy, meanwhile, is dignified while not quite compelling enough to compensate for the film's distractedness.
Medina and his team make good use of a limited budget to deliver some striking scenes of Victorian London, mostly by night.
Production companies: Number 9 Films
International sales: HanWay Films, info@hanwayfilms.com
Producers: Stephen Woolley, Joanna Laurie, Elizabeth Karlsen
Executive producers: Jane Goldman, Thorsten Schumacher, Zygi Kamasa, Norman Merry, Peter Hampden, Nicki Hattingh, Chris Simon, Anne Sheehan
Screenplay: Jane Goldman, based on Dan Leno and the Limehouse Golem by Peter Ackroyd
Cinematography: Simon Dennis
Production design:
Editor: Justin Krish
Main cast: Bill Nighy, Olivia Cooke, Douglas Booth, Daniel Mays, Sam Reid, Maria Valverde, Eddie Marsan