Riley Keogh stars in this nerve-shredding horror from the directors of 'Goodnight Mommy'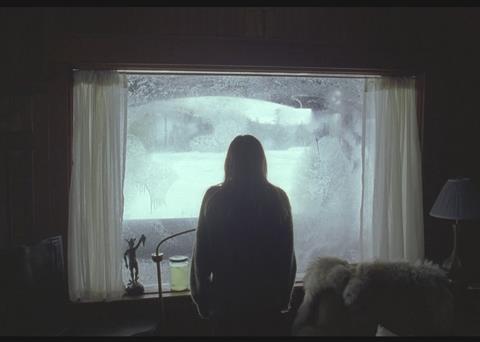 Dirs: Veronika Franz & Severin Fiala. US/UK. 2018. 100mins
Something wicked is most certainly coming in The Lodge, but what's terrifying is that it's never quite clear from where — or exactly why. Building beautifully off the gripping horror of 2014's Goodnight Mommy, filmmakers Veronika Franz and Severin Fiala give us a cabin-in-the-middle-of-nowhere chiller which is electrified by Riley Keough's tricky performance as a woman who's either the cause or the victim of the film's nerve-shredding anxiety. Maybe a plot point here or there doesn't quite make sense, but viewers will only be able to make those determinations once the film ends and they eventually calm down.
Ecstatic word-of-mouth will be the key selling point for fans of smart indie horror.
Inevitably, comparisons will be made to Hereditary, which like The Lodge premiered in Sundance's Midnight section and boasted an elegant air of dread while examining a family in emotional disarray. Keough's name recognition will add commercial oomph, but more likely ecstatic word-of-mouth will be the key selling point for fans of smart indie horror.
The Lodge opens with a tragedy, which (like much of this film) shouldn't be revealed so that moviegoers can enter into the experience without any preconceived notions of where the story is heading. Suffice to say, sensitive children Aiden (Jaeden Martell) and Mia (Lia McHugh) resent their dad Richard's (Richard Armitage) new girlfriend Grace (Keough), far preferring their troubled mom Laura (Alicia Silverstone). But Richard is determined to make his new family work — especially because he plans to marry Grace — and so he decides the four of them should spend Christmas in his posh winter lodge in the middle of a snowy, remote forest. The other three are less enthused about spending time together in such an isolated place, but they'll have to make the best of it once Richard has to drive back to town unexpectedly for a few days.
With hints of The Shining, The Lodge promises shocks even before this foursome arrive at the house, but Franz and Fiala masterfully tease us, leaving viewers to wonder precisely why they're feeling so unnerved. It's not just the superbly evocative sound design or Danny Bensi and Saunder Jurriaans' stabbing music cues that jar — it's the filmmakers' precise camera placement and deliberate pace, which add foreboding to any image, even if it's just Alka-Seltzer dissolving in water.
Most of the film concerns Grace's time in the house with Aiden and Mia as she tries to get them to warm to her. That seems like an insurmountable task, but eventually the kids start to soften — just in time for strange happenings to occur around the lodge. We're given a rather large hint about Grace's traumatic past, but as The Lodge's ambiguous frights begin to accumulate, we're never sure whether what we're experiencing is because of her background or if there's some other explanation.
The challenge with a film like this is sustaining the mystery — draw it out too long and the heightened mood grows stale or the answer becomes obvious. Wizardly, Franz and Fiala (who are credited with the screenplay alongside Sergio Casci) throw in enough twists, clues and red herrings that we remain in the film's chokehold throughout.
Key to The Lodge's tonal control is the three central performances, which never let us feel confident in where our sympathies should lie. As the younger sibling, McHugh avoids the cutesy/demonic clichés we often see from child actors in horror films, while Martell's Aiden reveals a slight sexual attraction for Grace that gives their scenes an unsettling charge.
But the film belongs to Keough, who has a habit of playing intense, inscrutable characters. But Grace is another high-water mark: The actress plays this character as both victim and menace, switching back and forth with such fluidity that she can't be pinned down. As Grace looks out the window to the frigid forest surrounding the cottage, it's impossible to know if her silent thoughts are benign or tormented, and The Lodge keeps her intentions murky until the shattering finale.
Admittedly, the occasional implausibility creeps in, and the storytelling isn't immune from some of the hoarier tenets of the psychological horror genre. But the longer The Lodge rolls along, the sheer skilfulness of the execution — the precise manipulation of the audience's fears — becomes so impressive that one is tempted to simply succumb to its cold, cruel efficiency. The Lodge is best experienced knowing nothing about the plot. Two hours later when the film is over, you may be amazed how little you still know about what you've seen — only that you've been profoundly shaken.
Production companies: Hammer, FilmNation Entertainment
International sales: Endeavor, cgelb@endeavorcontent.com; and FilmNation, bellis@filmnation.com
Producers: Simon Oakes, Aliza James, Aaron Ryder
Screenplay: Sergio Casci and Veronika Franz & Severin Fiala
Production design: Sylvain Lemaitre
Editing: Michael Palm
Cinematography: Thimios Bakatakis
Music: Danny Bensi & Saunder Jurriaans
Main cast: Riley Keough, Jaeden Martell, Lia McHugh, Alicia Silverstone, Richard Armitage