Adam Driver and Jonathan Pryce star in Terry Gilliam's long-delayed epic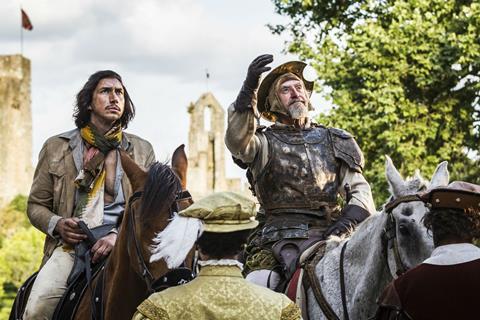 Dir: Terry Gilliam. Spain/France/Belgium/Portugal. 2017. 133mins
Mad dreamers are Terry Gilliam's speciality, and The Man Who Killed Don Quixote could be read as a grand summation of his obsession with those who fearlessly tilt at windmills. But despite how personally the filmmaker connects with this ambitious riff on the Cervantes novel, the long-time passion project succumbs to the same indulgences and weaknesses that have plagued his recent movies. There's something poignant about Gilliam, who has spent decades trying to bring his vision to the screen, ultimately missing the mark; but it's very much in keeping with his erratic, increasingly frustrating oeuvre.
Gilliam's tendency to favour madcap comic sequences and lavish spectacle over engaging storytelling hamstrings him once again
Don Quixote opens in Spain, where a conceited commercial director named Toby (Adam Driver) is filming his latest slick, soulless ad. But during his downtime he stumbles upon a bootleg copy of his old student film, about Don Quixote, which was shot in a nearby village. Nostalgic — but also seeking to reconnect with his younger self, who aspired to be an artist — Toby travels to the village, where he discovers that the man he cast as Quixote (Jonathan Pryce) has since come to believe that he is the character in the Cervantes book.
Gilliam and co-writer Tony Grisoni have reworked the material since their previous attempts to launch the project, which was at one point to star Jean Rochefort and Johnny Depp. This new version celebrates the cracked certainty of this elderly, possibly deranged man who's sure he's a noble knight — a very Gilliam-esque protagonist who wouldn't have been out of place in Brazil or The Fisher King. But the introduction of Toby, a once-promising director who has compromised his talent for money and security, serves as an intriguing counterpoint and, perhaps, a cautionary tale for a maverick like Gilliam.
The interactions between the two men — "Don" thinks Toby is his loyal squire Sancho Panza — might be a manifestation of the filmmaker's internal debate between recklessly following his muse and being more pragmatic and, while Gilliam's fans may find that psychodrama fascinating, it's not entertaining or moving enough. That's unfortunate, considering that Driver's reliably amusing deadpan demeanour works well off Pryce's fully committed bug-eyed insanity, which the veteran actor mines for occasional laughs and pathos.
But although Don Quixote's setup has potential — Toby will learn that his student film shoot had severe repercussions on other townspeople beyond Don — Gilliam's tendency to favour madcap comic sequences and lavish spectacle over engaging storytelling hamstrings him once again. Production designer Benjamín Fernández and cinematographer Nicola Sancho Pecorini fill the frame with opulent visuals as Toby and Don travel across a surreal landscape seemingly cut off from time. But characters don't develop so much as they lurch from set piece to set piece, pushed around by the director's whimsical, sometimes juvenile impulses
Gilliam lobs some sour, strained jokes at the entertainment industry's cynicism and moral bankruptcy — Stellan Skarsgård has little to do as a generically callous producer — and his depiction of women feels jarringly old-fashioned. Olga Kurylenko essentially plays a conniving sexpot, which she overdoes, while Joana Ribeiro portrays Angelica, a beautiful girl who first caught Toby's eye years student film shoot. Now all grown up, Angelica shows a little fire initially, but she winds up as a clichéd damsel in distress
One can't deny a certain thrill in Don Quixote's first few moments as Cervantes' foolhardy hero comes on screen — an image that took Gilliam a significant portion of his career to bring to fruition. But for as much as oddballs and misfits have attracted Gilliam, he's rarely cared about them beyond being vague symbols of rebellion and individuality. It's a sad irony that in The Man Who Killed Don Quixote, he finally corrals the one project that for so long eluded him to undeniably disappointing results
Production companies: Alacran Pictures, Tornasol Films, Kinology Entre Chien et Loup, Ukbar Filmes, El Hombre Que Mató a Don Quijote AIE, Carisco Producciones AIE, Recorded Picture Company, RTVE, MOVISTAR+, Wallimage (WALLONIA), Proximus, Shelter Prod-Taxshelter.be-ING Portuguese Film Production Tax Incentive, ICAA, ICA, RTP, S.A., Eurimages
International sales: Kinology, gmelin@kinology.eu
Producers: Mariela Besuievsky, Gerardo Herrero, Amy Gilliam, Grégoire Melin, Sebastien Delloye
Screenplay: Terry Gilliam and Tony Grisoni
Production design: Benjamín Fernández
Editing: Lesley Walker, Teresa Fontspa
Cinematography: Nicola Sancho Pecorini
Music: Roque Baños
Cast: Adam Driver, Jonathan Pryce, Stellan Skarsgård, Olga Kurylenko, Joana Ribeiro, Óscar Jaenada, Jason Watkins, Sergi López, Rossy De Palma, Hovik Keuchkerian, Jordi Mollá