An art-world satire featuring a tattooed living canvas makes for a wild ride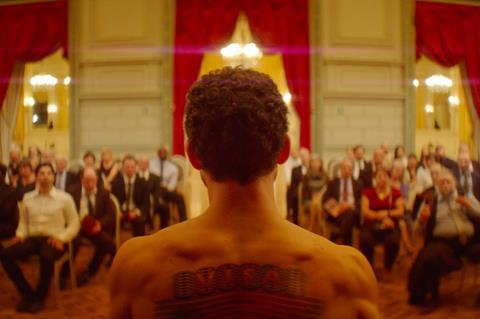 Dir/scr. Kaouther Ben Hania. Tunisia/France/Germany/Belgium/Sweden. 2020. 104 mins.
With The Man Who Sold His Skin, Tunisian filmmaker Kaouther Ben Hania crafts a biting art-world satire, turning a Syrian refugee's quest to reunite with his lost love — and controversial decision to become a tattooed living canvas — into a slick, sublimely shot musing on freedom. Inspired by a real-life artwork, the writer-director's follow-up to 2017's Beauty And The Dogs segues from romance and dark comedy to drama and tragedy, determined to make a statement of its own.
The film is never short on memorable moments.
Hopping from Raqqa to Beirut to Brussels, The Man Who Sold His Skin is an entertaining affair that should attract eager viewers, including those who warmed to fellow art-world study The Square. Ongoing international festival prospects look promising, as do its commercial arthouse fortunes. The casting of a blonde, icy Monica Bellucci in a pivotal role will also boost audience appeal.
Between 2006 and 2008, Belgian artist Wim Delvoye inked the back of former Zurich tattoo parlour owner Tim Steiner, with the pair coming to an arrangement: multiple times a year, Steiner would sit in galleries around the globe as a living exhibition, allowing the public to view Delvoye's colourful, elaborate piece. This is the situation in which The Man Who Sold His Skin's Sam Ali (Yahya Mahayni) also finds himself after he sneaks into artist Jeffrey Godefroi's (Koen De Bouw) latest Lebanon opening solely for the food.
Jeffrey's assistant Soraya (Bellucci) cruelly calls out Sam's freeloading, but the artist convinces Sam to have a drink, then proposes the life-changing pact. Jeffrey's inked artwork is not just any image, but a recreation of Europe's Schengen visa, which allows visitors simplified travel access to 22 EU countries. Having fled persecution in his homeland, Sam can't legally obtain the document himself, a reality that Jeffrey purposefully comments on. Sam desperately wants one, however, so he can move to Belgium to find the now-married ex-girlfriend, Abeer (Dea Liane), he was forced to leave behind.
Ben Hania begins The Man Who Sold His Skin by unveiling Jeffrey's handiwork, which — in a scene calibrated to heighten intrigue from the outset — is not attached to Sam. After then detailing why Sam left both Abeer and Syria, the film carefully works its way back to that opening moment. This is a playful, probing, sometimes thematically overstuffed puzzle, and also a wild ride. From blissful proclamations of love on crowded trains and woozy arcade dance scenes to repeatedly skewering the art world's snobbery, the film is never short on memorable moments.
That bustling approach applies to its exacting imagery too, not that its frames are ever needlessly busy. Ben Hania and cinematographer Christopher Aoun (Capernaum) take cues from art history, using one visual medium to explore another as they vividly frame the characters.
The score by Amine Bouhafa (A Son, You Will Die At 20) adds to The Man Who Sold His Skin's peppy yet still contemplative mood, but it's the central performance by feature first-timer Mahayni that best demonstrates the picture's overall charms. Sam is lively but vulnerable, earnest yet impudent, and impulsive but grounded, and Mahayni bears much of the film's weight as a result — and almost constantly proves arresting.
Production company: Tanit Films, Cinetelefilms, Twenty Twenty Vision Filmproduktion, Kwassa Films, Laika Film & Television
Sales: BAC Films, sales@bacfilms.fr
Producer: Nadim Cheikhrouha, Habib Attia, Annabella Nezri, Thanassis Karathanos, Martin Hampel, Andreas Rocksen
Production design: Sophie Abdelke
Editing: Marie-Hélène Dozo
Cinematography: Christopher Aoun
Music: Amine Bouhafa
Main cast: Yahya Mahayni, Dea Liane, Monica Bellucci, Koen de Bouw, Darina Al Joundi, Christian Vadim