Dir: Grant Heslov. 2009. US. 90 mins.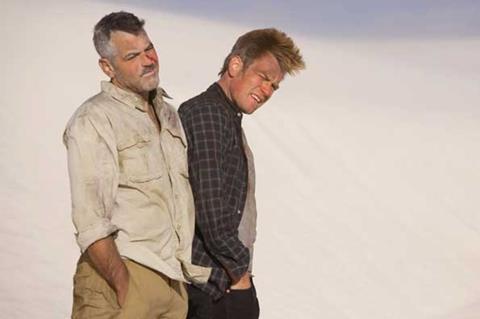 The Men Who Stare At Goats is a light-hearted and highly entertaining antidote to pompous large scale movies about Iraq or Aghanistan and ironically may be the biggest hit of them all. Grant Heslov's nimble second feature, inspired by UK journalist Jon Ronson's non-fiction book, explores a secret division of the US military trained in psychic powers. Featuring a quartet of amusing, self-referential performances from Messrs Clooney, Bridges, McGregor and Spacey, it is little more than a trifle but a pleasing trifle nevertheless.
Clooney shows a natural comic timing, and Spacey is a cheerful villain
This independently financed affair opens wide domestically on Nov 6 through Overture and, with at least three weeks before the avalanche of December Oscar contenders arrives in theatres, it has a strong shot at solid box office success, especially after strong word of mouth from Venice and Toronto screenings. International prospects are also bright, especially if independents can get it out before Clooney's other 2009 release Up In The Air.
McGregor plays journalist Bob Wilton, who first hears of the unit from an interview subject in Ann Arbor, Michigan, where he works. The man, a self-proclaimed psychic, claims that he was a part of a secret programme headed by the mysterious Bill Django and including one Lyn Cassady (George Clooney), who now runs a dance school. The men, he says, were trained to use their minds to read the enemy's thoughts, pass through walls and kill goats just by staring at them.
When Wilton's girlfriend leaves him for his editor, he flees the US for Iraq in order to cover the war and try to win her back by proving that he is a serious journalist. But while waiting in Kuwait for his permit to enter Iraq, he comes across Cassady himself on a hotel patio. After some cajoling, Cassady reveals more details of the unit's history and agrees to take Wilton with him on a business trip.
The unit, we are told in flashbacks, was formed in the eighties by Vietnam vet and new age hippie Django (Bridges) who felt that a new approach to war through peaceful means was possible. The New Earth Army, as it was called, allowed its men to take drugs and wear their hair long as they practiced their techniques. It is finally disbanded when one of the men kills himself having unwittingly taken acid administered by another member, Larry Hooper (Spacey).
Back in Kuwait, after being stranded in the desert on several occasions, Cassady reveals to Wilton that he is not on a business trip after all but has been reactivated by the New Earth Army on a secret mission to find Django, who is trapped in a clandestine militia camp run by Hooper.
Heslov shows lightness of touch throughout and, at 90 minutes, the film moves briskly; Straughan's script is smart and exuberant and could well bag adapted screenplay nominations, while the actors are clearly having a ball. Bridges revisits his Dude character from The BigLebowski with enthusiasm, Clooney shows a natural comic timing, and Spacey is a cheerful villain. There are also many laughs to be had from McGregor referring to the unit's other nickname The Jedi, bearing in mind his own legacy as Obi Wan Kenobi.
To sign up for Screen's weekly Reviews Newsletter with all the week's new releases, international openings and full festival reviews delivered free to your mailbox every Friday, please click HERE
Production companies
Smokehouse
BBC Films
Winchester Capital Partners

North American distribution
Overture Films

International sales
Mandate Pictures
+1 310 360 1441

Producers
George Clooney
Grant Heslov
Paul Lister

Screenplay
Peter Straughan, based on the book by Jon Ronson

Cinematography
Robert Elswit

Production designer
Sharon Seymour

Editor
Tatiana A Riegel

Music
Rolfe Kent

Main cast
George Clooney
Jeff Bridges
Ewan McGregor
Kevin Spacey