Adam Sandler, Ben Stiller and Dustin Hoffman star in the latest from director Noah Baumbach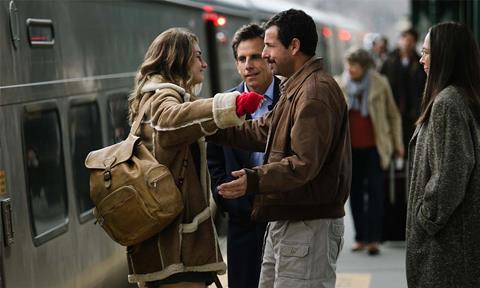 Dir/scr. Noah Baumbach. US. 2017. 111mins
With The Meyerowitz Stories (New And Selected), filmmaker Noah Baumbach writes a new, richly warm variation on a favourite theme: the maddening impossibility of family. As wonderfully, messily emotional as its characters, this comedy-drama finds Baumbach in a slightly less caustic mood than he was for The Squid And The Whale and Margot At The Wedding — but not at the expense of the genuine pain coursing through the movie's adult siblings, who are unable to let go of the withholding, narcissistic father they begrudgingly love.
The Meyerowitz Stories may represent Adam Sandler's most nuanced screen work
Releasing through Netflix later this year, this Cannes Competition entry boasts a starry ensemble headed by Ben Stiller, Dustin Hoffman and, in a rare serious performance, Adam Sandler. Baumbach has always catered to discriminating art-house types, but The Meyerowitz Stories may find a wider audience because of its bankable cast and Netflix's popular streaming service.
As its full title suggests, The Meyerowitz Stories adopts a literary tone, breaking its narrative into distinct chapters that focus on different family members. Danny (Sandler) and Jean (Elizabeth Marvel) are the eldest children of Harold Meyerowitz (Hoffman), a New York sculptor who never became as renowned as he thought he deserved. Now on his fourth marriage, the bitter, egotistical Harold retains a powerful hold on his kids, exacerbating Danny's sense of failure that he never succeeded as a songwriter and ignoring Jean to such a degree that she barely feels like a member of the family. Harold's real affection seems to be concentrated on their younger half-sibling Matthew (Stiller), who is a wealthy business manager out in Los Angeles.
As a writer-director, Baumbach often charts the lingering emotional scars that parents inflict on their children, resulting in families full of lingering resentment and self-hatred. If The Meyerowitz Stories doesn't exactly rewrite this familiar narrative, Baumbach remains an eloquent chronicler of a universal anguish, understanding what can be traumatic and hilarious in the scenario.
The film's most novelistic quality is its perceptive delineation of each character, recognising how no two members of the Meyerowitz clan have the same relationship. Because Danny followed in his father's footsteps by trying to be an artist — and he's the oldest son — it would stand to reason that he would be Harold's pride and joy. But Baumbach adroitly examines precisely why Harold has been so dismissive of Danny, instead boasting about Matthew's business acumen to his friends. Tolstoy's old adage about unhappy families being unhappy in their own way is particularly true in The Meyerowitz Stories as the characters try to get to the core of what made them so miserable — especially after Harold's health unexpectedly deteriorates.
A Baumbach comedy often features corrosive punch lines and awkward tensions — there's nothing sunny about his humour — and all three adult siblings engage in brittle, wry conversations with their dad and each other. But The Meyerowitz Stories never forgets the sadness underlying these interactions. Just about everyone we meet in the film is suffering through a private humiliation, whether it be a divorce or unfulfilled dreams. Thanks to Baumbach's lively screenplay, the characters are able to articulate their grievances in entertaining, revealing ways — even if it's not at the most opportune time. (One of the film's most moving segments ends in laughs after Danny and Matthew get into an altercation right before they have to speak at their father's retrospective.)
Hoffman is superb as the bearded, solipsistic Harold, always cutting down others' accomplishments as proof of the world's superficiality. There are elements of The Squid And The Whale's monstrously conceited writer father in Harold, but Hoffman's deeply passive performance provides a fresh take, giving us a patriarch who has haunted his children by being at such a remove from them.
Stiller easily connects to Matthew's driven, slightly haughty demeanour, hinting that this son has built his life as a rejection of his father's art-over-commerce worldview. And Marvel makes the most of a muted character who's intentionally pushed to the side. When Jean finally speaks, it's in a sequence where this unappreciated sibling finally gets her moment.
As for Sandler, The Meyerowitz Stories may represent his most nuanced screen work. Known mostly for juvenile comedies, Sandler occasionally tries his hand at something more challenging, like the violent, emotionally fragile lover of Punch-Drunk Love. As Danny, though, there's a winning naturalness to Sandler's portrayal of a defeated man who has had very little go right in his life — that is, except for raising his adoring, happy college-age daughter (Grace Van Patten), who alone sees the good person that he is.
Production companies: Netflix, IAC Films
Worldwide distribution: Netflix, www.netflix.com
Producers: Scott Rudin, Noah Baumbach, Lila Yacoub, Eli Bush
Cinematography: Robbie Ryan
Production design: Gerald Sullivan
Editor: Jennifer Lame
Music: Randy Newman
Main Cast: Adam Sandler, Ben Stiller, Dustin Hoffman, Emma Thompson, Elizabeth Marvel, Grace Van Patten