Intriguing, respectful documentary follows American Mormons on their mission to Finland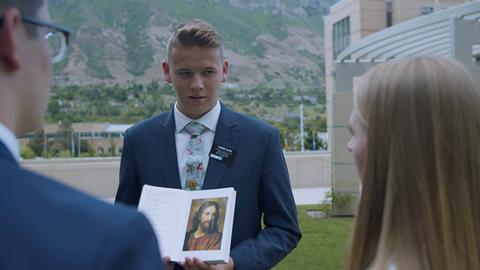 Dir/scr: Tania Anderson. Finland, Germany. 2022. 96 mins
There isn't a corner of the world where someone hasn't engaged with, or more likely avoided, an emissary from the Church Of Jesus Christ of Latter-day Saints. Tania Anderson's sensitive documentary feature debut follows four young Mormons as they leave the comfort zone of their Utah homes to travel to Finland, a country with one of the highest percentage of atheists in the world. A respectful film captures their struggles with everything from language to loneliness. Quietly observational in tone, its unprecedented access to the Mormon world could spark interest from documentary channels after a world premiere at Sundance in the International Documentary category.
Operates at a compassionate human level rather than a critical institutional one
Opening titles provide bare bones information on the Church and its founder Joseph Smith. Their mission programme sends 60,000 young members of the church out into the world each year to spread the word on the Book Of Mormon, safe in the knowledge that "the Lord will lead you to those who are prepared to be baptised." The Lord may lead but families are expected to pay all the expenses for what will be a two-year trip. We are then introduced to the impressionable teenagers who will head to Finland: earnest, bashful Elder Pauole; athletic Elder Davis; bubbly, dog-loving Sister Field; and enthusiastic Sister Bills. None of them seem completely aware of the challenges they might face, although they do realise that there are more Mormons in the small Utah city of Nephi than there are among the 5.5 million residents of Finland.
The quartet are as clean-cut and well-mannered as you might anticipate. Anderson does them the service of taking their lives seriously; she is not there to challenge, question or rmock. Her unobtrusive presence allows the camera to observe their journey and the film operates at a compassionate human level rather than a critical institutional one.
Twenty minutes into the running time and we have met the quartet and their families, seen them through preparations at the Missionary Training Centre and watch them take off for Finland. They will then serve with a companion, pairing up with a new partner every nine weeks. They face a long list of rules from what they should pack for the trip to the news that missionary and companion will never leave each other's sight other than for personal hygiene reasons. Contact with friends and family is limited to once a week. Nobody seems inclined to defy any of these rules or run wild far from home. Kind-hearted beacon of positivity Sister Field does suffer from the absence of her family support group and Elder Davis gets himself a much cooler haircut than he ever sported in Utah, though.
Interspersed with attractive scenes of Finland through changing seasons of snow and sunshine, we follow the four as they try to master Finnish and make connections with a population who are mostly indifferent to their eager street pitches. Good manners never falter even in the face of daily rejection. "Get a fucking life," shouts a random passer-by, to which a crestfallen Pauole comments: "That was a little uncalled for."
Anderson does capture a sense that this is a real test for each of the four. Pauole is shocked to discover that a classroom of Finnish teenagers have never heard of Joseph Smith. Sister Bills is frustrated by her inability to master Finnish. Elder Davis starts to grapple with depression, panic attacks and mental health issues that will ultimately require him to cut short his mission and return home. There are some breakthroughs for the group in finding new recruits keen to be baptised. The film is acutely sensitive to their vulnerabilities but in the melancholy afterglow of what they experienced abroad there is the sense that absence has made their faith grow stronger.
The Mission provides an intriguing glimpse into a hidden world and your heart is drawn to the vulnerabilities of these engaging youngsters - while always remaining well aware that this is just one sympathetic glance at a much bigger and more complex subject.
Production company: Danish Bear Productions, Dirk Manthey Film
International sales: Autlook Film Sales salma@autlookfilms.com
Producers: Isabella Karhu, Juho-Pekka Tanskanen
Cinematography: Antti Savolainen
Editing: Suvi Solja
Music: Mikko Joensuu


Ends