Sean Durkin's long-awaited follow-up to 'Martha Marcy May Marlene' is a supremely uneasy drama about a family trapped in a decaying Surrey house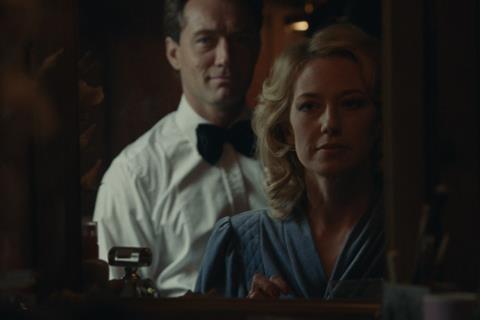 Dir/scr: Sean Durkin. UK/Canada. 2019. 107min
An American family moves to England in the 1980s, slowly unravelling in the process: that's essentially what happens in The Nest, but it doesn't come close to conveying the looming unease and teasing ambiguity that hangs over every frame. For his first feature since 2011's Martha Marcy May Marlene, writer-director Sean Durkin has concocted what might appear to be a psychological horror film — albeit one without gore, scares or a bogeyman. Instead, we're trapped with four people whose built-up rancour only continues to grow while they all reside in the same dilapidated, vaguely menacing mansion. The payoff for this expert exercise in tonal control may not be sufficiently satisfying, yet it feels in keeping with a story in which there's nothing outwardly wrong with this family — but something's clearly not right.
Jude Law sublimely portrays an ambitious social climber whose only characteristic is that he wants to be rich
Premiering at Sundance, where Durkin won Best Director for Martha Marcy, this art-house offering is bolstered by the star wattage of Jude Law and Carrie Coon. That said, The Nest's muted, mysterious tone might keep it from fully connecting with wider audiences.
Set in 1986, the movie stars Law as Rory O'Hara, a British investment broker living in New York with his American wife Allison (Coon), stepdaughter Sam (Oona Roche) and son Ben (Charlie Shotwell). One day, he announces that they're moving to England, where he believes he'll be able to capitalise on some new business opportunities. Allison is wary — they've moved several times over the last 10 years, always because of Rory's certainty of a bright future — yet she and the family soon finds itself in a palatial Surrey estate. But something seems foreboding about the rundown property, and eventually fissures begin to appear within the O'Hara clan.
Martha Marcy was a superbly unsettling drama about a dangerous cult, and Durkin's follow-up, in its own way, concerns a family unit suffering from delusion. Intriguingly, however, the filmmaker never quite pins down what is troubling the O'Hara's, instead offering various clues concerning the source of the discord. Maybe it's because Rory has big dreams but little discipline. Maybe it's because Allison doesn't completely respect her husband. Or maybe it's because, as Ben suggests at one point, their new house is really creepy. Utilising slow zooms in and out of some scenes, as well as static long shots that evoke dread from the most banal settings, The Nest creates anxiety that we feel but cannot isolate. Is the mansion haunted? Or are the characters?
Perhaps not surprisingly, the movie works better as a free-floating societal critique — of materialism, of so-called domestic tranquillity — than as an incisive commentary on any of the topics it brushes up against. But The Nest's atmosphere of animosity is palpable enough that it's wicked fun simply watching the O'Haras become unglued. That's especially true of Rory, and Law sublimely portrays an ambitious social climber whose only characteristic is that he wants to be rich. The actor's ability to mix charm with inauthenticity is lethal in this role, presenting us with a father and husband whom we simply cannot trust.
Whereas Rory is pathetic, Allison is a woman champing at the bit, trying to maintain some control over her life while her husband asserts his authority over all the family decisions. Coon is like a coiled snake waiting to strike, and although The Nest doesn't offer much in the way of catharsis, Allison's rising anger at their circumstance comes closest to providing a release valve for this restrained, enigmatic drama.
As Rory's financial schemes end up amounting to nothing, tension only grows within the O'Hara family, as does a sense that something truly terrible could occur at any moment. (Richard Reed Parry's refined score belies the clan's rising bitterness and disillusionment.) It would be best to avoid spoilers, but on the other hand, The Nest isn't so much about plot as it is an almost forensic study of the unseen fault lines in a family imperilled by a change of scenery. Some may feel that the film ends too abruptly, with too many questions left unanswered. Truth be told, answers don't seem to be Durkin's objective. The Nest isn't a proper horror movie, but there's plenty of terror in the O'Haras' realisation that their bond is perhaps permanently broken.
Production company: Element Pictures
US sales: UTA, mcgrathj@unitedtalent.com/International sales: FilmNation Entertainment, nyoffice@filmnation.com
Producers: Ed Guiney, Derrin Schlesinger, Rose Garnett, Sean Durkin, Amy Jackson, Christina Piovesan
Production design: James Price
Editing: Matthew Hannam
Cinematography: Matyas Erdely
Music: Richard Reed Parry
Main cast: Jude Law, Carrie Coon, Charlie Shotwell, Oona Roche, Adeel Akhtar, Wendy Crewson, Anne Reid, Michael Culkin